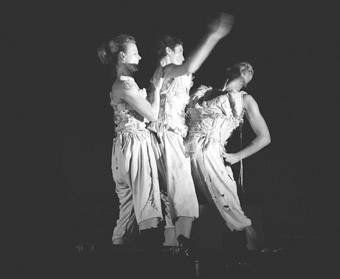 photo Renee Brazel
Sofia Woods, Leah Shelton, Lisa Salafi, Alchemy
There's something gothic in the Brisbane zeitgeist. Running counter to the anodyne stainless steel and blonde wood aesthetic currently bedevilling architecture in the new 'smart' Brisbane, it seems as though the city's artists are scrambling to uncover a sinister underbelly where it doesn't officially exist. Priding itself on comfort and liveability ("laze and languor" as Jane Austen might have it), Brisbane doesn't really 'do' seaminess. But in the absence of a state fostered culture of oppression post-Bjelke-Petersen, or a ready-made culture of cracks-and-fissures creepiness (á la Adelaide's urban 'Family' mythology), writers, musicians, dancers and performance artists seem to be turning to gothic fable as a way of framing the corrupt past, or hankering for a more dynamic and romantic alternative to the present preoccupation with antiseptic urban veneers.
Norman Price, Angela Betzien and Errol Price have made recent gothic contributions to theatre discourse; Christine Johnston and the delightfully mordant Kransky Sisters celebrate the gothic in cabaret form; and Frank Theatre have danced with the devil in the guise of Nick Cave. Now a collection of the city's most exciting young performance, multimedia and sound artists has come together under the auspices of Western Australia's John Burtt and Katie Lavers (skadada) to create Alchemy, a theatre/dance performance that celebrates "the magical and surreal world of Grimm's fairytales" in a refreshingly wry contemporary urban setting.
Funded in the dying breath of the Australia Council's New Media Arts Board, the Alchemy workshop was presented at Brisbane's suitably gothic Powerhouse, the ensemble including a range of freelance and company-trained (Polytoxic, Vulcana Women's Circus, Frank Theatre) practitioners.
This work-in-progress presentation depicted the twisted goings-on inside a tiered brick veneer home that could ostensibly have been in any city. Marika Sasnowski's grand edifice projections onto translucent scrims of floor-to-ceiling fabric created a strong sense of a universal gothic, but still seemed somehow anchored to the Powerhouse's industrial carapace. Three grotesque Ugly Sisters primped and preened in grubby corsets and knickers in the attic, while Pearson's Cinderella toiled with mops and buckets in the cellar. As she began polishing the anodised metal teapots, the sisters transformed into rat-like ghouls and descended to torment her in a unison dance sequence that owed as much to Beetlejuice and Thriller as it did to the Brothers Grimm. As the frenetic polishing unleashed a distinctly sensual and urbane genie (Fez Fa'anana), I couldn't help but feel we were back in the bowels of the Brisbane psyche, with the anarchic spirit as the city's collective urban repressed.
The disorder and dis-ease insinuated itself through the building's floors and helped loosen up its anally retentive inhabitants to joyful effect. A narcissistic dandy and a stitched up English spinster found groove in their respective cloisters, then found love in a teacups-to-the-wall ritual of eavesdropping and sublimation. The Ugly Sisters transformed momentarily from slatterns to starlets in a wish fulfilling aerial display that nodded camply to the Follies Bergere. Then it all abruptly ended with a 'to be continued' teaser.
For a developmental showing, the piece was incredibly rich, and the performers clearly relished the opportunity to indulge in personal flights of fancy (away, perhaps from the dictates of more established company or ensemble aesthetics). Indeed, part of the joy of watching this enchanting work lay in the exuberance with which its team of performers embraced a sense of play. Under Burtt and Lavers' assured and irreverent directorship, the ensemble exemplified some of the finest principles of capital 'P' performance: in abandoning spoken-word, the team were still committed to embracing rich characterisation; while in exploring innovative ways of communicating and abjuring linear narrative structures, they still maintained a patent respect and affection for storytelling. All this charm and ebullience was ably helped along by a manipulative and cheeky Astor Piazzola nuevo tango accordion score and Lawrence English's atmospheric soundscape. Alchemy gave us a fine taste of things to come.
Alchemy, artistic directors John Burtt, Katie Lavers; performers Lisa Fa'alafi, Fez Fa'anana, Amanda-Lyn Pearson, Leah Shelton, Sofia Woods; Brisbane Powerhouse, March 9-12
RealTime issue #66 April-May 2005 pg. 42
© Stephen Carleton; for permission to reproduce apply to realtime@realtimearts.net