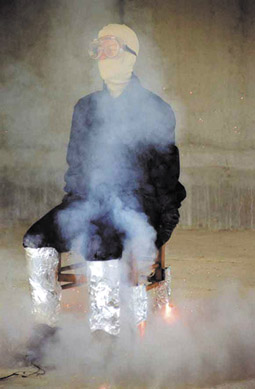 photo Pierre Laborde
Gwendoline Robin; NRLA2007
NOWADAYS FIREWORKS REGULARLY BOOK-END ALL KINDS OF FESTIVALS, SENDING UP A WHOOSH! OF EXPECTATION AT THE START AND A WHIZZ-BANG OF 'WASN'T THAT GREAT?' AT THE END. BUT, TRUE TO TYPE, THE NATIONAL REVIEW OF LIVE ART 2007 OPENED AND CLOSED ON AN OUTBURST OF THOROUGHLY UNTOWARD PYROTECHNICS. ON A GRIMLY NIPPY FEBRUARY NIGHT, A DUTIFUL AUDIENCE TROOPED OUTSIDE TO THE GARDEN AREA BEHIND GLASGOW'S TRAMWAY COMPLEX. AND THERE THEY WAITED. REGISTERED THE ARRIVAL OF A FIGURE IN WHAT LOOKED LIKE A WHITE SPACE-SUIT. MAYBE THOUGHT 'HEALTH AND SAFETY' AS THEY TOOK IN HER PROTECTIVE CLOTHI…OH MY GOD—A LIGHTED FUSE. A SWIFT-FIZZING RUSH OF SHOOTING SPARKS, HALO-ING A HUMAN FIREWORK. AND WE LAUGHED LIKE CRAZY CHILDREN AND CHEERED THE BELGIAN ARTIST GWENDOLINE ROBIN AND TROOPED INSIDE AGAIN, CONFIDENT THAT THE FIVE DAYS THAT LAY AHEAD WOULD BE CRAMMED FULL OF METAPHYSICAL SQUIBS AND FIRE-CRACKER CHALLENGES AND PEOPLE DOING RECKLESS STUFF OF THE 'DON'T TRY THIS AT HOME' VARIETY.
Afterwards, as the smoke cleared, the resonances of Robin's work started to take disconcerting hold: nudged aside the hip-hooray sideshow effect and threw up other incendiary images—the suicide bombers, the self-immolaters who torch themselves in protest, the blazing victims of napalm attacks. By the time Robin ended NRLA 2007 with another risk-taking act of self-ignition, all manner of performances—some very still, others verging on the hyperactive—had echoed her flair for twisting the everyday into the unexpected. Had, like Robin, startled us into laughing, before choking the laugh in our throat with a sudden image of pillaged societies or humanity at bay.
Unlike Robin's Instant no 6899, however, some of the most shattering and thought-provoking pieces made powerful use of still, small voices to whisper of lives pillaged by injustices and oppression. Indeed, Chumpon Apisuk (from Thailand) called his first action Silence. Long before Apisuk was even half-way through his performance, we had cottoned on to the rhythm and intensity of a reverencing ritual dedicated to those whose human rights had been violated in his native land and beyond. Even so, there was no foreseeing the litmus shadings of grief and respect that filtered across his face as he addressed the twenty or so knives arranged down both sides of a dinner table, bowing as he placed his cheek against each blade before placing it on the newspapered floor. No names were ever spoken. The newspapers became shrouds, or maybe just the wrapping for discarded detritus…the little bundles looked like bodies destined for unmarked graves. Apisuk's Silence built into a visual scream of outrage and reproach without one word of a rant. It continues to haunt me.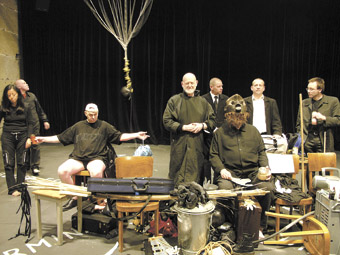 Black Market International "Actuation" reproduced with permission of BMI
So do certain fragments from the productive melange of 'collision and collusion' that arose from the five day residency by Black Market International (BMI), a multi-talented collective of international artists who turn up with various props and processes and then morph into an ad hoc ideas factory. Lee Wen, for instance, took to barrelling out of BMI's designated space—a vast, white hanger-like gallery—and buffeting through the foyer crowds, his half-naked wiry frame encased in a raggedy tent, like some refugee snail. You had to smile. He looked ridiculous. But then the awful pathos of his mute wanderings between laden cafe tables and among our camera-toting, mobile-phoning ranks stopped being funny. And you knew he knew that—in real life, if not at the NRLA—you probably turned away from such silently accusing images.
Alastair MacLennan's continuous 24 hour action saw flowers wither away in a greenhouse where the floor was strewn with unfinished shoes. Nearby, a burnt-out car gradually silted up with rusting mechanical debris while its exterior became host to photographs of endangered species—a paper trail of flimsy white footprints leading from the greenhouse hinted at man as the user and abuser: indeed he was occasionally present in the driving seat of the useless vehicle, going nowhere but still hell-bent on ignoring all the warning signs around him. Again, there was no morally superior spoken diatribe to kickstart our consciences—only an eloquent juxtaposition of objects and actions.
A recent trip to a post-Tsunami Sri Lanka had certainly proved something of a cultural eye-opener for Ian Smith, a thoughtfully mischievous interventionist of longstanding and NRLA's genially suave MC. His video installation, Médecins Sans Frontières, presented him as a talking head in a bed strewn with tabloid clippings, all trumpeting of a Britain awash with street crime, domestic violence and racist bullying. You had to move close up, to catch Smith's sickbed musings on his Sri Lanka experiences—especially the acts of kindness and caring from impoverished strangers who were, themselves, the needy victims of earthquake, flood and devastation. Humorous, mostly at the expense of his own attitudes and expectations, this was a soft-spoken, needle-sharp reminder of what is best meant, and achieved, by common humanity.
Elsewhere, Marie Cool padded silently through the dimly-lit reaches of Tramway 4, reiterating her exquisitely simple tasks—letting a flame travel along a length of thread, animating sheets of white paper with gentle exhalations of breath or the passing wake of her own moving body—until she had drawn her circle of onlookers into an oasis of meditative calm. Cool's demeanour is that of a sweetly grave, if solitary, child who is possessed of a wide-eyed, lateral imagination and an uncanny degree of physical poise: it's a combination that can make inanimate objects come alive and time pass… at… other-worldy… speeds. Bliss.
Marcia Farquhar has so far clocked up 49 action-packed years—she has the anecdotes, and the wardrobe, to prove it. Hers is not actually a still, small voice. She's too succulent and exuberant an individual to be caught muttering or lost for words. But her funny, feisty solo show, in which she modelled her past—with a running commentary on the where, when and why of each frock—proved to be a surprisingly touching essay on the socio-political side to fashion and how we cloak our vulnerabilities by dressing up, or down. Sheila Ghelani and Jenny Edbrooke—emerging artists beginning to gain profile and experience—were outstanding examples of how you can air chewy, underbelly issues of identity without standing on a soapbox, hollering your politics to rapidly vanishing backs. For her solo, What Goes Up Must Come Down, Edbrooke had her back to the wall with thighs splayed around a tin bucket. Think coconut shy—oh look! there's a table piled with coins, a carrot, bottles of booze, condoms, a turkey baster… objects rife with sexual innuendo that we were invited to lob at her bucket-crotch. Har-de-har-har, what a hoot—until the punchline, when Edbrooke asked, brightly, if we'd like to stay in touch with her? Message received, loud and clear, Jenny.
Sheila Ghelani's message was one of love—between her parents—and pride, her own, in being a product of a mixed race marriage. Her method involved the ritualistic halving of red and green apples, then melding the two varieties into wittily decorated mythic hybrids—the Cyborg, the Griffin and so forth. Her 'apple-parentage' was rich with mixed spices, sparkles and, at its heart, a drop of her own blood. Such a gentle, whimsical way of leading up to her closing statement, an affirmation of her joy at being born out of two cultures.
Across the five days voices were, of course, raised in stentorian banshee protests. Glass was smashed, bodies bruised and made to bleed, as performers vehemently denounced the evils of their choice: cultural imperialism, the war in Iraq, bigotry and discrimination—racial, religious, sexist—were the usual suspects and some very powerful work arose from these concerns. But not every memorable firework was a rocket or a banger—many of the brightest sparks chose to ignite our hearts and minds by the depths of their silence.
National Review of Live Art, Tramway, Glasgow, February 7-11, www.newmoves.co.uk
RealTime issue #79 June-July 2007 pg. 12
© Mary Brennan; for permission to reproduce apply to realtime@realtimearts.net