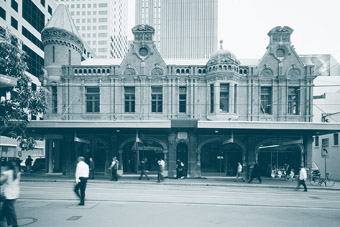 photo Chris Bennett
Asia-Australia Arts Centre
Among the galleries active in Sydney, 2 in particular exhibit distinctly hybrid tendencies. Grey Matter Contemporary Art Projects and the Asia-Australia Arts Centre at Gallery 4A, however, are very different galleries. The first is housed in the modest Glebe residence of its tenant, Ian Gerahty, while the second occupies a large, well-equipped heritage building in the heart of Chinatown. Grey Matter is free for exhibitors although Gerahty stresses that it is not merely a 'rental space.' Gallery 4A is also not rental based. Its director Melissa Chiu, alongside a board of artists acting in advisory roles, considers proposals annually. A percentage of those artists accepted pay a fee to utilise the premises.
What tentatively unites these galleries is their focus on international content. Gerahty, an ex-Londoner, benefits from his contacts in the UK and is firmly committed to the cross-cultural exchange of ideas. Chiu is similarly inclined towards the presentation of a strong overseas (in this case East Asian) component. Both Grey Matter and Gallery 4A also show the work of local practitioners, helping them to develop their careers and experiment with concepts.
What separates the galleries is their mode of operation. Gerahty is essentially a one-man band who generates the shows he exhibits. With relatively few resources and limited physical space, he is dedicated to the critical exploration of the art process, and encouraging interaction and debate in the local terrain. The Asia-Australia Arts Centre receives funding from the Sydney City Council as well as corporations. Significance is assured with its specific targeting and promotion of contemporary Asian art, especially timely as it places Australian culture firmly within an Asian rather than exclusively European context.
The entrance to Grey Matter is located in a back alley in Glebe. Its success, aside from the gallery's extensive mailing list, depends largely on word of mouth. Physically the gallery consists of a narrow corridor leading to a modestly proportioned room. This is connected to a small, enclosed balcony overlooking the street. The entire space is painted a uniform and pristine white. Psychologically this locates the gallery just outside its obvious domestic origins although it is this aspect that makes Grey Matter unique. Gerahty points out that in London and in Europe such duality is not unusual, and during the 80s Sydney boasted numerous temporary exhibitions in disused commercial and industrial spaces. At the same time, Art Hotline hosted an ongoing series of surreptitious shows in a variety of unexpected locations. Grey Matter appears to be rekindling the 'do-it-yourself' in the face of real estate constrictions, escalated prices and lack of other suitable gallery spaces.
Gerahty hopes visitors are not merely taken by the novelty of the gallery's domestic spaces. The emphasis is on exhibitions as concrete and 'serious' as any seen in alternate spaces, commercial or otherwise. Gerahty is convinced of the necessary role played by all types of galleries in the prevailing artistic micro-climate. It would be difficult to regard Grey Matter as 'alternative'; the easy dependence on such terminology is restrictive to the open and democratic presentation and reception of contemporary art. Also rejected (well, perhaps not entirely) are ready-made notions of 'site-specificity' although particular projects staged at Grey Matter like The Palace of Exaggeration and Everything are unlikely to be simulated in commercial galleries in Sydney. In this exhibition, every available space—bathroom, toilet, clothesline, kitchen bench—was utilised by exhibitors. The result was closer to an environment than a simple 'exhibition'.
The Asia-Australia Arts Centre represents quite another position. The gallery is contained in a large brick and timber building owned by the city council, with the 'project space' at street level providing room for artists to explore their ideas in a visible context. With its large windows it also provides 4A's public face. Upstairs the main gallery is subdivided by means of a series of large mobile partitions. These supply multi-purpose solutions to hanging requirements and potentially serve both wall and object-based work. To one side of these partitions is a list of gallery sponsors including James Fairfax and Chinta Ria, the pan-Asian restaurant located at Darling Harbour. On the same wall, potential sponsors are guaranteed (in return for financial support) a portrait of themselves by established Sydney artist Lindy Lee. Such a model of patronage is obviously a long way from the 'as-it-goes' (though by no means less 'professional') approach of Gerahty. Overall, the Asia-Australia Centre has an institutional quality that places its aspirations somewhere between the artist-run gallery and the museum, especially in its current format which is a long way from the gallery's initial office-less incarnation. While this first space was cramped, it promoted an immediate and social relationship with the gallery and its director(s). The centre's increasing success as a quasi-corporate entity has made its role vaguely ambiguous. While its vitality continues, this ambiguity results occasionally in displays of an amorphous and rather conventional 'multiculturalism.' At their best, the centre's exhibitions reveal aspects of contemporary experience that are illuminating and culturally specific.
Gerahty's homespun approach is conditioned partially by his own artistic practice. The internal knowledge this provides, combined with empathy for the position of artists, helps sustain exhibitions that are open-ended and close to the generative core of contemporary art. Sometimes this open-endedness affects the coherence of exhibitions but, rather than being detrimental, a willingness to take curatorial risks ensures Grey Matter's on-going discursiveness and relevance. Currently exhibiting is a group of 'young British artists', a term currently harnessed for varying ends. The show appears at times a little too self-consciously reliant on deadpan chic but when viewed as a whole it offers a rare glimpse of contemporary cross-continental art practice.
The Asia-Australia Arts Centre is presently showing The Mandala Project. The title, intentionally or not, suggests universalist western theories of eastern spirituality. Surprising, however, is the exhibition's embrace of collaboration and temporality. Here, the image of the Mandala coalesces over time and is celebrated with a gallery closing rather than the usual opening.
The divergent nature of these exhibitions indicates the range of Sydney's contemporary galleries. While Melissa Chiu argues for widening models of popular and commercial patronage for artists, Gerahty at Grey Matter forcefully demonstrates the artist's responsibility in fostering independent creative opportunities.
Grey Matter Contemporary Art, 1st floor, 35D Ross St, Glebe: The seat with the closest view, artists Adam Chodzko, Anne-Marie Copestake, Steve Dowson, Volker Eichelmann, Gareth Jones, Hilary Lloyd, Victoria Morton, Eva Rothschild, Gary Webb, Toby Ziegler, January 13-February 4; Asia-Australia Arts Centre, Gallery 4A , 181-187 Hay St, Sydney: The Mandala Project, January 16-February 3
RealTime issue #41 Feb-March 2001 pg. 29
© Alex Gawronski; for permission to reproduce apply to realtime@realtimearts.net