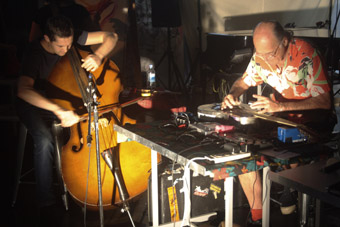 photo Glen O'Malley
Mike Majkowski, Mike Cooper, See Hear Now
WHILE IMPROVISATION IS NOT A FAVOURITE OF MINE, THERE WERE ENOUGH MOMENTS DURING THE MUSIC CENTRE NORTH QUEENSLAND'S SEE HEAR NOW MUSIC-DRIVEN, MULTI-ARTFORM FESTIVAL WHEN ARTISTS AND THEIR MEDIA 'CLICKED' BEAUTIFULLY AND THE JOY OF THE ARTFORM CAME ALIVE. ANY RESERVATIONS I HAD WERE MAINLY TO DO WITH THE 'ART' OF COLLABORATION SO ESSENTIAL IN IMPROVISATION—WOULD ARTISTS REALLY LISTEN TO EACH OTHER; USE SPACE AND SILENCE AND TIMING TO INTERPRET WHAT WAS BEING SAID; AND ADD TO THE MOMENT RATHER THAN SIMPLY CREATE PARALLEL OR EVEN UNRELATED PATHS?
My reservations however were not shared by the audience. Right from opening night there was an air of excitement and expectation at what might eventuate. Although music-driven, each concert included a component of conventional visual arts, film, photography or projection plus movement or dance or theatre. Performers flown in for the weekend were all involved in music technology in some way: Mike Cooper, slide guitar; Grayson Cooke, live audio-visuals; Rod Cooper, original instruments; Mike Majkowski, bass; and Erik Griswold, prepared piano.
The most satisfying collaborations were those involving Gold Coast-based performance poet Jayne F Keane. Her theatrical skills supported entertaining narratives, at times pithy or poignant. When her collaborators entered her space, the improvisations came alive.
Keane and technologist/composer Steven Campbell presented the most polished improvisation of the festival, They Say Drowning Is Like a Dream. The result of an ongoing collaboration, it is perhaps unfair to single out this work given the scaffolding that time and familiarity brings. They Say Drowning…was well paced and the media (poetry and sound bytes) worked well together, creating a whole that was more powerful for its pace, cohesion and sense of purpose.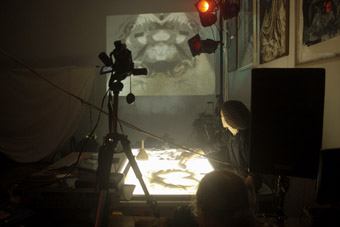 photo Glen O'Malley
Tom Jefferson, See Hear Now
Visual artists at the festival seemed largely impervious to what was going on around them, and even some musicians and dancers whose art forms are rooted in sound, space and silence appeared to lack the ability to work with co-performers. An interesting performance where more space would have enhanced the work involved a mandala created by emerging artist Tom Jefferson, drawing in sand on a light box. The patterns were projected on a wall, and then processed through an effects box by lighting expert Mark Bancroft. Initially the kaleidoscope-like shifts lifted the action, giving it another dimension. However, too many changes and gradually too many effects weakened the impact, leaving no space to savour or even retain a connection with the physical performers. The projections became a distraction rather than a complement to the whole.
Where there was a discernible connection between performers, the results were exciting. Percussionist Ian Brunskill played with exceptional intelligence in the work Frock, using a huge array of percussion sparingly and to good effect. At the climax of this seven-part improvisation, built around Keane's poetry and readings from 18th-century newspapers, Brunskill smashed sheets of glass and china plates. Keane followed up with a constrained poem where she lined up beer bottles as a sign of aging and loss. Theatre practitioner Mark Reed was outstanding as a sinister figure while Mike Cooper joined in with an inspired musical commentary on both Reed's characterisation and Keane's poetry, again with intelligence and insight, slipping layers of slide guitar riffs and motifs into the improvisation space.
The festival's visual arts curators, Sue Tilley and Selena Smith, engaged imaginatively in many of the collaborations, notably in the opening piece, The Chance in Bowing, with Griswold, Majkowski and Cooper. They occupied the space almost as fully as the dancers (Manu Reynaud and Rebecca Forde), splashing paint across, under and around a veil of fabric stretching from one end to the other. In Frock, Tilley, Smith and Alison McDonald created an 'haute couture' outfit on a live model using sheet music.
Festival director Michael Whiticker's City Debris opened powerfully with Griswold's performance on prepared piano both arresting and inviting. Whiticker played with samples and live percussion while Cooper coaxed some wonderful sounds from a hurdy-gurdy-like banjo invention which had two necks and various protruding pieces which he bowed, plucked, hit or scraped. Artists Therese Duff, Alison McDonald and Michele Deveze painted "an abstract of light and shade" using crayon and black paint on a long length of off-white cloth wound around movement artists Thalia Klonis and Caitlin Whiticker. Again this was an intelligent improvisation, the movement artists measured and understated and—unlike some others—not preoccupied with being centrestage or dance-like. The relationship between sound and movement was discernible but it was not until the daubing of the visual artists on the cloth became part of the movement that the whole work gelled, ebbing and flowing organically.
A breathtaking bass solo by Mike Majkowski, originally a jazz player, was the result of his teaming up with Grayson Cooke who used "an audio-reactive patch to create live, abstract 'visual music' triggered entirely by Majkowski's bass playing" (program notes). The visual content for this performance played second fiddle to the bassist's virtuosity which held everyone rapt. Majkowski bowed, plucked, struck and scratched all over the instrument, using tools such as wooden chopsticks, pegs and other implements to explore sound and silence. It was a very impressive performance, deserving of the long appreciative silence from the audience before they applauded.
In Trystero System (explained on the web as a loose grouping of musicians dedicated to free improvisation over dance beats of some kind), Grayson Cooke teamed with Mike Cooper to present an improvisation of processed slide guitar sounds and "deconstructed jungle beats." Cooke's work appeared to be political: his images, projected through a matrox box across multiple screens, featured Japanese anime dolls in skimpy outfits with fly-eye sunglasses and botoxed lips —a comment perhaps on the cruelty of popular culture and stereotype distortions, with Cooper's Hawaiian guitar reinforcing the allusion. To the side of the performance area fibre artist Michelle Hall quietly created an incongruous 'soft sculpture' accompaniment, unravelling spools of thread of different colours and weights which fell like lace on the ground. She then wound the threads ever more tightly around screen legs and other bits of furniture and would have continued, in her own world, except that everyone else had finished. Trystero System's symbolism proved thoroughly provocative and intriguing.
Unrecognised and unrewarded by funding bodies, Music Centre North Queensland is struggling to survive on ever-diminishing operational finances, so this exceptional festival could well prove the bitter maxim that art still flourishes under adversity. It is a tribute to the passion of the two part-time staff who run the centre and organised the festival, that such a host of interesting and challenging artistic events were gathered under one banner. If and when funding dries up, regional Queensland and avant garde art practitioners will possibly lose a very rich and significant cultural resource.
Music Centre North Queensland, See Hear Now; School of Creative Arts, James Cook University, Townsville, April 16-18
RealTime issue #97 June-July 2010 pg. 42
© Justine Wilkinson; for permission to reproduce apply to realtime@realtimearts.net