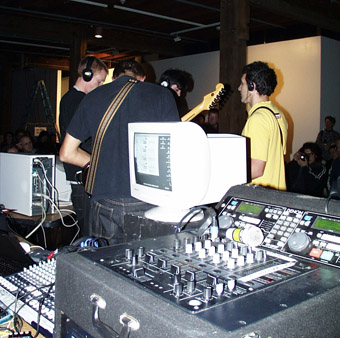 courtesy the artists
Chug R Chug, Scot Horscroft
"Bored boys checking their email"— Robin Rimbeau aka Scanner's description of a predominant performance mode in electronic sound art (artist talk, Artspace, August 11). I was glad to hear it wan't just me who had observed these tendencies. (Share the secret. What is it in fact that you are doing up there?). Refreshing too to see the phenomenon challenged by the majority of artists in Static Museum.two, curated by Garry Bradbury at Artspace.
Over 2 nights Bradbury brought together a collection artists to "struggle against utopian technocratic digital hegemony", fighting the fast trade in new technologies rendering the old favourites obsolete. This was particularly evident in A Kind of Bloop by the Loop Orchestra, consisting of tape loops of Miles Davis and porn thrown on to struggling reel to reel decks. There is such comfort in a loop—rhythmic irregularities create their own logic, become safe and predictable, only to sweep out of sync into a whole new groove. The Loop Orchestra create a climactic aural orgy of groans, hoots and howls both human and instrumental that run around the 4-speakered corners of the room. Particularly beautiful is the poetic denouement—2 loops of the same riff, one slightly longer than the other, dizzyingly lurching and cycling round us, like the ghost of Davis himself, just not quite able to stop playing yet.
Scot Horscroft and friends' Chug R Chug created an intriguing dichotomy between physical presence and sound emission. In an act of RSI-inducing endurance, 4 very visible musicians play repetitive chords on unamplified electric guitars, which are picked up and processed though an invisible but very audible laptop. The 'chugs' of the almost inaudible power chords are tweaked and effected to create a subtle lake of overlays and sonic swellings. What we are seeing seems so very different from what we are hearing, one excessive and visceral one minimalist and ephemeral.
Zero Charisma, A Construction—a collaboration between Mutante Frequante and Milk from Triclops—also aurally manipulates the physical space. Forty gallon drums variously fitted with speakers are installed around the space—one with an oscillating speaker emitting dopplering sirens, others working as metallic echo chambers and "vibraphonic" implements.
Garry Bradbury's work as Sanity Clause with Ian Andrews is raucously engaging as the fragile and physical nature of vinyl records is explored, amplifying the defects and histories—a shame that technical hitches prevented us hearing its 'bilabial plosives." Bradbury's work on the second evening was outstanding, varying from an amazing piece created from a Dark Side of the Moon album cut in half and stuck back together the wrong way round, to deft manipulation of clean and dirty sounds to create a satisfying and polished aesthetic. Also of note was Rik Rue's Things Change, things Remain the Same (ver 3), an epic performance and radiophonic work of cracking landscapes, sonic tectonic shifts and monumental mountainous groans.
It occurred to me, as I pondered the notable absence of female artists (save Jasmine Guffond, half of Minit), that there is a particular approach to sound as experiments in science—the fascination with frequencies, waveforms, electric spasms and gadgets—that, as a sound artist myself, I cannot access. I simply don't think of creating sound in this way. I'm sure there are female sound artists with the technical aptitude I don't have—so where are they? Do they, like me, simply lack the inclination? (I invite responses to this oversimplified provocation.)
Static Museum was an epic 2 night experience with more artists than I have space to mention. It was an excellent forum for a variety of sonic explorations, celebrating a vibrant, if male-centred sound culture in Sydney.
Static Museum.two, Artspace, Sydney, curated by Garry Bradbury, August 30 & 31
RealTime issue #45 Oct-Nov 2001 pg. 33
© Gail Priest; for permission to reproduce apply to realtime@realtimearts.net