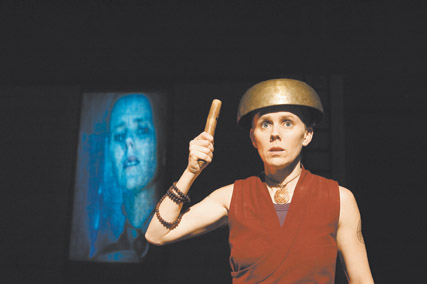 photo Juanita Broderick, Broderick Photography
Stace Callaghan, Between Heaven and Earth
STACE CALLAGHAN'S LATEST ONE WOMAN CELEBRATION SEES THE PERFORMER DRAW INSTRUCTIVELY ON HER RECENT ON AND OFF-STAGE LIVES. LAST SEEN ON STAGE IN ACTIVAT8'S THE KNOWING OF MARY POPPINS, IN A ROLE THAT SIMILARLY CAPITALISED ON CALLAGHAN'S UNIQUE PHYSICAL STAGE PRESENCE, BETWEEN HEAVEN AND EARTH TRACES HER FICTIONAL ATTENDANCE AT AN ENLIGHTENMENT TRAINING CENTRE: A "BOOTCAMP FOR YOUR SOUL."
Hosted by Guru Frank, the first of eight characters to appear throughout the show, bootcamp is, Stace hopes, a place to meditate and reflect. It becomes, in fact, much more. Diagnosed as F.I.N.E. (Frustrated Insecure Neurotic Emotional), Stace is instructed to relinquish her "E.G.O" (Everybody's Got One) and surrender to Frank's advice because he's the "G.U.R.U" (God, U Really Understand). Inoffensively accompanied by a church hall dance beat and armed with a dangerously elucidative talking stick, Frank comes across as a thinly veiled jab at the capitalisation of Enlightenment, but his direct address and ad-lib manner quickly set the tone for the performance to come.
Early audience involvement establishes what will become a familiar interactive convention for the evening. This is a show that is meant to move its audience, first literally, but ultimately, spiritually, and Guru Frank's ritualistic interrogation of the L.A.T.E. (Lazy Ass Time Eaters) comers begins the process with audience members continually being drawn on stage throughout.
Stace's journey for enlightenment begins on a wooden pallet that defines her meditation cell. After settling in to her task she is visited by religious figures St Hildegard von Bingen and then by St Teresa of Avila. Both women experience intense, physically altering encounters with their God and encourage Stace to continue in her search, mindful that one must be prepared to feel as well as listen. Marie Byles, the first female lawyer in Australia and Muriel Cadogan, the first woman to promote physical fitness in Australia, subsequently visit and each inspires Stace to persist through physical injury in the process of caring for her body. The intersection of the body with the spirit is an ever present theme of the show as Callaghan highlights the profundity of embracing an embodied spirituality.
Alison Ross' peopled, yet practical, set design provided a utilitarian platform for Callaghan to communicate plainly and acutely with her audience. Under the cohesive direction of Leah Mercer, Callaghan's unique performative and healing abilities have coalesced into a show that has come quite a way since its creative development.
Ultimately, Callaghan's audience are encouraged to use the performance as the beginning of their own journey of healing. Stace manages to overcome the charlatanism of Guru Frank and does make some sense of her place in the Universe. This is an honest and charming performance that, while never quite following through on its barbs at organised religion, does present a compelling case for the continuing celebration of spiritual diversity.
Between Heaven and Earth, devisor, performer Stace Callaghan, director Leah Mercer, designer Alison Ross, lighting designer Clytie Smith, composer Robert D Clark, dramaturg: Shane Rowlands, Visy Theatre, Brisbane Powerhouse, Oct 10-14
RealTime issue #76 Dec-Jan 2006 pg. 38
© Neal Harvey; for permission to reproduce apply to realtime@realtimearts.net