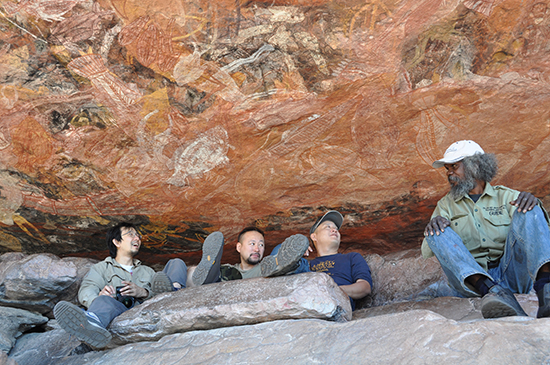 First Life Residency Project
Unworldly Encounters "evidences four artists' journeys of personal and artistic transformation that bridge cultures and generate a common spirituality." Chris Reid (read his review of the exhibition)
One of OzAsia's most powerful exhibitions was Unworldy Encounters at AEAF, featuring works by four Australian and Chinese artists who travelled through southern China, Tibet, Arnhem Land and the Kimberley and were in-residence in the Oratunga, north of the Flinders Ranges. Their journey and their art are documented in this magnificent large format book.
In "Dark Beauty," the catalogue essay for the exhibition, Ashley Crawford writes:
"Over the last decade, Steve Eland, the Director of Australian Experimental Art Foundation, has investigated the potentials of physical interaction between artists from different cultures. Unworldly Encounters has emerged as the third chapter in a now epic project that was initiated in 2006 with First Life Residency Project in Landscape—a jab at 'Second Life' virtual or web-based, as opposed to 'real' life, experiences in art—that began with an artists' journey to Arnhem Land. It has since involved artists from around Australia, Japan, Indonesia, the Philippines and China.
"In 2011 the First Life Residency Project in Landscape brought together contemporary visual artists from Australia and China—Sam Leach, Tony Lloyd, Ben Armstrong, Cang Xin, Shi Jinsong and Wu Daxin—to experience the landscapes and cultures of Northern Australia and regional China. Eland as organiser and myself as writer joined them. Designed to be an intensive 'real life' cultural and creative exchange, the project involved travelling by road through the landscapes of Northern Australia and visiting remote regions and Indigenous communities in Arnhem Land and the Kimberley and undertaking a hazardous road trip through the south-western provinces of China, from Lanzhou to Lhasa."
You can read the rest of the essay by downloading the exhibition catalogue.
We have one copy to give away, courtesy of the Australian Experimental Art Foundation.
Email us at giveaways [at] realtimearts.net with your name, postal address and phone number.
Include 'Giveaway' and the name of the item in the subject line.
Offer closes 19 October.
Giveaways are open to RealTime subscribers only. By entering this giveaway you consent to receiving our free weekly E-dition. You can unsubscribe at any time.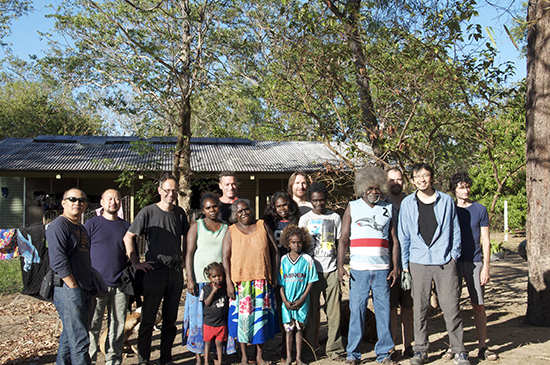 First Life Residency Project
RealTime issue #135 Oct-Nov 2016