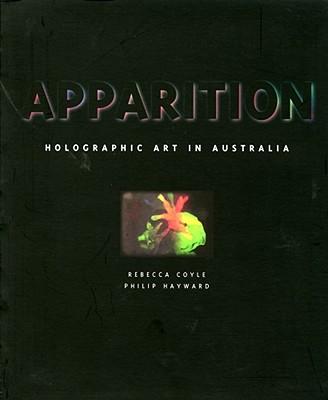 by Rebecca Coyle and Philip Hayward
Power Publications, Sydney 1995
"Holography is a tantalising medium", we are told in the opening sentence. Holography may be, but after its seductive black cover, Apparition remains a pretty straight piece of empirical documentation, comprehensive if tinder dry. Coyle and Hayward set out to address "the characteristics of holography as an expressive and artistic medium; discourses around art and technology which impinge on such work; and Australia as a site for such activity", devoting most of the book to long semi-biographical chapters on early Australian and British holographic artists such as Margaret Benyon and George Gittoes. With the issues around art and technology so current, documenting early collaborations between holographic artists and scientists is undoubtedly relevant to Australia's new wave of multimedia practitioners, but extrapolation to current developments could have been more vigorously explored. Indeed, one gets the feeling that some of the tough theoretical questions, such as the development of a critical discourse apposite to this medium and the light it might shed on high technology art have been sidestepped for a narration of significant scientific events and specific artistic works. While this documentation is of value, an opportunity for valuable speculation has been missed.
RealTime issue #10 Dec-Jan 1995 pg. 25
© Jacqueline Millner; for permission to reproduce apply to realtime@realtimearts.net