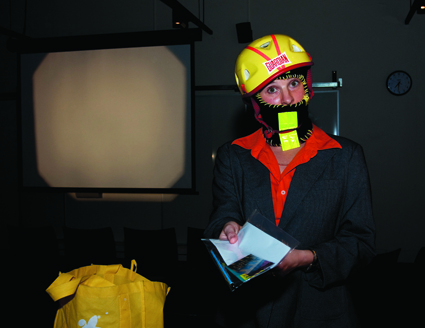 photo Oliver Parzer
Paula van Beek, Dangerous Melbourne
WE'RE HAVING TEA AND BISCUITS IN A SEMINAR ROOM ABOVE MELBOURNE'S CITY LIBRARY. A PASTY FACED CHICK WEARING A PLAID SUIT AND ADIDAS RUNNERS STANDS TO ONE SIDE. TOO MUCH FOUNDATION HAS BEEN APPLIED TO HER FACE. HER EYES HAVE ABOUT THEM THE VAGARIES ASSOCIATED WITH NARCOTIC ADDICTION, AND HER ENTIRE BEING APPEARS TO TREMBLE. SHE GIVES THE IMPRESSION SHE MAY BOLT ACROSS THE ROOM AT ANY MOMENT AND HURL HERSELF OUT THE FIRST FLOOR WINDOW.
dangerous melbourne
But Dangerous Melbourne is an ironic take on the safety seminar. So performer Paula Van Beek instead situates herself before a projector while we the audience are paired off with one another. You know the corporate training drill. Name tags attached to shirts stating 'Hello, my name is blah, blah, blah…,' two 15-minute breaks either side of lunch and the assumed authority of an inane team leader who believes in her purpose with a missionary's zeal. Van Beek advises us to open our eyes and become aware of Melbourne's dangers, as she projects on a screen sign after relentless sign, each indicating an unreasonable fear of annihilation.
What I experience, however, is a slippage between the formality of the training seminar and the art of performance. Here, the boredom associated with corporate training dissipates revealing a quietly hysterical team leader who is as terrified of being shat on by a pigeon as she is of being pack-raped. Dissolute, Van Beek stands before the bright light of her projector. Contained by emptiness, stepping into the unknown is the most terrifying risk a human being can undertake.
i thought a musical was being made
A Melbourne landmark, the Greek restaurant Stalactites is best known for its chicken souvlakis rather than as a performance venue. We sit at pre-designated tables and a waiter soon delivers a plate containing spanakopita, kalamata olives, dolmades and other Greek goodies. A dude sitting directly across from me explains that he's a vegan and that therefore I can eat as much of the food as I like. Thanks for that, but eating in a performance context is a sly form of audience participation; one that often has unforeseen consequences.
Filtering through my headphones is a sonorous mix of atmospherics and performance poetry. Through a window, it soon becomes apparent that a second event is also taking place, outside in Lonsdale Street. But I'm seated in such a way that I can't see the action; which is quite interesting really: being prevented from seeing for yourself what others can see for you is an illuminating interpretation of the public-private interface—a distortion we experience everyday in our media dominated lives.
The music ends and we're led back downstairs to where this performance began, outside in Lonsdale Street. Just as we have been prevented from—or allowed to participate in—watching others perform from an upstairs window, there now occurs a further elaboration of this collaborative awareness. As we shuffle around in circles and do silly things, others now watch us perform from the 1st floor of three buildings situated at the intersection of Lonsdale and Russell Streets. My sense of the sanctified individual and their place in a consumptive society is replaced by the multiplicitous proposition that as individuals we ignite when gazed at by other human beings.
and then something fell on my head
The stated theme of Next Wave 2010 is "No Risk Too Great." Funny though, the one time I feel threatened is when traversing the technocratic badlands of Melbourne's recently developed Victoria Dock to see And Then Something Fell On My Head.
Seated within the post-industrial Shed No. 4, I notice that a senior Victorian politician is also in attendance. We're wearing mandatory dust masks, protective goggles, hard hats and coveralls, and for good reason. From high up on a scaffold, shadowy figures dispense with a multitude of coloured pencils, sheets of paper and empty water containers, while a submissive office worker moves toward us. It's the forces of nature, thunder, rain and snow challenging the technocratic forces of habit: pencils, paper and purified spring water. And we the audience are also under threat. Until, in a neatly conceptualised projection layered across three sheets of cotton scrim, a video representation of the same office worker first unravels, then multiplies, while a developing awareness of the natural world dawns, along with its accompanying void.
Later, when inside the most uninviting unisex toilet I have encountered for quite some time, I quip to the senior Victorian politician that this show, perhaps, resembled a day in the life of the Victorian Parliament. "Yes," he says, slightly embarrassed. "Lots of shit falling on your head from a great height." Yeah, right…
a good death
And Then Something Fell On My Head was the most concentrated realisation of the troubling effect of technocracy and its consequent human frailties. But the attention to detail accompanying The Sisters Hayes' A Good Death distinguished it from its peers.
It takes place in a wizened crypt beneath North Melbourne's Mary Star of the Sea Church. There are tears of blood descending from forlorn eyes and the viscera of religious conviction represented by crimson braid. There's a painting of a personal friend of the artists, a wigmaker resembling a glamrocker, who, for some obscure reason has been elevated to sainthood. During a penny arcade animation comprising a performance containing painstakingly constructed masks, I cringe when I see one of those bum shaped, 70s, blue plastic chairs. This, however, may be a considered choice. A good death exposes the mysterious mythologies and disturbed impulses that underpin the stories of Catholic sainthood. But these retellings occur in such an idiosyncratic way that the ominous tale of Catholicism instead assumes a playful irreverence, one that conveys a genuine respect for its source. Impressive in scope and impervious to my secular scepticism, A good death dies a thousand deaths as it subverts Catholic history, and reinterprets the birth of Christ.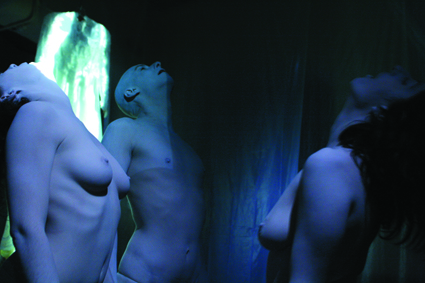 photo Gareth Hart
The Oak's Bride, Red Moon Rising
the oak's bride
Situated near the corner of Bourke and Spencer Streets, The Donkey Wheel Room is a subterranean exemplar of a now disused World War II bomb shelter. The opening sequence of The Oak's Bride is too familiar, as Butoh inspired representations of eternally rebirthing ghosts are now a performance cliche. But there's a crafty director's eye at play here, one that maintains an awareness of architectural space. In a second performance area, a woman adorned in an archaic dress occupies a now spatially charged window. She says nothing, she does not do that much, and what she does do is performed in a slow, meticulous manner. And in spite of a tendency for blockbuster inspired sound designers to neglect the power of silence, this image of a woman electrified by an architrave remains hypnotic. As a gateway into the third performance space and its mythological content, the same woman steps down, draws the audience's attention toward a distant doorway, and its portent of death as feminine.
It's a delightful transition, this dissolution of one performance and its blending with another. And it occurs to me that consistent with Next Wave's "No risk too great" theme, the five shows I've seen have been defined, in various ways, by an absence of safe, conventional theatrical structure. Even so, The Oak's Bride maintains a disciplined approach toward defining its images. On a far wall, several coquettish picture-frames are filled with black and white film, while the performers find solitude in an imbroglio of flesh contained by a huge vent rising upward into the outside world. With the dissolution of form and the disintegration of self there occurs the birth of that which, by definition, is yet to be known. Of the five shows, this 'body melt' exemplifies Next Wave's underlying impulse.
2010 Next Wave Festival: Dangerous Melbourne, creator, performer Paula Van Beek, dramaturg Nicky Fearn, various venues, May 17-27; I thought a musical was being made, creators Jess Oliveri, Hayley Forward, performers The Parachutes for Ladies, cnr Lonsdale & Russell Sts, May 18-23; And Then Something Fell on my Head, choreographer Ashley Dyer, lighting Travis Hodgson, video Rachael Brown, writer, dramaturg Sime Knezevic, programmer Fred Rodrigues, Shed 4, Docklands, May 19-23; A Good Death, creators The Sisters Hayes, lighting Bronwyn Pringle, sound design Angela Grant; St Mary Star of the Sea Church, May 16-23; The Oak's Bride, creators Ellen Rijs, Jeremy Neideck, Polly Sara, lighting Angela Cole; Donkey Wheel House, May 18-23
RealTime issue #98 Aug-Sept 2010 pg. 40
© Tony Reck; for permission to reproduce apply to realtime@realtimearts.net