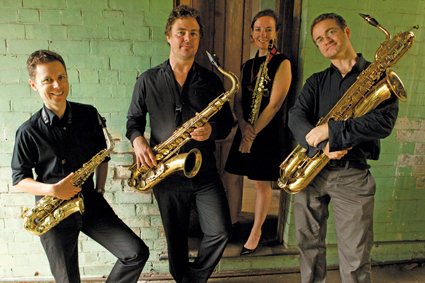 photo courtesy New Music Network
ames Nightingale, Martin Kay, Christina Leonard, Jarrod Whitbourne
TWO RECENT CONCERTS IN SYDNEY WERE ILLUSTRATIVE OF THE GROWING RICHES TO BE ENJOYED IN THE CITY'S NEW MUSIC SCENE, FEATURING UNUSUAL INSTRUMENTAL EXPLORATIONS AND A MULTITUDE OF WORKS BY AUSTRALIAN COMPOSERS FROM THE EARLY 80S TO THE PRESENT AND EMBRACING POETRY, MYTH, PHILOSOPHY AND THE AUSTRALIAN LANDSCAPE.
continuum sax & match percussion
Gyorgy Ligeti's Six Bagatelles (1923-2006) for saxophone quartet is a miracle of invention, revealing the rich, fluent capacities of the instrument in chorus and the virtuosity of the Continuum Sax ensemble. From sublime gallops and Eastern European folk dance riffs to serene high flights over deep burbling waters that recall Ravel to a final cartoony brass band chase, Six Bagatelles (originally from a piano work, then adapted for wind quartet) is driven with rapid, supple gear changes in volume, timbre and mood that make for exhilarating listening.
Margery Smith says in her program note that her Lost Blues for saxophone quartet and percussion duo (2010) was inspired by "the very dirty, cranky blues music of Tom Waits." You can hear it, particularly in the unusual instrumental and rhythmic juxtapositions—sax, drums, marimba—more experimental than Waits and erupting in one passage into a gliding and warbling eccentric big band sound, followed by a moment of loud high passion and then a brisk resolve.
Mary Finsterer, composer of IONIA for saxophone quartet and percussion (2010), writes that the work is inspired by the sixth century Ionian school of philosophy—"Everything flows, nothing stands still" and a passion for bringing opposites into balance. Of the composition's structure, Finsterer mentions in particular "small permutating cycles of clearly identifiable material repeating within larger cycles." These are contrastingly realised across emphatic changes of mood and pace: a lyrical solo saxophone opening passage, a sudden tom-tom-triggered dance, deep staccato saxophones against pulsing marimbas and a sustained episode that builds cumulatively into something curiously like Lully gone wild. On first listening, IONIA suggests a work worth return visits.
Chun Ting Pang's In Different Spaces for percussion duo (2010) juxtaposes marimba, tom-toms, suspended cymbal and woodblocks in a beautifully textured, evocative exploration of the five elements in Chinese philosophy including "condensation of water on a metal plate" and "wind which helps spread the fire in wood." The work is highly articulated, sometimes demandingly fast but frequently ethereal. Matthew Hindson's Song of Life (2007) for solo violin is a short tribute to Father Arthur Bridge, a significant contributor to the commissioning of new works. Natsuko Yoshimoto's playing was at once precise and passionate for a work that variously evoked 19th century melodiousness, folk music evident in glissandi and brusque stroking, and 20th century angularity, but which resolved into satisfying unsentimental unity.
Brian Howard's Last Blues for solo violin, saxophone quartet and percussion duo (2008) is a formidable, bracing and beautiful work, and one difficult to do justice to from a first hearing. Conductor Roland Peelman writes in his program note, "From the faintest violin harmonic to the grittiest saxophone texture, Last Blues unfolds not as a sultry dance or as a sad and sentimental song, but as a force of nature where all elements inextricably lead to one single purpose." The combination of saxophone, violin and percussion is an unusual one (Howard quipped in a pre-performance interview, "sometimes it's easier to get a weird piece performed") but very effective, yielding a delicious otherness most felt in the work's three time-stilling 'cadenzas.' If the blues are to be felt anywhere amidst the growl of saxophones, the bowing of vibraphones, the nervous, rapid rattle of percussion and the sudden emotional surges by the ensemble en masse, it is in the violin part, again, exquisitely realised by Natsuko Yoshimoto. Indeed Lost Blues stays with you like the recollection of a concerto, the instrument's range is widely exploited, and when it sings and the tenor saxophone then soars with it and beyond, the work's sense of interiority, of aloneness, but also of fragile togetherness is most felt.
halcyon: where the heart is
While not a program of the scale and potency of Extreme Nature (RT93) which featured big, challenging works by Australians Elliott Gyger and Nicolas Vines, Halcyon's Where The Heart Is, is a program featuring six more Australian works, all fascinating and revealing a rich variety of practice.
Ross Edwards' Maninya (1981), inspired by the natural environment, comprises hypnotic if rhythmically complex series of apparently meaningless syllables sung by Jenny Duck Chong to Geoffrey Gartner's talkative cello in passages that evoke lullaby and reverie and closing with a cello jig.
Elliott Gyger's Petit Testament, like From the Hungry Waiting Country (2006 and soon to be released on CD) in the Extreme Nature program, responds to Australian poetry, here in the form of the last of the Ern Malley hoax poems. Once again Gyger provides Duck Chong and Alison Morgan the opportunity to "highlight one of our particular skills—the illusion of singing 'as one' and masquerading as one another" (program note). As Gyger writes, "My setting re-enacts James McAuley's and Harold Stewart's dazzling feat of ventriloquism (two real poets masquerading as one fictional poet) in employing two voices to project a single musical lie, slipping unpredictably between unison, heterophony and interior dialogue." The sopranos dexterously managed the overlaps, sharply articulated modulations and shared sentences while the Stuart & Sons piano (played admirably by Sally Whitwell) provided a resonant other voice, alternately dramatic and ironic, lyrical or 'going to pieces.' Gyger aptly evokes both fraudulent excess and the odd beauty of the poem.
One of two highlights of the concert was Andrew Schultz's To the Evening Star (2009; Best Song Cycle, Paul Lowin Awards), a reflection, writes the composer, on the inner creative life, responding to poems by Yeats, Hopkins, Longfellow, WH Davis and Blake. Yeats dreams lyrically of rural escape while the busy piano suggests both the "bee-loud glade" and "the roadway…the pavements gray." For Hopkins' Pied Beauty, Schultz and singer, Alison Morgan, hit the syllables hard and rapidly, evoking excitement at the density of natural riches. Longfellow's anxiety about a creative life only half fulfilled is rendered emotionally, a soaring complaint, the piano thundering in empathy, while Davies' Money, O! contrastively celebrates being poor but happy in a vigorous folksy, music theatre idiom. Finally, Blake's To the Evening Star is a gloriously sung prayer for divine protection framed by piano scoring that seems to embrace the whole of the world, the playing constantly pushing out to the bottom and top-most notes simultaneously until at rest.
Ann Boyd's Cycle of Love (1981) is in the form of three sung ancient Korean poems and two instrumental interludes (Gartner's cello and Sally Walker's flute in exquisite dialogue). For all the meditative Korean and Japanese influences, the compositions are lively, even dramatic and certainly heartfelt in their longing.
The final work, folk singer and musicologist Ruth Lee Martin's Wimmera Song Cycle (2010), a setting of Kevin Hart's Wimmera Songs, surprised me with its transparent structure, its deceptively musical theatre character and ease (apt for the uncomplicated syntax of the poet's finely crafted image-making). Sopranos, cellist, pianist and flautist combined in various permutations to evoke the spread and detail of the land, through moments of delicate observation, pain ("the other silence that fits your head inside a vice") and the potential for transcendence—"Think like a cloud / Go where the clouds go."
New Music Network: Continuum Sax and Match Percussion, violin Natsuko Yoshimoto, conductor Roland Peelman, percussion Alison Pratt, Daryl Pratt, soprano saxophone Christina Leonard, alto saxophone James Nightingale, tenor saxophone Martin Kay, baritone saxophone Jarrod Whitbourne; Eugene Goossens Hall, ABC Centre, Sydney, Aug 24; Halcyon, Where the Heart Is…celebrating homegrown music, CarriageWorks, Sydney, Sept 13
RealTime issue #99 Oct-Nov 2010 pg. 49
© Keith Gallasch; for permission to reproduce apply to realtime@realtimearts.net