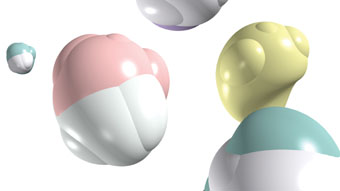 Michael Kutschbach, strawberry ut's (trudy's turn), animation still, 2003 Greenaway Gallery
Michael Kutschbach's friendly anthropomorphs have come out to play again, in the form of stanley, beatrice and friends. In multiple guises, they appear as shapes cut out of laminated MDF, plaster and acrylic globules, adhesive vinyl outlines and computer-animated figures. Pastel-pretty, stanley et al colonise the smooth cold concrete space of the gallery, swarming across the floor like the chalk scrawls of children's games and clustered on the walls in chewing-gum gobs.
A large projection on a far wall animates the figures in a complex and continuous state of permutation. Like an oversized, mesmerising screen saver, we see one shape morphing into another, colours constantly changing, new nodes swelling as new divisions appear. This projection integrates the separate figures ranging across the space, binding them via their infusion with the vitality of the projected image. The space is colonised and made wholly their own, XY's accompanying sound installation—a kind of scratchy static punctuated occasionally by annunciatory notes—functions as a soundtrack to their implicit lives.
Pretty colours, soft folds, and a focus on detail-free and impenetrable surfaces will always raise the suspicion that mere attractiveness is all that's on offer. Yet the works' high finish demonstrates deliberate and careful methods of production. Kutschbach's investigations could conceivably be validated by the methodical exploratory processes of their meticulous realisation, though whether such a grounding is acceptable or (conceptually) unsatisfying depends on one's viewpoint. Or perhaps these modes of production are merely secondary.
Kutschbach has obviously become fascinated with this shape, discovered accidentally while painting, and in bringing it to 3D realisation. The characters have been continually reinvented, toyed with, drawn out in different forms. Do we realise now, as essayist Jim Strickland suggests, that Kutschbach "has been nurturing a wonderfully eccentric personality within his blob"? This must count for something: personality is, after all, what matters in the art world. Enough personality to stand alone? Well, no, but they don't have to, given that their very substance draws on their inherent relationship to all things shiny and pretty and consumable, that is, their embodiment of the qualities valued within our society. Enough personality to stand 'the test of time'? Let's just not mention inbuilt obsolescence.
stanley, beatrice and friends, Michael Kutschbach, Greenaway Gallery, Adelaide, June 25-July 27
RealTime issue #56 Aug-Sept 2003 pg. web
© Jena Woodburn; for permission to reproduce apply to realtime@realtimearts.net