Anthony Hayes, Claire van der Boom, The Square
THIS YEAR, SYDNEY FILM FESTIVAL DIRECTOR CLARE STEWART SEEMS TO HAVE FINALLY GOT THE BALANCE RIGHT BETWEEN POPULAR HITS, OBSCURE GEMS AND FILMS THAT CROSS THE DIVIDE. THE NEW OFFICIAL COMPETITION, PLUS Q&AS WITH VISITING DIRECTORS AND PRODUCERS, GAVE ADDED ENERGY, AND FILMS IN THIS CATEGORY WERE GENERALLY WONDERFUL WITH STAND-OUTS BEING THE EVENTUAL SYDNEY PRIZE-WINNER, UK DIRECTOR STEVE MCQUEEN'S HUNGER, NEW ZEALANDER VINCENT WARD'S SAD AND LYRICAL RELIVING OF AN EARLIER DOCUMENTARY, RAIN OF THE CHILDREN, AND MY PICK, WHAT CANADIAN DIRECTOR GUY MADDIN CALLS HIS DOCO-FANTASIA, MY WINNIPEG, ABOUT THE SLUMBERING SNOWY TOWN WHERE HE GREW UP AND CONTINUES TO MAKE FILMS DESPITE IT BEING A "CITY OF SLEEPWALKERS."
The two Australian films in competition were both world premieres and debut features for young filmmakers with long and chequered histories in the industry, Nash and Joel Edgerton with The Square, and Matthew Newton with Three Blind Mice. While both films were edgy and showed exciting potential, I'd question their inclusion in a competition with its stated focus on "courageous and audacious filmmaking" exploring "new directions in film", since stylistically and content-wise both continued the recent Australian feature film focus on the gritty realist drama of men in isolation/crises in urban landscapes—also explored in Anthony Hayes' Ten Empty—and lacked the experiment with form and technique that set other competition films apart.
The festival had its usual crossfire and debate. During the roll of credits after Michael Haneke's revisited feature Funny Games (transplanted to the US with Naomi Watts and Tim Roth but, otherwise, shot-for-shot identical), I enjoyed a cross-cultural screaming match: "No-one should have to watch that. That was a SICK film. How could they show that." "You didn't even see it, you left half-way through." "I came back in at the end." "It's not as if you weren't warned. It was exactly the same as the last one he did." I wonder later whether the aggrieved might have been the same person who complained about Bill Henson's artwork. But the fracas highlights the power of cinema to still make people angry.
Having found Haneke's film excruciatingly tense first time around, seeing it rehashed 10 years on left me completely cold. As an exercise it becomes sketchy with no dramatic tension (a friend suggests that it might have been scarier in German) but it does have an amoral bully protagonist, Paul (Michael Pitt), who implicates the viewer, often turning to camera to goad us or to lift us out of our complacency when we condone some violent bits (but not others) and cheer the heroine on. At one point the audience erupts into applause when Watts hoists a gun and shoots Peter (Brady Corbet) and Peter's response, anticipating ours, is to grab the remote control and rewind, robbing us of any feelgood narrative. This film works in nice counterpoint to Three Blind Mice and The Square that also explore men's violence and bullying tactics, suppressed and overt, in isolated cultures where any honest communication appears a sign of weakness: a navy boat far out to sea; a construction site in the bush.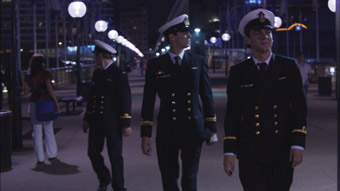 Three Blind Mice
three blind mice
Matthew Newton was racing against time to screen Three Blind Mice at the festival. As he revealed at the Q&A, he had to "abandon the film" rather than "finish it" and described the experience of watching it with an audience for the first time at the State Theatre as more nerve wracking than any acting he's had to do. He is also onscreen as Harry, one of three central characters—sailors on leave before their ship takes off next morning—a manic smart-arse who riffs off the other two, coaxing, controlling, wheedling his way in; he has the power but we're not quite sure why. Newton is good and the dynamic is nicely developed between his counterparts, loyal and solid Dean (Toby Schmitz) and Sam (Ewen Leslie), more vulnerable to attack. Newton fought to keep his key actors (rather than big names) and he steers clear of typecasting navy men as yobs. His research revealed navy guys as "men in computer clubs, drawn to discipline and maths…You don't need muscles to bully someone" and this tenderness of and towards the characters outlines the underlying fears that bubble under the performances. As Newton observes, the scariest place to imagine and experience bullying is on a ship in the middle of the ocean; there is no escape.
But the outstandingly memorable performance is from Gracie Otto (she was also editor) as Emma. She manages to combine a kind of Katharine Hepburn fast-talking sassiness with contemporary flair and is a joy to watch. Newton's script is unusual in that it foregoes the usual 'hero's journey' to explore multiple points of view. Newton describes it as looking like "spaghetti on paper" and it's a testament to his direction that it feels so energetic it could be improvised. Emma's dialogue (and that of all the smaller characters) is unusually rich and tapered. This, combined with some of the best actors covering the gamut of generations, mainly from the stage and who can "follow the writer's intention" (Jackie Weaver, Bud Tingwell, Alex Dimitriades, Barry Otto, Brendan Cowell, Heather Mitchell), and finely tuned editing that moves at complex cross purposes, means the characters twist and turn between comedy and thriller pretty successfully and by the end we are all standing on shaky ground.
the square
Nash and Joel Edgerton have been making short films on the Sydney scene for over 10 years and rose to prominence when Deadline won at Tropfest in 1997. Nash has had a career as a stuntman and editor and The Square's success comes from a great sense of pace, timing, bleak humour and that kind of violence that knocks you out of your chair at times (and this time there's no bully with his finger on the rewind button). Joel Edgerton's script (he co-wrote with Matthew Dabner), again, is strong for a first-timer and focuses on Raymond (an intense performance from David Roberts, who Nash also had to fight to keep against the pressure to have bigger 'name' actors), an everyman whose end-justifies-the-means ideology wears increasingly thin when the bodies start to pile up (but there's always concrete to cover them). Like Ten Empty (co-written by Anthony Hayes and Brendan Cowell) The Square is about men completely isolated from each other, unable to communicate except through filthy jokes, physical withdrawal or pure rage. In both films the consequences are severe for the women and families that support them: mental illness, suicide, violence and mayhem. Three Blind Mice is more nuanced in its exploration of degradation but it's still bleak days for the Aussie male. I wonder about these characters on the edge as I look around my own world. I don't seem to know these men—except through the current news reports of men killing their children—but, then again, the problem seems to be that they aren't talking. Not about the things that will save them, anyway. With filmmakers like Hayes, Newton and the Edgertons, at least for now their stories are in good hands and I hope, with their low-budget and DIY approaches, they manage to keep making films fast and on the fly and as good as these first efforts.
Three Blind Mice received a special commendation at the announcement of the Sydney Film Prize by Gillian Armstrong and has been selected for the Toronto Film Festival.
Three Blind Mice, director, writer Matthew Newton, producer Ben Davis, executive producer Michael Favelle, original music John Foreman, cinematographer Hugh Miller, editor Gracie Otto, Sydney Film Festival, June 8, 10, release date TBA; The Square, director, editor, executive producer Nash Edgerton, co-writer, executive producer Joel Edgerton, co-writer Matthew Dabner, producer Louise Smith, cinematographer Brad Shield, editor Luke Doolan, Sydney Film Festival, June 15, 16, released nationally July 31
RealTime issue #86 Aug-Sept 2008 pg. 19
© Kirsten Krauth; for permission to reproduce apply to realtime@realtimearts.net