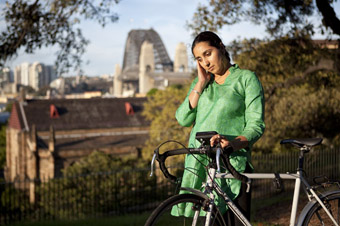 photo Alex Kershaw
Rider Spoke, Sydney, Blast Theory
NAVIGATING MY WAY THROUGH CROWDS OF TOURISTS AT CIRCULAR QUAY, I ARRIVE AT A SPECIAL CHECK-IN COUNTER INSIDE SYDNEY'S MUSEUM OF CONTEMPORARY ART READY TO EXPERIENCE BRIGHTON UK-BASED NEW MEDIA GROUP BLAST THEORY'S RIDER SPOKE. THE ARTIST TEAM WHO WELCOME ME—CORE BLAST THEORY ARTISTS MATT ADAMS, JU ROW FARR AND NICK TANDAVANITJ WITH THE ABLE ASSISTANCE OF A GROUP OF LOCAL GUEST ARTISTS—ARE POLITE AND FRIENDLY, CASUALLY DRESSED IN COLOURFUL CHECKED SHIRTS. I AUTOGRAPH VARIOUS INSURANCE AND INDEMNITY FORMS, DISPLAY MY CREDIT CARD, AND THEN RECEIVE A SHORT BRIEFING AND MY EQUIPMENT—HELMET, HEADPHONES, AND A BICYCLE WITH A SMALL TABLET COMPUTER MOUNTED ON THE HANDLEBARS.
So far, everything in Rider Spoke seems very relaxed and low-key, radically dissimilar to Blast Theory's last Sydney appearance back in 2002 with the immersive Gulf War-inspired gaming performance Desert Rain. Far from the extreme containment of Desert Rain's high-stakes virtual world, Rider Spoke embraces the open air, allowing its participants to explore vistas of their own choosing and perhaps increase their fitness in the process.
On my first visit I ride left, following the sunshine and sparkling water. It's a perfect summery Sydney day. The gentle voice of Ju Row Farr in my headphones lulls me into the experience, telling me small stories and making gentle suggestions as to what I might wish to do during the work's duration. As I roll along the waterfront, I feel relaxed, safe, and contented. What could be more perfect than cycling for art on such a day? At the request of the recorded voice, I stop and record a description of myself, feeling for some reason the need to be entirely honest. What follows over the next hour is a gentle yet deeply fascinating ambulatory artwork, encouraging me to do no less than reconsider my entire physical and psychic relationships to the city in which I live.
The format of Rider Spoke is simple. The voice in my headphones encourages me to ride in any direction I wish, to discover the city for myself; to feel its wind on my face and breathe in its air; to use the cycling experience to take account of the city, and of my physical presence within it. At various points, I am asked to stop and offered the opportunity to record responses to given questions. Each of these acts of recording are referred to as 'hiding', and each time I 'hide' to reveal a personal story, the process is marked on the handlebar screen by the image of a flock of birds. The birds swirl outward, circling and returning, as if enfolding my story in their feathery embrace. There is never any sense of coercion or compulsion in these acts of hiding, simply calm requests for stories framed by the gift of other small anecdotes from Farr.
It's clear that her stories have taken place in a different city, but as I listen to them while drifting along the Sydney streets they are woven into the local urban landscape. Farr's intimate disclosures encourage an equivalent sharing, and the more stories I record, the more other stories I am able to find, generating a fascinating interpersonal map across the city streets, a map whose territory increases the more closely it is examined. As I lurk in nooks and crannies out of the flow of vehicle traffic, previous travellers on the street whisper in my earphones intimate reflections upon place, emotion and memory. Every secret story, wish, or promise is linked to every other, with the city reimagined as a web of story traffic. Every other bicycle rider that I pass feels like family—a fellow sharer of private whispers. Rider Spoke seems to propose a mode of urban navigation that borders on sacrament.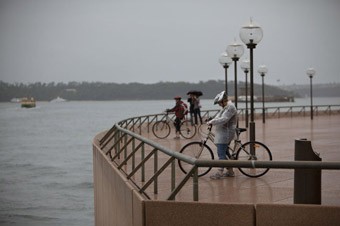 photo Alex Kershaw
Rider Spoke, Sydney, Blast Theory
A week later I partake for a second time, choosing to cycle right into the gloomy grey of a rainy Saturday afternoon. Chronology goes askew as I cycle further through the rainy and only sparsely populated city streets. I listen as 'Adam' describes holding his girlfriend's hand, and consider my own memories of this experience. Close by, I listen as 'Sarah' promises to stay angry and not feel bad. As I eavesdrop on these public secrets I lean my bike in a laneway watching a wedding photographer at work as the rain falls steadily around me. 'David' finds a clear view of the sky and tells me of his worries about debt, worries that keep him awake at night. But he only does so after I obey my guide's instructions and follow a man as he navigates his way across a public square and describe his actions. One act of voyeurism deserves another, it seems. In the sheltering scaffold outside the High Court on Macquarie Street, I listen as 'Olivia' promises to be honest for a day. I wonder how best to respond to this, and whether I should make a promise in return, and if so, what sort of promise I might be able to make.
Rider Spoke hints at the presence of deep social relations, and allows me to pass easily amongst them, mapping the city using a unique blend of pedal power and storytelling. The work suggests that perhaps such simple interventions might allow the city to care more deeply about the people who pass through it, about their stories and commitments to the future. As I ride ever onward, time begins to feel out of sync, and my travels somehow out of space. I traverse the grid of inner city streets, dodging cars and passing pedestrians, and as I travel I feel the weight of other times and places pressing upon me—fleeting experiences whose intensity of feeling suggestively marks these urban landscapes.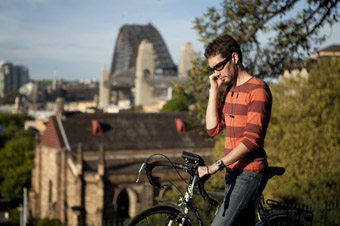 photo Alex Kershaw
Rider Spoke, Sydney, Blast Theory
At times, Rider Spoke feels as if it is navigating the boundaries of a new public privacy, encouraging the making of confessions while surrounded by strangers. In a sense, this is quite an ordinary experience—after all, we do this unthinkingly almost every day as we talk on mobile phones, often discussing the most personal and intimate details in public spaces, often at relatively loud volumes. Somehow we expect that, in the city, no one will listen. Or if they do, that there is no way anyone will remember. In Rider Spoke the city's nooks and crannies, the eddies in its flow of near-continuous movement, are reframed as spaces of memory, contemplation and intimacy. Small secrets play out privately in public spaces, and their presence suggests the elusive passage of many more, just out of my audio reach, suggesting that if only I could cycle every inch of the city and discover all of its hiding places, every delicate secret might be revealed.
The voice in my headphones informs me that my hour is up, and that I should return. As I unwillingly meander back to the beginning of my journey, Blast Theory has the final word. "I feel very close to you right now. Very close and a million miles away at the same time." I weave through the milling crowds at Circular Quay and the voice continues: "There was something in the silence, but you spoke over it. You always do." I return and leave my bicycle behind, but somehow I know that an important part of me has remained, enmeshed in a suspended web of whispered secrets.
Blast Theory, Rider Spoke, Sydney Harbour Foreshore Authority, British Council, Museum of Contemporary Art, Sydney, February 6-15
RealTime issue #90 April-May 2009 pg. 32
© David Williams; for permission to reproduce apply to realtime@realtimearts.net