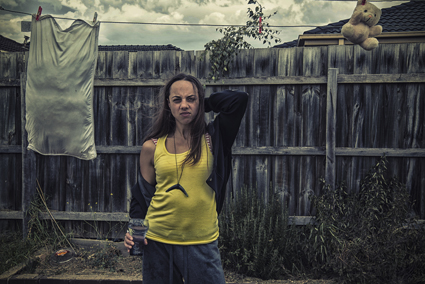 photo Gregory Lorenzutti
Carly Sheppard, White Face
A collection of new works by emerging Indigenous artists is always cause for celebration. This year's Next Wave Festival announces a key initiative in Blak Wave, a program comprising seven new art projects, a series of talks and, significantly, a publication edited by Torres Strait Islander Tahjee Moar and the Next Wave team featuring interviews, profiles and articles by established and emerging Indigenous writers asking "what's next—personally, politically and creatively—for Australia's Indigenous artists?"
All of the works in the program appear designed to provoke and involve audiences in equal measure. I spoke to Brisbane-based artist Ryan Presley about Lesser Gods, his participatory installation, which offers a provocative invitation to the audience to "Enter through the mouth of a saltwater crocodile…" (media release). Presley explains what happens for those who safely make it through: "Inside is a dance hall area with projections that will dictate which [of a number of] tiles to step on. Each tile is encoded with a cymatic symbol and each of these correlates to a musical tone. The video dictates a melody and the audience will have to figure it out. It's like a game with a cryptic melody."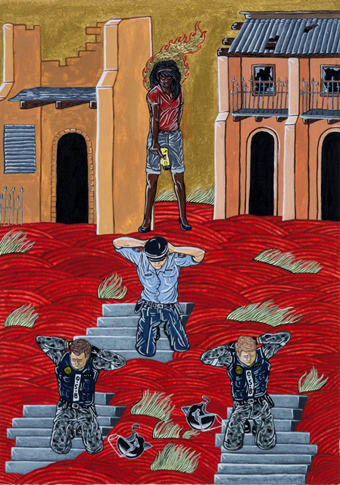 courtesy the artists
Ryan Presley, Transfiguration, 2014 Watercolour, gouache and gold leaf on arches paper
Like other artists in Blak Wave, Presley is exploring new ground with this work. Last year, he created Blood Money, "questioning the moral basis of Australia's wealth" in a series of intricately rendered commemorative banknotes celebrating Indigenous resistance fighters such as Pemulwuy, Vincent Lingiari and the late Wik elder Gladys Tybingoompa replacing the likes of Henry Lawson and Dame Mary Gilmore. In Lesser Gods Presley takes on "Christian iconographic paintings with all the gold leaf and two dimensional dramatic scenes like St George and the Dragon [as well as] Transfiguration and Resurrection imagery… reinterpreting and re-drawing the images but subtly referencing those sorts of compositions… I'm working with animators and a sound designer so there'll be animated video mixed with flashes of cymatic prompts."
New to electronics and new media, for Presley this "has definitely been a challenge… I'm working with another emerging Indigenous artist, Robert Andrew who's done a lot of electrical engineering and we've worked together on the interactive dance floor. And I've used animation as a bridge from what I'm used to doing into something new…. Initially I was going to create a video but for this context it's a bit too static. I wanted to create something vibrant that people could contribute to."
I've long admired the talents of Ghenoa Gela, a spirited and versatile dancer who has appeared in works by Shaun Parker (Happy as Larry, 2010) and memorably in the original production of Vikki Van Hout's Briwyant (2012). Following a year-long stint as ring mistress for Circus Oz, Gela returns to her dance roots with her premiere choreographic outing in Winds of Woerr.
Given Gela is best known as a contemporary dancer I ask about her approach to this work that has its roots in traditional story and dance. She answers, "This work has been a conversation between my Mum and me for a good couple of years now… She is my cultural advisor. We've been working on the script together and we're narrating alongside each other with my Mum on audio.
"I was intrigued by a couple of stories she told me when I was younger. I was born on the mainland and my interpretation of the seasons is of spring, summer, autumn and winter but my Mum grew up on the Torres Strait. They didn't have seasons up there, they had the winds— Kuki, Sager, Naigai, Ziai—that taught them when to harvest and when to plant, what to hunt and what fish were in the water. I wouldn't know unless I looked at a calendar."
Working with three other dancers—one from the Torres Strait, the other two non-indigenous, Gela is keen to present her own take on this material. "We're trying to tell the stories of the four winds of the Torres Strait but more like sisters rather than the elements themselves. We're 'characters' [based on] the spiritual elements." Also involved in the project is Anya Reynolds whom Gela met at Circus Oz and who's creating an evocative soundscape for the piece.
Gela is enthusiastic about the possibilities of introducing audiences to the riches of Torres Strait culture. Based in Sydney these days, she observes, "The further south, I find they don't even know where it is or that it's part of Australia… I really believe in opening the doors for people who want to learn about Torres Strait culture. I feel in order for people to know about the protocols and stuff, it's best they learn it themselves. They're really excited back home that I've got a few people on board learning traditional Torres Strait dancing and language. And I know my boundaries. I only teach what i know and what my parents have taught me."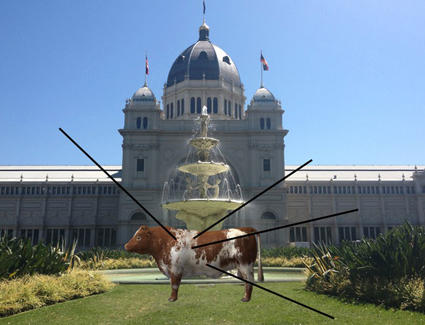 photo Sarah Black
My Bullock Modified, Steaphan Paton
Other works in the Blak Wave program are wide-ranging in the issues they tackle and the artforms deployed. My Bullock Modified by Steaphan Paton, for instance, sounds like an intriguing interactive VR work "exploring early conflicts between Aboriginal landowners and European settlers" in which an iPhone app permits participants to spear virtual cattle grazing in the Carlton Gardens. (You know you want to.) Paton, an interdisciplinary artist whose previous work suggests an activist eye sharply focused on colonial relations, identity and race, in this work invites his audience to empathise with "Aboriginal warriors who historically have been demonised as the lurking menace."
The Blaktism by Megan Cope is a satirical video work created in response to the artist's recent quest to track down her 'Certificate of Aboriginality,' that legal document surprisingly still required in some cases to authenticate a person's Indigenous status. Last year, actor Jack Charles refused an Australia Council requirement to produce such a document. For Indigenous urban dwellers cut off or estranged from their traditional homelands, Cope's work "bridges these parallel worlds." She admits "The thought of being legitimately certified suddenly cast a dark shadow of doubt across my mind and left me wondering if I was Aboriginal enough."
Another artist tackling some of the same territory in a dance work, also with a distinctly satirical edge, is Carly Sheppard who is accompanied onstage by her alter ego, the funny and streetwise Chase. "White Face is my first attempt to make commentary on my experiences as a contemporary Aboriginal Australian woman living in a continually evolving culture, which has survived invasion, extreme oppression and forced assimilation." Sheppard chose the title "because this work addresses tokenistic views where skin colour, among other stereotypes, such as location, connection to family and traditional knowledge, is seen as a mark of being authentically Aboriginal. Through this work I am reclaiming the responsibility of defining who I am as an Aboriginal Australian. I hope to inspire others to do so too."
Sarah Jane Norman always surprises with her incisive critiques in the form of live performance and her offering for Blak Wave is no exception. In Concerto no. 3 Norman, who admits she "has not laid her hands on a piano since she quit lessons at age 15," will be joined in a 12-hour marathon by five other 'failed' pianists who will take turns at sight-reading their way through the Rach 3, the daddy of them all in terms of difficult piano repertory, in "a challenge to the fetishism of 'greatness' and to the heroic discourse of artistic virtuosity." For audiences concerned for their own pain threshold, Norman poses the question: "in a culture driven at every level by the self-devouring pursuit of success, how might we make a space to contemplate the transformative potential of failure?"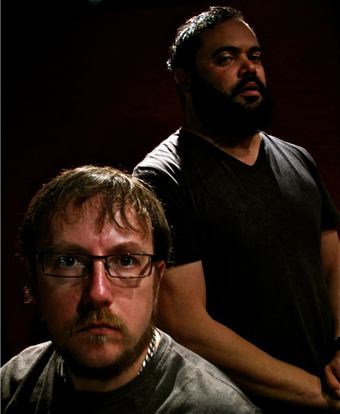 photo Troy Russell
SEETHrough, Sean Jorvn
SEEthrough by Sean Jorvn (the shared moniker of two Sydney based artists Colin Kinchela and Gavin Walters) incorporates music, innovative use of video by Jacqui Mills and sound by Chris Yates and Corey Webster in a performance "that puts Aboriginal and white masculinity 'under the knife,' exploring taboos and traditions associated with coming-of-age in both cultures." Employing the male shaving ritual as motif, the performers, one white, one black, explore the distances and connections between cultures and the potential for genuine intimacy between them.
For a blast of new talent and provocative ideas, Melbourne might just be the place to be in April-May.
Next Wave, director Emily Sexton, 16 April-11 May, Melbourne, nextwave.org.au
Quotes from Blak Wave artists are from phone interviews as indicated and, otherwise, Next Wave's media pack.
RealTime issue #120 April-May 2014 pg. 34
© Virginia Baxter; for permission to reproduce apply to realtime@realtimearts.net