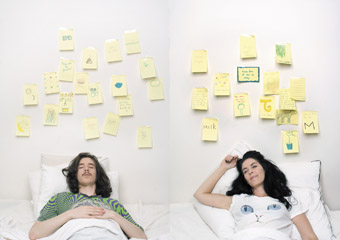 photo Michelle Tran
Sean Peoples, Veronica Kent, The Telepathy Project, 2007
AS THE INTERNET WEAVES THE WORLD TIGHTER AND TIGHTER, OR GIVES THE ILLUSION OF DOING SO, ART OF ALL KINDS ATTEMPTS MORE VISCERAL INTIMACIES (ALBEIT OFTEN HAND IN HAND WITH THE NEW TECHNOLOGIES). REAL BODIES GATHER IN REAL PLACES, NOT JUST AS AUDIENCES BUT AS ACTIVE PARTICIPANTS IN ARTIST-CREATED SCENARIOS. AT THE 2008 NEXT WAVE FESTIVAL YOU MIGHT FIND YOURSELF IN A SLEAZY HOTEL ROOM, A NIGHTCLUB LOO, THE 'DUNGEONS' OF FEDERATION SQUARE, ON A JOGGING EXPEDITION OR A MISGUIDED TOUR OF A MAJOR ART GALLERY. BUT WILL IT, IN THE END, BRING US ALL CLOSER TOGETHER? THIS IS THE HOPE OF NEXT WAVE DIRECTOR JEFF KHAN.
"Closer Together" is the theme for Next Wave in 2008. The festival's promo broadsheet reads, "The force gets stronger as two objects move closer together. The force gets weaker as the two objects move further apart…" Jeff Khan "invites artists and audiences to explore the space for vulnerability, intimacy, transgression and exchange in an increasingly globalised world."
Khan believes that to combat globalisation's rhetoric of closeness, there's a need for a festival with real dialogue, diverse and alert to vulnerable areas such as lives impinged on by the forced sameness of the free market. He's an optimist but one who recognises that it's an attitude that has to be underpinned by the experience of works "that reveal the claustrophobia and darkness of restriction."
It's too early for Khan to announce all of his program, but in our interview he mentions enough to indicate just how he and his artists plan to draw us closer together. The Agents of Proximity (Amy Spiers & Victoria Stead) counter the global tourist trend with its giant carbon footprint by setting up a travel agency whose terrain is totally restricted to touring the Melbourne suburb of Brunswick.
X:Machine's Serial Blogger, a large scale collaboration, takes up the challenge of merging the virtual and the actual with direct audience engagement. It looks into the dark side of the festival's 'closer together' theme by "asking audiences to pry into the lives of a group of bloggers who get a little too close to someone stranger than themselves…a serial killer. The interactive journey will lead audiences from an online video narrative to a street located touchscreen interface and end at an underground warehouse for a gruesome live performance finale" (www.xmachine.com.au). The X:Machine team comprises artistic director Olivia Crang, co-artistic director Alex Gibson, multimedia artist Pierre Proske, video artist and sound designer Jarrod Factor, set and costume designer Harriet Oxley and a team of performers.
Khan applauds this kind of venture which he says represents "a new fearlessness about art and politics in younger artists, in which hybridity isn't just a formal exercise but is driven by ideas."
On a very different front Next Wave explores how, in The Nightclub Project, venues can be transformed in the name of art. Next Wave is determined to "push the arts experience into the social sphere." Here artists take over the Billboard dance club with installations and acts and the Men's strip club for a night of feminist and queer performances. "Ephemeral interventions", says Khan, "but it's interesting to see how far you can you push them."
In direct contrast with such large scale events there's Sydney performance group Post (Mish Grigor, Zoe Coombs Marr & Natalie Rose) performing to one audience member at a time in a 10 minute show (in three-hour stints for the performers).
On a larger scale, but with some intimacy, in Dear Art, Please Touch Me in the National Gallery of Victoria, performance artist Danielle Freakley offers an alternative audio guide to the gallery's permanent collection. The guide comprises the recorded responses to the artworks from 15 viewers not educated in the visual arts (from a five year-old to a retiree and across a number of professions) to a score by WA sound artist Elizabeth McGechie. The NGV came to the party, providing use of their audio guide system.
For proximity of a very different order, and low tech as you can get, there's The Telepathy Project. The photographer, installation and screen artist Veronica Kent will appear with fellow artist Sean Peoples at the Forum Theatre for a week. They'll be installed in the shop window there where they'll send and receive messages which will be posted for passersby to read (and perhaps recognise!).
In his career in the visual arts, Jeff Khan has worked at PICA in Perth, Gertrude St in Melbourne and on the curatorial committee of the 2006 Next Wave. He's always been fascinated with interdisciplinary practices. Most formative of all, he says, was four years at Gertrude St watching resident artists make work. It's not surprising then that he's passionate about Next Wave's Unsheltered Workshops which bring together artists from the USA, New Zealand, Canada and Australia in a residency program that allows them contact with audiences who can intervene in their work at the VCA Gallery. These are visual artists who are committed "to workshopping with the public", says Khan, "at art's interface with the social."
To achieve his "closer together" goal in 2008 Next Wave, Khan envisages engaging "a large audience on an intimate scale", whether in big institutional spaces like a major gallery (with earphones for private listening) or in more sequestered spaces, like a strip club, or a basement performance with an online dimension, or a room for three performers and an audience of one. It requires fearlessness all round, from artists and audiences. RT
Next Wave Festival, Closer Together, May 15-31
RealTime issue #84 April-May 2008 pg. 8
© RealTime ; for permission to reproduce apply to realtime@realtimearts.net