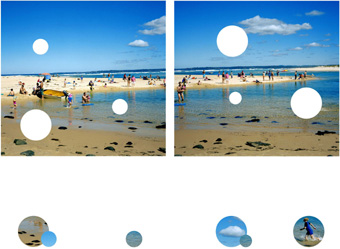 Courtesy of the artist and Margaret Moore Contemporary Art, Perth, 2004 Adelaide Biennial of Australian Art
Derek Krekler, Holey 1, 2003, type C photographs, diptych
Any assessment of a survey like the 2004 Adelaide Biennial of Australian Art is inevitably problematic. The works cannot be addressed on individual merit when their very inclusion is always an issue. Why that particular artist? Why that particular work? That the Biennials are themed is another facet attracting judgement, both in terms of the works' relationship to the focus and the perceived validity of that focus. The grouping of traditional photography, film and digital technology this year under the nomenclature "photo-media" can also be interrogated or accepted according to individual opinion. There has been criticism of focusing on medium as a selection criteria, although it's surely accepted that photography has transcended its materiality and become, as the most pervasive mode of representation as well as a key mode of self-representation, a valid avenue via which to assess contemporary culture and society. In this sense, the 2004 Biennial was certainly better than 2002's conVerge: where art and science meet, where there was too much science and not enough art.
Although curator Julie Robinson stated that the Biennial had no theme "as such", she also described how common threads appeared, with the artists engaging "with society, the world and the human condition" (exhibition catalogue). Some works do this explicitly. For example, Mike Parr's painfully fascinating UnAustralian which documents the un-anesthetised artist having his lips sewn together, and Linda Wallace's entanglements, a conglomeration of images culled from televised war coverage. In addition to the direct reference to the mediation of reality via television (framed by net curtains à la lounge room viewing), the slippery relationship of digital representation to reality is highlighted by the fact that, as Chris Rose points out in his catalogue commentary, any kind of magnification doesn't evince detail, as would usually be expected, but rather disintegrates it.
Part of photography's seduction is its status as a trace of the real, the result of a chemical reaction triggered by exposure to light reflected off the lines, curves and angles of physical objects and beings. Deborah Pauuwe's photographs in particular seem to adhere to this in her sensuous tracing of her subjects' surfaces. The young girls of Dark Fables, in party dresses with painted faces, are larger than life, their skin, hair and the curves of their features all rendered under incisive light that allows our eyes to roam their exteriors and visually consume them.
Craig Walsh's ingenious video similarly offered an unusually intimate perspective. Cross-reference displays footage of crowds at an outdoor festival who, walking past the camera, bend down one-by-one and peer searchingly into the lens. Thus absorbed, they become completely unselfconscious and the viewer in turn unselfconsciously examines individual facial hairs, the outline of a nipple through a bikini top, or the very intimate movements of mouths slowly forming unheard words. As well, Walsh neatly addresses another common issue of contemporary photography: the viewer/viewed dichotomy. The work is rear-projected through an ajar 'door', creating the impression that these people are staring into the gallery space itself. While such scrutiny demonstrates the infinite individuality of human features, the procession of faces eventually blends into one. Likewise, the characters in David Rosetzky's Untouchable speak with their own voices, cadences, rhythms and inflections, but the stories they tell are (literally) the same. Untouchable comprises 3 screens depicting actors performing monologues, of alienation, emotional abandonment, or the genesis of passionate relationships. Eventually it becomes apparent that, although narrated each time by a different character, the same stories are being told verbatim.
Derek Kreckler's work also plays with narrative, with the paired images of Holey 1 depicting 2 views of the same beach scene, the tableaus only marginally separated in space and time and their temporal order left unclear. In addition, circles of the image have been excised and reproduced as small globes set before the photographs. This reconstitution in 3 dimensions seems both a comment on the way we see much of the world via 2-dimensional representation and a reassertion of (despite a Biennial's worth of photo-media to the contrary?) the very 3-dimensionality of physical existence.
2004 Adelaide Biennial of Australian Art: Contemporary Photo-Media, curator Julie Robinson; Art Gallery of South Australia, Feb 28-May 30
RealTime issue #61 June-July 2004 pg. 41
© Jena Woodburn; for permission to reproduce apply to realtime@realtimearts.net