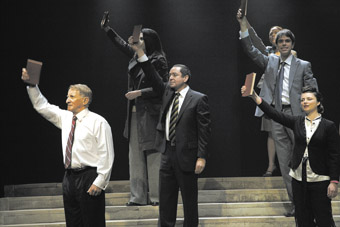 photo Tania Kelley
members of the STC Actors Company, The Art of War
IN A NEWLY OPENED CREATIONIST MUSEUM IN THE US, RUN BY A FORMER AUSTRALIAN SCIENCE TEACHER, THERE ARE DINOSAURS ON NOAH'S ARK. ELSEWHERE A BABY ANIMATRONIC T-REX SITS DOWN WITH YOUNG CHILDREN BY A DIORAMA WATERFALL—LIKE THE LION WITH THE LAMB. FAITH IS EVERYTHING IN THIS 6,000 YEAR HISTORY OF THE WORLD, AND THAT FAITH IS BASED ON THE WORD. RECEIVED WISDOM EMBODIED IN BOOKS DOMINATES HUMAN CULTURES. ATHEISTS (DAWKINS, HITCHENS ET AL) NOW VIGOROUSLY CHALLENGE NOT ONLY FUNDAMENTALIST RELIGION BUT THE WHOLE SHEBANG, INCLUDING THE KIND THAT PROPELS THE AUSTRALIAN GOVERNMENT TO FUND THE PLACEMENT OF A CHAPLAIN IN EVERY SCHOOL (PERHAPS HE/SHE SHOULD ALSO RAISE THE COMPULSORY FLAG) AND TO TREAT EVERYONE WITHOUT RELIGIOUS FAITH AS MORALLY DEFICIENT.
At Belvoir St Theatre, Company B performs UK playwright Howard Brenton's Paul, about one of the authors of the New Testament, while at Malthouse Uncle Semolina (& friends) present OT (for Old Testament; see page 31) and the Sydney Theatre Company realises visiting playwright Stephen Jeffrey's The Art of War, based on the two and half thousand-year-old Sun Tzu classic, used also as a manual for strategies in business and sport.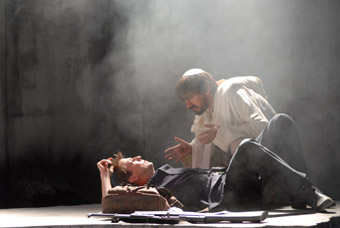 Company B, Paul
paul
In Brenton's Paul, the proselytising saint (played by Robert Menzies) is depicted as wild-eyed, his head thrust forward, arms waving, movements discombobulated, every word an urgent thrust, a declaration of the man's ineptness as a rhetorician. He's an epileptic visionary (falling down often, not just the critical once), temporarily blinded by a vision of Christ that converts him from official persecutor of the new Christian sect to become one of its leaders, travelling the empire, spreading the word, establishing churches. In Brenton's version of the life, Paul's struggle is pragmatic, challenging recidivists clinging to Jewish custom (diet, circumcision etc) when he knows that the Christian creed will only spread if it tolerates the everyday habits of gentiles. But there is a greater challenge—Paul's companions are uncertain of the miracle that has liberated him—is he simply ill; worse, some know that it was no miracle, Christ is alive and in hiding. Brenton opens out the narrow New Testament narrative, incorporating apocrypha like Christ's marriage to an intelligent and cynical Mary Magdalene, along with references to the popular competing creed of Mithras, the bull god. Paul has to face the fact of a living Christ and not in the sense that he had hoped. But having travelled so far he is consumed by his own belief and passionately convinces his followers to take it up—their faith is a fiction but, as Paul sees it, a necessary one.
Wesley Enoch's direction of this essay-as-play is straightforward, the performances suitably tough and tense, and the handling of the shifting time structure (offering something in the way of suspenseful propulsion) deftly handled. The war-torn setting, armed soldiers in 21st century garb and the grim prison camp scenes all evoke the Middle-East as it is now, although it's a broad brush analogy, a conceit that is not really through-produced. What I found profoundly dissatisfying was the play itself. It's extremely difficult to match the character as written and played with the Paul who so profoundly shaped the emergence of Christianity not simply as fervent missionary but as literary genius—cleverly melding Jewish, Greek and Roman epistolary formulae in the Epistles ("telegraphic sermons" one writer called them) that not only implicated his far-flung readers in the drama of imagined dialogues on morality and belief but mimicked the authority of empire.
This was the man who fused pagan, Christian and Greek philosophies into a workable whole for the Greco-Roman culture of the Roman Empire, who above all synthesised Platonism and a new creed into the Christianity we now know with its opposed worlds of flesh and spirit founded on the inherent imperfection, recast as original sin, of humankind. We see the driven visionary (the day of judgment is always nigh), glimpse the seductive poet and, occasionally, the wit: "You can't build a religion by piling up foreskins." Brenton is peculiarly restrained ("god fucked [Mary] in the ear" is a rare exception) although his portrayal of a Nero (Jonathan Hardy) who can see what's coming (he has to execute Peter and Paul but knows that martyrdom will be the first step towards a new state) has some of the old Brenton bite. Like plays or films with artists as their subject where the art barely gets a look in, this play inclines to one dimension (faith overriding the facts in the wedding of vision and pragmatism), neglecting the man's art and the range of his ideas. Of course, there's a limit to what you can expect from a couple of hours of stage time, but it would have been interesting to see more of the dynamic between the man's passion and his intelligence.
OT: chronicles of the old testament
OT, by Uncle Semolina (& friends), revealed a young Melbourne company in fine ensemble fettle using every lo-grade theatrical device in the book to remind us, as Brenton's Paul does, that God is an invention of humans pretty much in their own image (here a distant, sleepy cardiganed old guy), but a construct that can get right out of hand. What begins as a series of skit-like re-tellings of Bible tales in no apparent order and desperately short on punchlines improves as we realise we are heading towards the moment of creation rather than away from it, and when the writers entwine stories in order to drive home issues of power, gender and faith with increasing irony, thus rescuing the whole from the sense of an undergrad atheist trip. The darker it gets, the funnier.
the art of war
In The Art of War, Stephen Jeffreys takes a classic Chinese text and applies it to the earliest stages of the war in Iraq, to business and personal relationships. While audiences doubtless know enough of their Bible to engage comfortably with Paul and OT, Jeffreys is faced with the challenge of filling us in on one-time general Sun Tzu's epigrammatic thoughts. The cast, therefore, becomes a chorus (invoking another ancient practice) chanting from copies of The Art of War (bound in red and evoking yet another influential Chinese volume) and then, in the first scene, transform into the staff of a company being introduced to Sun Tzu's wisdom via a motivational speaker. The book thus becomes a framework for and the subject of the drama. Throughout, the chorus in part or whole comments on the action, be it a business venture into modern China, heterosexual friction (complicated by various moral issues) or war (the inept handling of the invasion of Iraq: "There is no instance of a country having benefited from prolonged warfare", writes Sun Tzu). In the case of General Garrett (Colin Moody) and journalist Crystal (Pamela Rabe), the most fully realised of the three couples, waging and reporting the same war and managing a mid-life romance crystallise the play's alarming ethical complexities.
But as drama, there's a plodding insistency to the choral device that, once established, is wearying along with a certain obviousness to the Iraq war material, and too many of Jeffreys' characters are bland—although the members of the Actors Company all adroitly compensate. There are two notable exceptions in the writing. First there's Jessica, finely realised by Amber MacMahon revealing the tunnel-vision intelligence of a woman seduced by the Sun Tzu ethic and its teacher, whom she stalks. Her disappointment that the Sun Tzu ethic cannot be lived as a totality turns her pyromaniac—in a magical moment the chorus open their books and they burst into flame. The other idiosyncratic character is Brian—Peter Carroll as an older businessman usurped by a new generation of reckless pragmatists. Apparently slow witted (Carroll's restrained delivery is masterful) he wreaks vengeance with glee, having deftly deployed the deception recommended by Sun Tzu. It's a moral victory, even if criminal. Once again the strength of the STC Actors Company is fully evident, doing more than justice to Jeffreys' script with vocal and physical verve and an ensemble ease of playing.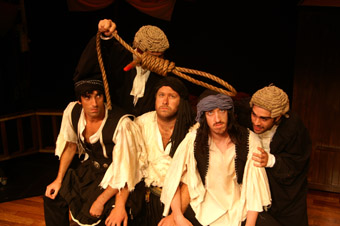 Sidetrack, Seven Pirates
seven pirates
Sidetrack's Seven Pirates is a great antidote to the Pirates of the Caribbean movies, offering facts, politics and an Australian connection, as well as fun, in the telling of the story of some none too murderous Greek pirates in 1827 who seize the British merchant-brig Alceste with its load of tin plate. All of this is complicated by occurring in the middle of the war between Greece and the Ottoman Empire with Britain looking to assert its authority in the region and coming down strongly on pirates. Here was an opportunity to set an example by hanging the seven young Greek offenders (who claimed they were seizing cargo destined for Ottoman Alexandria).
Writer-director Don Mamouney frames the tale as a courtroom drama with action-packed reconstructions (boardings, sword fights, stunts, singing and belly dancing) set against epic video sea and sky-scapes and with much suspense (first hanging looms, then life sentences, then transportation to Botany Bay in 1829). Above all, writer and performers excel in their hilarious handling of varieties of English (including Maltese, Sicilian, French and Spanish) in the courtoom, climaxing in the meeting between a fantasist George III (who commutes the sentences) and the pirates' dedicated Maltese defense lawyer. Adam Hatzimanolis as the pirate captain, Manolis, brings gruff humour and authority to his role (the character warrants more room in the first act to anchor the play) and all of the performers display great versatility, not least in their rapid role-changing. Seven Pirates is a joyful piece of historicising giving life to an incident and people we know little or nothing of—the word here has opened up awareness, not foreclosed it with legal, moral or tactical strictures.
Company B, Paul, writer Howard Brenton, director Wesley Enoch, performers Robert Menzies, Paula Arundell, Ewen Leslie, Jonathan Hardy, James Evans, Graham Rouse, Hazen Shammas, Jason Klarwein, Steve le Marquand; Belvoir St Theatre, Sydney, opened May 2; Uncle Semolina (& Friends), OT: Chronicles of the Old Testament, Malthouse, Melbourne (see page 31); Sydney Theatre Company, The Art of War, writer Stephen Jeffreys, director Annabel Arden, performers STC Actors Company, set Robert Cousins, costumes Tess Schofield, lighting Damien Cooper, sound Max Lyandvert; STC, Wharf 1, Sydney, opened May 19; Sidetrack, Seven Pirates, writer, director Don Mamouney, performers Adam Hatzimanolis, Alex Blias, Ben Adam, Ben Wood, Chris Pickard, Jason Stojanovski, Russell Smith, video Assad Abdi, lighting Jocelyn Speight, costumes Sue Liolio; Riverside Theatre, Parramatta, April 11-22
RealTime issue #79 June-July 2007 pg. 33
© Keith Gallasch; for permission to reproduce apply to realtime@realtimearts.net