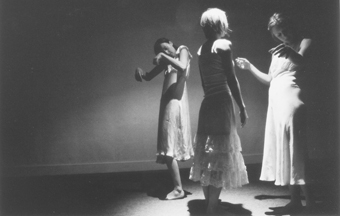 photo Heidi Romano
Simon Ellis, Lost Something
The last decade has seen the rise of the creative postgraduate degree in dance and with it, an institutional interest in the notion of dance practice as academic research, especially in Melbourne and Brisbane. This is no surprise given the number of dance artists in academic positions in Melbourne universities (Dr Elizabeth Dempster, Jude Walton, Helen Herbertson, Dr Mark Minchinton) and the fact that Queensland University of Technology (QUT) is home to Australia's first PhD graduate in dance studies, Associate Professor Cheryl Stock. Stock is an enthusiastic advocate, stating that "the most important thing about Creative Practice as Research is that it validates the work itself as a research outcome and privileges the artist's voice which has been marginalised or even silenced for far too long in arts research."
If professional dancers and choreographers find it hard to achieve a sustainable practice in Australia, those at the interface with broader contemporary theoretical concerns are naturally turning to tertiary institutions. Some Australian universities offer support and stimulation for dance practitioners who may not find these things in their immediate community. Many are also teaching in the institutions in which they are enrolled.
Gavin Webber
A case in point is Gavin Webber, the new Artistic Director Of Dance North in Brisbane. Webber has just begun a Masters by Research this year at QUT with Stock as supervisor. Webber's research focuses on his dance theatre practice and discovering and intellectualising his own research methodology—a "conundrum" that he is working through. As part of his process involves serendipity, improvisation and accidental discovery, he is considering how these kinds of practices fit into the structure of a Masters. Webber had some reservations about becoming "too much of a researcher in that you may lose some of your creative capabilities as you begin to think too much about how you work." He cites David Lynch as an artist who doesn't like talking about his work because he believes this "limits the audience's ability to dream", yet at the same time Lynch does talk very poetically about his films. This second conundrum has become another part of Webber's thesis.
Webber chose postgraduate research after arriving back in Australia from working in Europe with companies such as Wim Vandekeybus' Ultima Vez. This hugely successful Belgian dance company has little profile here so Webber found it difficult to find support as an artist until he met Stock who drew him into QUT as a teacher. Webber believes that Australian universities provide a lot of support for innovative contemporary dance in this country and that "QUT is very forward-thinking in terms of its postgraduate courses and the role for artists there."
Stock explains that this direction at QUT really took off in 2001 when Creative Industries was formed as a faculty within QUT and, with it, a new research centre, Creative Industries Research and Application Centre (CIRAC). Stock states that "CIRAC now has around 200 RHDs (Research Higher Degrees—Masters and PhDs) of which half are undertaking Creative Practice as Research across many disciplines, including dance of course." At a recent conference covering many of the issues surrounding creative practice as research (Speculation and Innovation Conference, QUT, March 2005) dance artists Hellen Sky, Shaaron Boughen, Chrissie Parrott and Simon Ellis gave performative presentations in keeping with the theme of the conference.
Simon Ellis
Ellis enrolled in 2000 at the Victorian College of the Arts' School of Dance under the supervision of Dr Don Asker and is the school's first PhD candidate, submitting in May this year. Others have followed: Neil Adams and Siobhan Murphy are both currently enrolled as DCA candidates. Ellis' area of research was creation and performance beyond 'live' processes and the relation to the workings of memory. He draws on Bergsonian theories of memory, Philip Auslander's performance theory and the theoretical work of Elizabeth Grosz. He also approached questions of epistemology itself—a recurring theme for the artist-scholars interviews—and submitted his thesis as an interactive DVD-ROM which included his written component and video footage. Ellis chose the school because he wanted to "start the project from a 'dance perspective'…as opposed to commencing from, say, a sociological or psychological framework and then 'squeezing' that into a dance perspective."
For Ellis, a full-time PhD while on an Australian Postgraduate Award (APA) scholarship meant being able to "devote my time to developing and rethinking my professional practice…For the first time I was able to just do practice-led research unencumbered by bread and butter jobs." Despite the criteria that creative PhD students should have a substantial body of practice behind them, Ellis said he began his PhD while his practice was still at a "nascent" stage and that this has ultimately got him off to a better start. It has enabled him to think outside the limitations (and disappointments) of funding rounds and categories with their emphasis on 'tourable' work, which has in turn impacted on his practice. Current projects seeded during his PhD research include a series of animations based on Melbourne dancers, the dad.project (www.skellis.net/dad.project) and a larger scale project involving collaborative partnerships, Inert (www.skellis.net/Inert).
Julie-Anne Long
Julie-Anne Long was also motivated to take on a PhD by some fairly practical realities. Having finished an MA Honours by research she decided she needed to get a "proper job" due to the lack of funding for dance in NSW, but every academic job that came up had a PhD prerequisite. She also chose to do a PhD without a creative component as she has perceived a degree of academic snobbery in Sydney that values the former over the latter, an attitude that has been overcome in other Australian states and some other countries. And like Ellis, she could not have gone ahead without an APA scholarship.
Long is the only practising dance artist currently enrolled as a postgraduate student in a dance department in NSW. (This is indicative of the broader crisis in tertiary dance studies in the state.) She is completing her thesis in the School of Media, Film and Theatre at the University of New South Wales (UNSW) and chose that institution because she knew other postgraduate students working with dance theory there. The thesis has an autobiographical slant and the working title is Walking in Sydney: Looking for Dancing. Long maps the city at our own historical point via the spaces and places where dancing occurs, while remembering the sites where people used to work. She says that the main reason for beginning this project "was that there is so little written about the independent dance scene in Sydney. I was wanting to present an alternative history of dancing in Sydney, and reflect on the puzzle of non-recognition." Long continues with her solo dance practice outside of her academic research and is happy to do so in an academic climate she sees as placing so little value on the artist.
Tracie Mitchell
While Long's research works around and just touches on her own history as an artist, Tracie Mitchell's DCA is providing an opportunity to take stock of her current dancefilm practice in relation to the recent history of international dance screen work. Like Ellis, she feels that the degree is in its infancy and that "we are making up the rules as we go along." She enrolled in the School of Human Movement, Recreation and Performance at Victorian University (VU) in 2005. Her supervisors are Mark Minchinton and Jude Walton. Mitchell chose the school as she "found this one was most rigorous about the theory of art practice, particularly contemporary arts practice." Other postgraduate dance artists currently enrolled at VU include Josie Daw, Alice Cummins, Gretel Taylor and Holly Cooper. Graduates include Trevor Patrick, Helen Herbertson and Russell Dumas.
Mitchell returned from overseas at the end of an Australia Council Fellowship and, like Webber, was looking for a supportive environment in which she could focus on making work. An APA recipient, Mitchell feels she has been given "a fantastic gift" that will allow her to do just that. The impact of her studies on her long-term career is not as important to her as the immediate "investment in making deep and thoughtful work".
Claudia Alessi
On the subject of longer term benefits of postgraduate study, Claudia Alessi believes the postgraduate work that artists produce is a valuable addition to the resources available for tertiary studies in the performing arts. Alessi is enrolled as a masters candidate at WAAPA in the School of Dramatic Arts' Dance faculty. Her research is based around a series of solos, Point of Entry, and the effect of integrating physical and visual art forms (aerial work, physical theatre, puppetry, martial arts, video) with 'pure dance.'
Alessi turned to solo practice due to "the current economic climate and the lack of funding that is allocated to dance—in particular contemporary dance within WA." The masters offered her the opportunity to seek out and investigate "like-minded dance practitioners" and provided her with a challenging creative project which she would not have been able to do without an extended period of research.
* * * * *
This survey of dance artists and the kinds of creative research they are generating in dance departments across our universities represents only the tip of the iceberg. Some of the other choreographers currently enrolled in various postgraduate degrees include Paul O'Sullivan, Csaba Buday, Jennifer Proctor, Shaaron Boughen and Karen Pearlman. Postgraduate research is providing our dance artists with an alternative source of funding, resources, employment, sense of community and creative stimulus at a time when many of these are in short supply.
RealTime issue #68 Aug-Sept 2005 pg. 10
© Erin Brannigan; for permission to reproduce apply to realtime@realtimearts.net