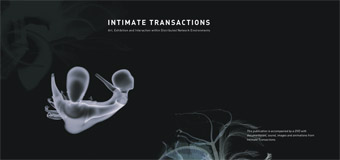 Intimate Transactions book cover by Stuart Lawson
YOU MAY HAVE READ ABOUT THE INTERACTIVE MULTIMEDIA PROJECT INTIMATE TRANSACTIONS IN THE PAGES OF REAL TIME [RT59, P20; RT67, P26]. SOME OF YOU MAY ALSO HAVE HAD THE OPPORTUNITY TO EXPERIENCE IT, RUBBING SHOULDERS AND EXCHANGING MUSCLE TONE WITH SOMEONE SIMULTANEOUSLY LOCATED IN A TOTALLY DIFFERENT GEOGRAPHICAL SPACE. NOW A NEW BOOK AND ACCOMPANYING DVD PROVIDES THE OPPORTUNITY TO RE-IMAGINE THE WORK.
Intimate Transactions is a collaborative project led by new media artist Keith Armstrong in collaboration with choreographer Lisa O'Neill and sound artist Guy Webster. Initially developed out of the Australian Creative Industries Network at Queensland University of Technology (QUT), this project has mutated and spread beyond its homeground, picking up researchers and partners across Australia. Pia Ednie-Brown and Inger Mewburn from the Spatial information Architecture Laboratory at RMIT brought their research interests in haptic technology to the project, while the collaboration with ACMI (Australian Centre for the Moving Image) in Melbourne enabled the group to test out the ability of the distributed technology to work at vast distances.
Intimate Transactions: Art, Exhibition and Interaction with Distributed Network Environment is a handsomely presented and richly illustrated volume which on first glance looks like a typical exhibition catalogue or even coffee table book. However, check the contents pages and a different picture emerges. With its research questions, essays by the key collaborators, interviews, its talk of prototypes and pilot studies and analytical texts from a diverse range of interlocutors, Intimate Transactions takes on the form of a hybrid text, somewhere between research, philosophy and documentation.
Edited by QUT academic, Jillian Hamilton, the publication positions the project not merely as an 'art' experience, but as a research project that has broad ranging implications for how we conceive and design our world in the 21st century. In particular the project questions our experience of the world through a reconfiguration of understandings of space and touch. It examines how this translates into what has come to be known as "experience design." For example, Hamilton writes about how the rapid expansion of global networks has led to a compression of space that reignites conversations about 'flat space'; Keith Armstrong articulates the ecosophical understanding that emerges in and through engagement with the work; while Ednie-Brown and Mewburn emphasise the project's capacity to introduce a sense of embodiment through haptic feedback devices.
In her introduction to Intimate Transactions, Hamilton asks whether it is possible to create a sense of embodied communication or an intimate transaction between people who are separated by vast distances but joined by interfaces and distributed networks. I must confess that my own induction into the world of Intimate Transactions was anything but intimate. I was one of the pilot audience who 'tested' the first long-distance dual-site installation of the work between The Block in Brisbane and ACMI in Melbourne in 2005. Rather than establishing an intimate connection with another body, I recall that I felt very much like a subject in a scientific experiment and my rather clumsy engagement with the technology made me more aware of my inadequacies in the face of something unfamiliar. I became so lost in my own bodily struggles to negotiate a visual scenario that operated according to a logic (gaming logic) I was unfamiliar with, that I was only ever minimally aware of the 'touch' of my fellow traveller.
Johannes Birringer's recollections of Intimate Transactions in his essay, "Transactivity", paints a more nuanced response to the experience of the body shelf and interface design. He recognises that while the "erotics of transactivity may lie entirely in the realm of fantasy", the work's challenging synaesthetic qualities call into question conventional analytical ways of interpreting which privilege the linguistic over the corporeal. He suggests that the work calls for phenomenological investigations into the sensing body so that we can more fully understand the complex transactive media environments that increasingly form our world experience. For Birringer, as for many of the other writers, the critical element in Intimate Transactions is its capacity to raise questions to do with the ways we think about and intervene in the world through our (design) practices.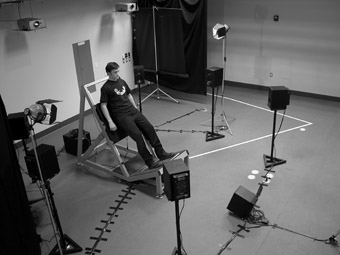 photo Keith Armstrong
Intimate Transactions
The essays and interviews in the book play out this complex interaction between thought and action as it has occurred in the realisation of Intimate Transactions. In addition to addressing the pragmatics of the project—how for example it drew together the unique skills of individual artists and designers (new media artist, choreographer, furniture designer and artist, sound artist, programmer and architect designers) to create an interdisplinary collaboration—the book provides insights from other participants who have in some way been 'touched' by the project—technical staff and curators who worked with the creators to exhibit the work as well as those who experienced it in development. While there was a danger that a homogenous viewpoint might emerge, Hamilton has been careful to create a multi-faceted and richly layered conversation that draws out the diversity and inconsistency that has arisen through Intimate Transactions.
Intimate Transactions has been awarded a Visions of Australia Touring grant (2008-09) and will represent Australia in Beijing during the 2008 Olympics as part of China International New Media Arts 2008 at the National Art Museum of China; www.mediartchina.org;
www.maap.org.au;
transmute collective: www.embodiedmedia.com
Jillian Hamilton ed, Intimate Transactions: Art, Exhibition and Interaction with Distributed Network Environment, ACID—Australasian CRC for Interaction Design, 2007
RealTime issue #85 June-July 2008 pg. 28
© Barbara Bolt; for permission to reproduce apply to realtime@realtimearts.net