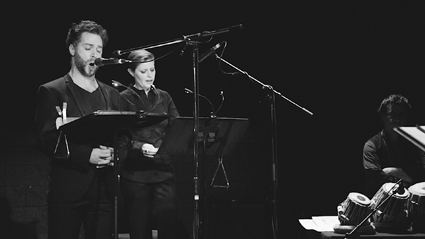 Bodhasāra, Chronology Arts & New Music Network
The absorption of Hindu thought into Western music making is not necessarily about adopting Indian musical forms. Holst's one-act chamber opera Savitri (1916) is not imitative, nor is it textured with the kind of 'oriental' flourishes heard in Delibe's Lakme (1883); both draw on Hindu mythology. In Chronology Arts' Bodhasāra, a concert featuring five new works engaging dynamically with Hindu thought, each Australian composer displays a distinctive voice.
The composers respond to a late 18th century poetic text, Bodhasāra, which was inspired by ancient Hindu classics. Written by Narahari, about whom very little is known, the text "leads its readers through their souls," seeking "jāvanmukti, not liberation from the world, but liberation while living." While not narratives, the poems, translated from Sanskrit by Jennifer and Graham Cover, are inherently dramatic, adopting a variety of voices and moods. Moreover, the translators write, "…Bodhasāra is rather like music where multiple parts interact in harmony, syncopation, counterpoint and discord to produce an existential statement. The outcome is a higher order meaning which eludes simplistic statement" (website).
If Indian music was not an obvious point of reference for the composers, the program was engagingly framed with readings from Bodhasāra and the virtuosic tabla playing of Dheeraj Shrestha who opened and closed the concert, performing seamlessly between compositions and reminding us of the musical and concomitant philosophical roots of Indian music.
Five Adorations (on the end of time) by Chris Williams focuses on praising Siva and transcending time—hence the notion of time's 'ending,' in the sense of having done with and no longer being afraid of it. The work is quite theatrical, alternating between meditative passages and operatically anxious or ecstatic moments for soprano and baritone. It opens with multiple triangles and is later textured with clapping and whistling; soprano and cello merge; the vibraphone is lyrical; the singing angular. The "Om" ending floats over the tinkling of triangles and a slightly unsettling soft cello discordance that suggests complexity rather than simple resolution.
Alex Pozniak's Investigation of Silence for baritone, cello and percussion is "about moving toward silence," more specifically, "the possibility of silence stemming out of music" (artist statement), removing us from distracting passions. The cello speaks forcefully, glides up and down against a rumbling drum, a prelude to the baritone's focus on extending the sibilance in 'silence' and 'speech,' gliding up on 'superior' and descending sublimely on the last syllable as if emptying it of sound. Subsequently the cello is again heavily vibrant, the glides more emphatic and now bent in a chugging pulse which then dips into silence. Soft, extra-musical sounds emanate from the cello until a heavy beat from percussion and cello pushes the singer into falsetto until, finally, the cello now liquid and giving, he enters a staggered descent into silence through the word itself.
Annie Hui-Hsin Hsieh's Deception of Desire addresses the ambiguity of desire: "Can a certain contentment be obtained when…yearning is eventually satisfied." The Bodhasāra text is pretty grim (desiring, "cunning" humans become demons and "eat the flesh of corpses"). Aptly, the piece opens with the cello high pitched, the soprano near hyperventilating and only partly vocalising and then attacking on "cunning." Cello and voice fall in and out of synch, the soprano gliding up again and again, perhaps suggestive of desire pitted against the constraints of the text (humans seen as street dogs). A period of reprieve with long, slow vocal glides and open breathing morphs into a boyish mezzo before rising to orgasmic conclusion and an expiring breath.
Using field recordings made in India, Leah Barclay's electroacoustic Seventy-nine Waves of Ganga Knowledge is focused on the River Ganges—the goddess who embodies spiritual knowledge. The music of running water, one transcendent voice and then many more and deep, rippling tabla playing (Dheeraj Shrestha live and Subhash Kumar recorded) soon conjure an immersive, swirling cosmos in which the one and the many co-exist before returning to water and, again, silence.
Deception of the Body, by Hayden Woolf, addresses the ways our consciousness misinterprets reality, seeing "old age, pain and heartbreak as negative…they just are." This work shares with Williams' Five Adorations the dramatic intensity of a music theatre work. It opens with percussionist, singers and cellist slapping parts of their bodies, forceful singing of the text and variety in pace and mood—"The womb is a prison-house/Infancy is totally confusing" is delivered with a sung glide (again—a night of glissandi; sitar thoughts?) and the verse that ends with "youth is a forest of adversity" is speedily acquitted. There's an engaging cello passage joined by drumming, an enticing weave of voices and a martial conclusion as if to suggest that, yes, life just is.
The concert concluded with two pieces played by Dheeraj Shrestha in which we simply revelled in the moment, unhindered by the thoughts or words of the musical dramas of desire we had experienced. While rarely meditative, those works might well nourish subsequent reflection, not least on this marriage of sorts between Hinduism and contemporary Western classical music.
Chronology Arts has once again, this time in partnership with New Music Network, presented a musically adventurous program of newly commissioned Australian compositions, effectively realised by conductor Andrew Batt-Rawden and an ensemble of committed performers. The simple weave of spoken text, tabla interpolations and thoughtful new works in a wisely interval-less program yielded a richly contemplative experience.
Chronology Arts & New Music Network, Bodhasāra, conductor Andrew Batt-Rawden, soprano Ellen Winhall, baritone Simon Lobelson, tabla Dheeraj Shrestha, percussion Sophia Ang, cello Ezmi Pepper; Seymour Centre, Sydney, 1, 2 Nov
RealTime issue #118 Dec-Jan 2013 pg. 44
© Keith Gallasch; for permission to reproduce apply to realtime@realtimearts.net