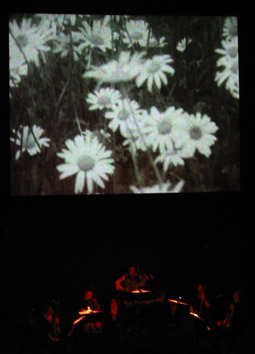 Ensemble Offspring, Waiting to turn into puzzles
WAITING TO TURN INTO PUZZLES IS THE TITLE OF A COLLABORATION BETWEEN EXPERIMENTERS: THE FILMMAKER LOUISE CURHAM, THE MUSICIANS OF ENSEMBLE OFFSPRING AND COMPOSER DAVID YOUNG. THERE IS, IN FACT, NO WAITING; THIS WORK FEELS LIKE A PUZZLE OUTRIGHT, SOMETIMES EXHILARATING, SOMETIMES FRUSTRATING, AND THERE IS NO EASY SOLUTION. WE WORK EAGERLY TO PUT IT TO TOGETHER. BUT WHAT KIND OF PUZZLE IS IT?
Curham's film is given the full-screen treatment at the Chauvel Cinema, its quickfire, imagery creating an urgent pulse while the musicians, tucked tightly to one side, conjure largely quiet, subtle soundscapes with rarely a collective beat. Sound and image here conjure different universes, yet we know they connect—we've been told pre-show that the musicians are responding to the film's images which are printed out as 'notated' score on their music stands, and each musician has a code which allows them to choose to follow a pre-determined stimulus. But how do music and image connect for the audience?
Certainly both seem to be focused on their materiality. Curham typically scratches and marks the film's surface and hand processes the stock, so that strange and wonderful things flower chemically. Young avoids conventional musicality, so that we are attentive to the very sound of each instrument and its curious melding with others, a condition intensified by the musicians exploring their tools and their responses to the film in a structured improvisation.
There's a likeness then, but the film demands to be watched, to be kept up with. The music never literally or even laterally accompanies the film, so there's no easy kinship. The sheer scale of the projected image and its insistence make the film visually loud, sometimes all consuming. Now and then it's quieter as it repeatedly stumbles up a nightime Tokyo lane, or lavishes flowers and trees with camera brushstrokes, or stares vacantly into a dull community centre. It's then that I'm more conscious of the music's calm chatter and extended sonorities. But when Curham's film reverts to its hundreds, maybe thousands of Pollocky creations flashing by, each brilliant and beautiful, and then she splits the screen, doubling the demands on our attention, it's then that you think (1) perhaps a joint before the show might've been a good idea, or at least an extra glass of the house red, and (2) I wonder what the music's doing now? It's then you listen and discover that it's creating its own beauty.
Curham and Young are not offering us a unified world. They're creating two very different experiences, with very different perceptual requirements, juxtaposing them and waiting for us to see and hear what happens. Unlike a jigsaw, where you know only too well what it is you're trying to piece together, here we don't know what we're making. Yes, it's a puzzle waiting to happen. When sound and image do come together, it's as if something has been solved, but then the film rushes on and the music takes another path…until they maybe meet later on. (Made susceptible by glimpses of Tokyo in the film, I think I hear, in one of the heightened musical passages, the ensemble of clarinet, two violins, cello and orchestra transform magically into a shimmering, gaguku orchestra.)
As these universes of music and image slip in and out of sync, the experience of Waiting to turn into puzzles (a phrase borrowed, not surprisingly, from Perec's Life, A User's Manual) can only be described as being oscillated between contemplation, delirium and their occasional, puzzling syntheses.
Ensemble Offspring, Waiting to turn into puzzles, filmmaker Louise Curham, composer David Young, musicians Diana Springford, James Cuddeford, Veronique serret, Geoffrey Gartner, Claire Edwardes; Chauvel Cinema, Sydney, June 7
RealTime issue #86 Aug-Sept 2008 pg. web
© Keith Gallasch; for permission to reproduce apply to realtime@realtimearts.net