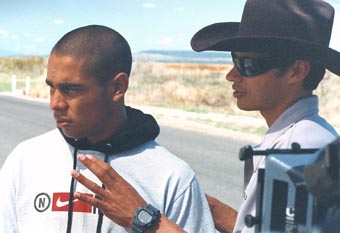 photo Mark Rogers
Damian Pitt and Ivan Sen
One of the innovations of this year's Adelaide Festival was the inclusion of a number of new Australian films. The major triumph in the season was undoubtedly Ivan Sen's first feature Beneath Clouds, one of the strongest and most deeply affecting films produced in this country.
The success of the film at the Berlin Film Festival, where it won awards for best debut feature and best new actress (for Dannielle Hall), signals Sen's rapid ascent to international prominence. This rise has not been unearned, given his body of short and medium length works that also screened in Adelaide and provided a rich background for the feature film.
Another viewing context was the festival's emphasis on Indigenous films and films on Indigenous issues. Beneath Clouds is a road movie dealing with the unlikely travelling companions Lena, a young woman running away from her Aboriginal background in search of an idealised Irish father, and Vaughn, a young Aboriginal man who breaks out of detention to see his dying mother. Over the course of little more than a day, they hitchhike from Moree to Sydney.
Sen is clearly conscious of his status as an Indigenous filmmaker, though he is also anxious to position the film as broadly accessible. He refers to his Aboriginal background as "something to be proud of, but also just a tag, a hook." While his films represent a strongly personal and coherent insight into the experiences of Aboriginal youth in country towns, Sen also wants to generalise beyond this. He claims to be "always interested in people searching for something that makes them believe they belong somewhere."
In discussions after the screening, Sen emphasised his interest in a sympathetic emotional engagement with characters: "I find it easy to see other people's point-of-view," he said, adding that his starting point for the film was that he "felt very close to both characters." His aim was to "intensify the emotional journey of the characters to such a level that the audience will have no choice but to join them."
The explosive emotional response to the film bears out the power of his filmmaking in bringing home the ways in which racially-derived pain is internalised. Sen says that, "I knew I wanted to create an emotion at the end of the film, but I didn't know what the emotion was."
Sen spoke of Beneath Clouds in terms of personal history and catharsis. Lena's denial of her racial background has an autobiographical element, Vaughn's character draws on the experience of a cousin. Themes, narrative fragments, and stylistic elements return from the earlier short films in a tightly condensed fashion. The 1998 film, Tears, features 2 characters named Vaughn and Lena walking a country road while the camera tracks laterally beside them. Sen wrote the feature script 4 years ago, and the retrospective of his shorts showed us the ways he has been sketching around it and honing the power of his craft.
Everything about Beneath Clouds speaks of sparseness and strength of vision. The characterisations are simple but unyielding. Lena and Vaughn suffer no bullshit. They have the close-mouthed scepticism of those on the margins. Anger chokes other emotion, but the project of the narrative is to ripen that anger to include emotions that will help the protagonists to re-find the possibilities for life.
Given the state of the world, and the way it leads you to withdraw from it, there is no neat or hopeful ending here, but there is the ability to understand your pain. This film emphasises the relevance of this to an understanding of Aboriginal youth culture: it also wants to help a broad audience imaginatively inhabit these situations and emotions.
In this light, Sen is clearly achieving work that is much more important than the liberal guilt melodrama prominent in some other recent films on Indigenous themes.
Stylistically, the film is equally uncompromising. Sen's filming of conversation demonstrates his sureness of touch. No wide 2-shots, no over-the-shoulder shot-reverse shot. He symmetrically juxtaposes big bold close-ups. You access this film through faces. In discussing his casting decisions, Sen keeps on returning to the look of the people, their non-verbal aspect. Like Pasolini, or better yet Bresson, it's an effective way of dealing with non-actors, but it's also a strategy that's about direct honesty. There is nowhere to dissemble or conjure away the harshness of the truth.
Those who have seen Sen's 1999 film Wind, will know that he has the strength (rare among Australian filmmakers) to substitute a single reaction shot for 10 lines of dialogue. He refers to the substitution of other elements such as looks or diegetic sounds as a wish to "start simple before you introduce dialogue," so that dialogue emerges as "a focused substance." The 1997 AFTRS short, Warm Strangers, is the clearest example of this, building to the point where a single word is uttered at the climactic moment.
There is perhaps something of Sen's own behavioural style here. The quietly-spoken director likes to tell the story of his High School yearbook that summed him up thus: "Ivan saw all, heard all, said little." The publicity materials for Beneath Clouds source his interest in film to "the ability to represent the complexity of life in a whole different realm to that of the word."
When pressed to generalise about his formal methods, Sen spoke of avoiding contrivance to achieve a more direct realism, but then qualified this to say that he was interested in forms of contrivance which produce something uncontrived.
The productiveness of this paradox is evident in his handling of landscape. He plays with the angular abstraction of the wide-angle lens, and compositions with the horizon ostentatiously low in the frame. The opening titles sequence, shot by Sen himself (he was also composer and musician for the soundtrack, as well as writing and directing), lays out this interest in finding patterns in land and sky in order to see it afresh and emotionalise it. He has pared down his methods of achieving abstraction from those found in earlier films which included fast motion, dissolves to an unmoved camera position and the manipulations of colour balance which are so striking in Wind.
Ivan Sen's success is doubly important if it provides evidence that institutional policies aimed at producing new filmmakers in this country are working. He comes out of the Australian Film Television and Radio School, where he has become the central figure for a group of collaborators. These include cinematographer Allen Collins, producer Teresa-Jayne Hanlon and editor Karen Johnson. Sen and Collins, in particular, have built up a strong rapport. This has resulted in a very quiet set, according to Sen, where "our language becomes as simple as a look."
Australian filmmakers rarely get such a chance to work consistently, and while we hear a lot about development pathways for emerging filmmakers, it is encouraging to see such a resounding example of success in development policy. This validation was particularly important given the controversy surrounding Australian Rules, which also premiered at the festival. We all know the problems of a film industry administered by government institutions, but it's important to remember that every now and then the system works.
Sen is not so much shy as self-possessed. He has detailed plans for the future, which include several films to be shot in the US, and which he promises will be "totally different" now that he has emptied his sketchpad with this film.
Beneath Clouds stands as a summation; a moment when a group of people working with a sureness in their art have come together to produce something fine and deeply moving.
–
Beneath Clouds, writer/director Ivan Sen, distributor Dendy Films, premiered Adelaide Festival, Her Majesty's Theatre, March 3-4, released nationally May 23. Also screening as part of Message Sticks, The Studio, Sydney Opera House, May 14 – June 2.
RealTime issue #48 April-May 2002 pg. 13
© Mike Walsh; for permission to reproduce apply to realtime@realtimearts.net