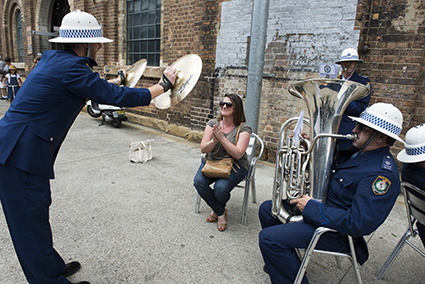 photo Amanda James
No Performance Today, Bree van Reyk & Lauren Brincat and New South Wales Police Band
Do you remember the last time you were excited to see a police band? They're in parades, public remembrance ceremonies, Olympic openings, but if advertised would you go to a concert of theirs? Perhaps at the Tweed Heads Casino if your grandparents were going, but it's unlikely to be top of the list. That is unless you're Lauren Brincat and Bree van Reyk, many-time sassy collaborators. Brincat is known for using drum-kits in her projects. She's added long stilt-extensions to a drum-kit's legs; in Drum Roll she steamrollered a drum-kit; and in Live When I'm Alive, Sleep When I'm Dead (no.1) she buried one. Van Reyk is a percussionist with mad drum-kit chops so they pair well. No Performance Today had no drum-kit but a hardy percussion section from the New South Wales Police Band.
The gals both love marching bands, so set out to make this stiff and anachronistic type of musicking engaging by warping its context. No Performance Today is a "choreographed sound portrait" that unravels the brass band uniformity. It's like Charles Ives time-travelled with a whole marching band in his time-machine-contraption's trunk. The band comes and goes, merges, diverges, being sensible and silly.
I saw the Friday evening performance inside Carriageworks' massive echoing foyer, but on Saturday morning the band marched amid unsuspecting Eveleigh Markets shoppers in that bustling public space of designer lettuce, bespoke jams and hang-over-curing coffees. In that setting the performers interacted more whimsically with the public.
Inside, the police band appeared in full swing from out of a humble corridor in perfectly pressed blue uniforms with badges, polished shoes and white hard-hats. Their marching feet lifted and lowered at roughly the same time, but each leg's trajectory was different, so out-of-synch that it was miraculous when they moved as a unit—both loose and unified.
Brincat and van Reyk wanted to 'free' the individuality trapped within this generic battalion. Personalities surely shone through. The bass clarinettist had a sense of humour, passing out musical quips to colleagues and lobby loiterers. The curators prescribed Louis Andriessen-like fragments to the players, suggesting each should be played with erratic phrase-bending at voluntary time-intervals.
Booming brass filled the foyer, commanding attention and obliterating our wine-fuelled conversations. From the chaos of their free-form wandering, the group united in formation on the top balcony to perform a more orchestrated section. Fraught with suspension, this music was triumphant and characterised by slowly morphing long notes. The conductor looked very serious and this confused us, but we played along: "Is this how it's meant to sound or is he putting on a brave face while they're all 'out' because of the reverb in this giant space?" It yielded a great dissonance (not sonic, but conceptual), accentuated by the perfection we attribute to such a meticulous genre. The band wilfully 'sounded bad' to challenge perceptions of band music, even though it was clear they were all exceptionally professional in their ability to follow wonky orders.
Performance Space, Liveworks Festival of Experimental Art, No Performance Today, directors Lauren Brincat, Bree van Reyk, NSW Police Band, Carriageworks, Sydney, 6-7 Nov
RealTime issue #130 Dec-Jan 2015 pg. 19
© Felicity Clark; for permission to reproduce apply to realtime@realtimearts.net