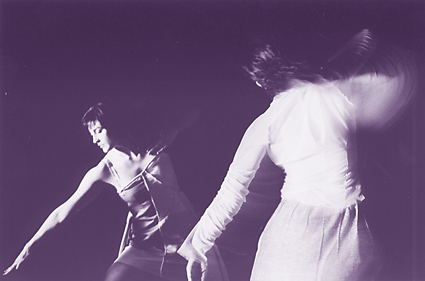 Belinda Cooper & Carlee Mellow, in the heart of the eye
Ever found yourself wondering just what is going on behind the eyes of dancers as they spin and shimmy? In Dance Works' new show in the heart of the eye choreographer Sandra Parker, lighting and projection designer Margie Medlin, composer Elizabeth Drake and dancers Belinda Cooper, Jo Lloyd, Carlee Mellow, Olivia Millard and Michael O'Donoghue go to an awful lot of trouble to show you some possibilities.
The team aims to create a new choreographic vocabulary based on the relationship between live choreography, the dancer in space and the interplay with choreographic material on film. Sandra Parker says "I guess it's about the interplay and the connections between them and I suppose the idea of a new vocabulary is that they're each dependent on each other." The filmic component doesn't run all the way through the piece but "it's there to make sense of what's happening around it in the live performance. The dancers appear on film along with other imagery, including images of the body." Dancers dance with themselves and in counterpoint with spaces outside the performance space. "This piece is about trying to get inside the dancer's head, trying to use film to take the audience into the performer and into another space." The work builds on an idea that Parker and Medlin have explored previously where film takes on an another sense of time. "This time it's also taking up another sense of space, another time and place through using a lot of point-of-view focusing for each dancer. Margie's taken the idea a little bit further so that the POV gets blown out to take in other imagery." Margie Medlin (who incidentally has recently received a Bessie Award in New York for her lighting design) shot a lot of the film for the piece at the Magistrates Court in Melbourne and did post-production as part of her residency at ZKM in Karlsruhe, Germany.
As you'd expect, offering the audience this unique viewpoint is not simple. Parker says "We've tried to keep really clear what the physical relationship is between the movement and what you might imagine in say the rhythm of walking and what you can see when you're walking. When the choreography gets very complex it gets really difficult—even for me—to follow the point of view of the dancer. It moves too fast, becomes the camera's point of view."
For Parker this work continues a preoccupation with the embodiment of the self. "I feel like it's really in there in the movement and I'm interested in finding ways to bring that out." One for all dance enthusiasts, experimental film freaks and multimedia afficionados. Go see! RT
–
in the heart of the eye, Dance Works, Athenaeum II, Melbourne, November 18 – 27. Information Tel 03-96961702
RealTime issue #33 Oct-Nov 1999 pg. 10
© Keith Gallasch; for permission to reproduce apply to realtime@realtimearts.net