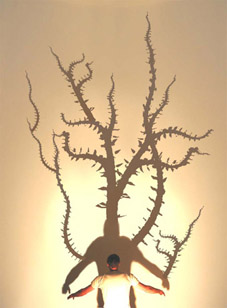 Mark Cypher, Biophilia (2004), interactive semi-immersive environment, courtesy of the artist
Paul Thomas, Director of the Biennale of Electronic Arts Perth (BEAP) and BEAPworks curator, wants industry to include artists "as part of their creative team on research projects." This seems a humble ambition at a time when artists are increasingly requiring 'code-bearers' and software developers to provide the technical know-how that will turn their ideas into realities. Perhaps Thomas' approach is a creative response to the current financial reality of limited funding, particularly for new media artists. The cultural capital artists may lend to industry and to researchers in other disciplines is certainly evident in BEAPworks. The works have come from a research and development grant program facilitated by BEAP with ArtsWA, showcasing 6 projects at the John Curtin Gallery as part of the 2005 Perth International Festival of the Arts.
The Little Optimum, created by Cam Merton, with Yvette Merton, is insidious in its socio-political commentary and perhaps an exemplar of the aims of BEAPworks. On the wall of the installation is an animation with enough well mown green grass, white picket fence and neighbourly conversation to make any Tidy Town proud. From the unsettling familiarity of a 'puke' coloured 'well-loved' couch I watch two men talking in drawling American accents. It's a little like watching American male versions of Kath and Kim. I laugh and I cringe. Not that it's really a dialogue. No real communication occurs, but as long as some kind of clumsy social agreement is achieved, it doesn't matter. Cars drive past. Neighbours barbecue, mow their lawns, clean their fences. The conversation changes with environmental pressures. A weather vane displays the various directions of 'intolerance', 'paranoia' and 'obsession' dictated by real time wind data gathered from a gallery mounted anemometer. When I revisit the work I feel frustrated at not hearing the same conversation. I have no control over the content. I can only watch and listen from the couch as an unseen force affects the animated neighbourhood.
From the sensoring of meteorology we move to biology, where it's goldfish calling the shots. Jo Law's re:-, with 3D compositions by Hilary Bunt and Raoul Marks, re:-creates the grammar and subject matter of Marcel Proust. As I sit in the installation space, commas seem to form between the 3 large screens. On the central one, there's a black and white magnified view of the goldfish swimming in the tank behind me. I experience a moment of disorientation as I see the back of my head pictured among the fish. On the screen to my left a hand holding a pencil writes, "Is there a history you wish to retrace?", "Is there a decision you wish to revisit?", and so on. Paradoxically, the sensored movement of the goldfish in the tank is responsible for these prompts to memory. Sometimes the fish swim more vigorously, initiating a series of unfinished questions. It feels like interrupted thought. The screen on the right moves through a virtual urban landscape: buildings, car parks, trains. It seems familiar. Sometimes I hear traffic or footsteps. At other times the sound of rain fills my ears. Proust and other references aside, the immersive aesthetic of re:- is totally diverting: unsuspecting gallery visitors may arrive late at their next appointment.
Cynthia Verspaget assimilates the audience's virtual travels into the terrain of Terrasinda (RT63, p25). The audience is also tracked as they enter Creation by Nina Sellars in collaboration with Iain Sweetman and Gareth Lockett. Viewer movements and sounds activate 3 figures on the screen. The confines of the body are challenged as wireframe versions covered in drawn 'skin' merge and re-merge. In Cat Hope's Pickpocket a gilt picture frame surrounds a surface of dense grey foam holding rows of silver recording devices–consumer end 'readymades.' These 48 devices play in no discernable order, leaving the audience to track the sound as it moves from one device to another. More than the ears are active in Mark Cypher's Biophilia. I watch 2 audience members move about on mats in front of a large white screen. Their onscreen shadows are joined by projections of growing, plant-like phallic shapes. Sometimes they emerge from the arms or shoulders, at other times the head. It's a little like Day of the Triffids in there.
It's heartening to see these research projects shown in an established Perth gallery otherwise increasingly inaccessible to local postgraduate students. There is comfort too in knowing that even as those fish swim and neighbours shoot the breeze that we can already look forward to the next round of BEAPworks in 2005.
BEAPworks, curator Paul Thomas, John Curtin Gallery, Perth Festival, Feb 11-Jun 12
RealTime issue #66 April-May 2005 pg. 30
© Kate Vickers; for permission to reproduce apply to realtime@realtimearts.net