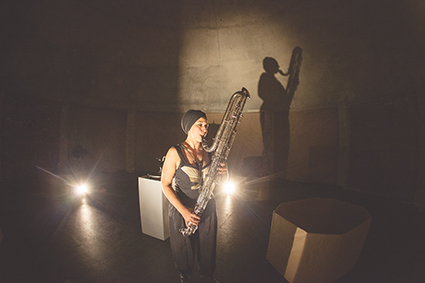 photo Max Milne
Aviva Endean in Half Light
NO INSTRUMENT HAS BEEN WRENCHED FROM OBSCURITY AND THRUST INTO THE SPOTLIGHT BY CONTEMPORARY MUSIC LIKE THE BASS CLARINET. THE INSTRUMENT HAS INSPIRED AN IMMEDIATELY IDENTIFIABLE REPERTOIRE OF EXTENDED TECHNIQUES INCLUDING SHOCKINGLY-PERCUSSIVE TONGUE SLAPS, GUTTURAL GROANS AND FEROCIOUS, MULTIPHONIC 'DINOSAUR NOISES.'
But the bass clarinet is also a gentle giant capable of enveloping the listener in a glowing aura of sound. It is this latter quality of the instrument that Australia's most versatile clarinettist, Aviva Endean, explored in the resonant Norla Dome.
The dome is set inside Melbourne's best kept secret, The Mission to Seafarers building. Built between 1916 and 1919, the Mission continues to provide lodging and services for seamen, as well as offering five different performance spaces ranging from the grandiose main hall to an enclosed courtyard. Most striking of all is the dome, which was once festooned with rigging for sailors to climb while on shore. It features a completely disorienting acoustic, with a focal point in the middle of the room where you can hear your words repeated back to you dozens of times. When the room was used as a boxing ring, being punched in that spot would have been a remarkable experience.
For In the Half Light, Aviva has teamed up with lighting designer Danny Pettingill and set designer Romanie Harper to create an immersive experience. The audience sits on cushions in cardboard pods around the space. On one side of the dome is a brooding pile of brown paper resembling a giant wasp nest. In the centre a pedestal displays a dish of water. A soft electronic tone (operated by Sam Dunscombe) emanates from the nest as light fades up inside. A clarinet begins to play against the tone, altering its tuning to produce strong beats. Endean emerges from the nest (through a side entrance; we are spared a 'birthing') and walks around the space, the mellow tone of the clarinet bending slightly as she moves.
The show is also full of charming site-specific details. From small holes in the nest, rays of light shoot onto the domed ceiling. Even the traffic on the nearby freeway and the crying of seagulls is somehow sublimated into something enchanted within the space. This effect is enhanced by Pettingill and Harper's Gondry-esque crafted reproductions of the mundane, such as the small mobiles of mirrors that, when spun, shoot rays around the dome like passing car lights.
Within the frame of electroacoustic music, instruments are usually stationary sound-sources and speaker systems provide the means to diffuse the instruments' sound throughout a space. In this work, Endean is mobile and the electronics are fixed. The dome, furthermore, throws Endean's sound seemingly independently of her own movements. Sometimes it comes from behind you, or whispers in your ear. I cannot imagine a better space in which to explore this concert's repertoire—including works by Endean, Sciarrino, Lucier, Grisey and Ambrosini—than the sound-microscope of the Norla Dome. But given the saturation of Australian contemporary music programs with whispering works on the very edge of hearing, I am beginning to look forward to the return of the dinosaurs.
Aviva Endean, In the Half Light, Norla Dome, Mission to Seafarers, Melbourne 14 Sept
RealTime issue #124 Dec-Jan 2014 pg. 51
© Matthew Lorenzon; for permission to reproduce apply to realtime@realtimearts.net