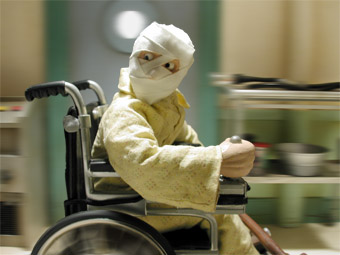 Ward 13
IN COMPILING A PROGRAM OF AUSTRALIA'S BEST ANIMATION SHORTS FOR FLICKERFEST, CURATOR ANTHONY LUCAS CHOSE FILMS THAT INSPIRED HIS OWN ANIMATION CAREER, INCLUDING TV COMMERCIALS. LUCAS DESCRIBES THE PROGRAM AS "A RETRO VIEW JUMPED UP ON TANG, WEARING GOLDEN BREED STUBBIES, RIDING A MALVERN STAR, WITH THE STREAMERS COMING OFF THE HANDLEBARS, DOWN TO THE MILK BAR FOR A CHIKITO." MEANING WE'RE IN THRALL TO AN AUSSIE SUBURBIA AS DISLOCATING AND UNCANNY AS THE BEST GOTHIC HORROR, BUT WITH BETTER JOKES.
In Darra Dogs (1993), the veteran filmmaker Dennis Tupicoff narrates his childhood in the bleak, industrial Brisbane suburb of Darra. Centrally, it's the story of how the death and disappearance of Tupicoff's pet dogs traumatised him into adulthood, but there's no treacly sentimentality, just the grimmest fatalism reflected in the animation, with its hard, etched lines tracing maps of pain against stark, primary colour backgrounds. Still, the dogs themselves are rendered beautifully, even the scene in which Tupicoff comes across a rotting canine carcass in a lake. The scene is a work of art in a visionary film, and Darra Dogs is a deeply affecting testament, hewn from bare trauma, its images recorded as if directly from the mind's eye.
Sarah Watt's Local Dive (1988) resolves in a more upbeat fashion as a socially awkward girl uses the local swimming pool as a wormhole into fantasy. Contrasting sharply with the banality of the other patrons, she dives underwater where she imagines herself as a marine creature, alternately graceful and predatory. Watt's paint-on-glass technique brilliantly evokes the psychedelic awkwardness of youth.
The fondly remembered TV ads (despite the lamentable absence of Mr Sheen) are mostly taken from the 70s and earlier, contrasting the late period angst with the sheer jouissance of a young nation finding its feet. The first of two Life Be In It ads (both 1977) joyfully scrolls from screen top to screen bottom, innocent tableaux taken from city and country life (before 21st century affluenza and alcopops apparently made the streets and parks unsafe). In the second, the famous fat, alcoholic Norm, symbol of a nation, makes an appearance. The moment when he decides to go for a walk instead of pursuing the sedentary life is hilarious. The animation pauses, the familiar jingle slows down, and Norm takes a mighty step up from his armchair and out into the world. It's presented with all the gravitas of Neil Armstrong's Moon landing until the spell is broken by a live action John Newcombe at Mission Control. Sporting a handlebar moustache you could land an Apollo capsule on, Newk congratulates the cartoon fatman with a matey thumbs up and the impenetrable call sign, "Bewdy, Norm."
In the ad for KO Hairspray (1977), two blokey, boofheaded bears discover the camp joys of personal grooming, while the SPC Baked Beans & Spaghetti ad ("for hungry little human beans") has a typically maddening Mike Brady jingle and trippy animated spag and beans that morph into musical notation. The Life's a Ball ad for Jaffas features zoot-suited characters breakdancing like an animated version of Duran Duran's Rio album cover, while the iconic Mortein ad (1962) starring Louie the Fly renders the tedious chore of catching and killing household vermin a game of fun and intrigue for all the family via the smokescreen of catchy jingles, noir animation and the bland, neutral typography of the Mortein can.
Bertie the Aeroplane appears in a classic Aeroplane Jelly ad from 1942, in which he surprisingly discovers UFOs, described by the narrator as "flying saucers." But the first widely reported sighting of a UFO, and the first use of the term "flying saucer" to describe it, was by the civilian pilot Kenneth Arnold in 1947. So was Aeroplane Jelly in on some giant conspiracy? Was this seemingly innocuous food combine using the cloak of homely consumerism and the "aw, shucks" cuteness of a fat, wobbly, anthropomorphised plane to expose Australians to the truth a full five years before the rest of the world?
The program also features Leisure (1976), Bruce Petty's film about the need for leisure time in a society increasingly dominated by industry and work. At times it comes on like some sci-fi public service announcement beamed in from a far-future utopia in which all crime and dissent has been eliminated. Spouting aphorisms like "In order to make life more certain, humans took up industry" and "the new challenge for humans is leisure", I couldn't quite work out if it was having a lend or not. Philosophically, Petty, the famous Australian newspaper cartoonist, appears to be completely serious, making the point with virtuosic style incorporating line drawing and collage, like a more stately Terry Gilliam. Even more bizarre, this complex meditation on the nature of existence won the 1976 Best Animated Short Film Oscar. Who said the Academy had no taste?
Adam Elliot is also featured, and he of course repeated Petty's Oscar win with Harvie Krumpet in 2003. But Lucas makes room for Elliot's Cousin (1998) instead, a black-and-white, rawer, darker Krumpet prototype. Lucas himself got in on the Academy act in 2006 with a nomination for The Mysterious Geographic Explorations of Jasper Morello, but of his own work he's chosen to include Slim Pickings, a sweet little claymation about a green alien alone on a small planet who has run out of food. The Little Prince influence is obvious, yet smartly integrated.
Ideally, Peter Cornwell's Ward 13 should also have been nominated for the 2003 Best Animated Short Film Oscar—perhaps it should even have won. It's a remarkably accomplished tale of a road-accident victim who wakes up in a hospital of horrors, fending off tentacled mutants, nurses in Halloween-style hockey masks, two-headed dogs and orderlies wielding bone saws. With no dialogue, this stop-motion masterpiece is told kinetically. Its set piece is a jaw dropping scene with hospital bed trolleys and wheelchairs used as escape vehicles and walking sticks wielded as Ninja swords, rivalling Mad Max 2's lauded chase climax for inventiveness and (stop) motion sickness.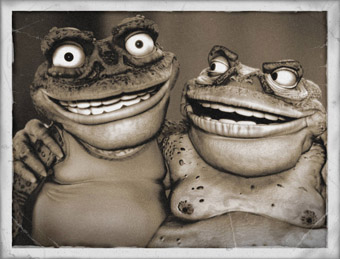 Cane Toads
Wendy Chandler's Union Street (1990), a tale of street-level suburban machinations, is narrated by Andrew Denton and is beautifully 'acted', with fabulous photographic cut-outs coloured in and collaged, providing a graphic match for the intricately plotted drama. Lucinda Clutterbuck's Tiga (1989) eulogises the Tasmanian Tiger with reminiscences from locals, a sumptuous soundtrack and variegated rotoscoping. Max Bannah's sardonic One Man's Instrument (1990), about a man who makes flora flourish amid the concrete jungle by playing his trumpet, is one of two films with distressing close-ups of a character's penis and testicles; Bannah has the old meat and two veg literally pissing on the man's dream, crass urbanisation winning out. Andrew Silke and David Clayton's Cane Toads (2002) is a fine example of CGI (rare among these films), starring Baz, the horny-skinned animal version of Life Be In It's Norm, except that Baz doesn't take great strides, instead getting mangled for his efforts to better himself in a number of bloody and imaginative scenarios.
Anthony Lucas deserves praise for assembling this excellent program, and the inclusion of the TV ads was inspired. Assuming you're of a certain generation, the frisson of recognition they provide reminds us that the inclusion of the words 'animation' and 'Australian' in the same sentence is not such a strange concept. And even if you're not of that generation, the chance to see where the luminaries collected here might have gained inspiration from is invaluable. With its trip through the shimmering talent of Tupicoff, Petty, Watt and Cornwell, the program very effectively counterbalances any suggestion that Australian animation had no pulse pre-Krumpet.
As for themes, well, there is the Aussie gothic but if we're going to read 'Australianness' into the program, let's think in terms of "quality" rather than cultural cliche. After all, as Peter Cornwell said when asked why the Academy has suddenly embraced Australian animation, "There's a different Australian sensibility, but it is really difficult to say what that is. We don't really have an animation industry. There's so many obstacles that you really have to be passionate about finishing it, you're not just cynically making it for the market."
Well said.
Flickerfest 17th International Short Film Festival: The Bold, the Brave & the Best—Celebrating 30 years of Australian Animation, curator Anthony Lucas, 124 minutes, Flickerfest national tour, Jan-March 2008
RealTime issue #84 April-May 2008 pg. 25
© Simon Sellars; for permission to reproduce apply to realtime@realtimearts.net