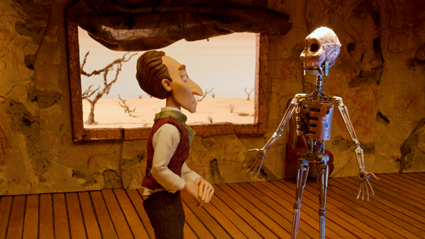 Sleight of Hand, director Michael Cusack
OPPORTUNITIES TO SEE NEW AUSTRALIAN ANIMATED FILMS ARE FEW—AUSTRALIA'S INTERNATIONAL FILM FESTIVALS, FLICKERFEST AND ITS ILK AND THE MELBOURNE INTERNATIONAL ANIMATION FESTIVAL AND ITS SMALLER SYDNEY COUSIN SCREEN WORKS ANNUALLY, BUT THE AUDIENCE REACH BEYOND THAT IS LIMITED.
However, online delivery is changing that for some works, free on YouTube, Ozanimate or for sale on producer sites in high definition. Whether this phenomenon is any more or less economically viable for animators than in the past is yet to be determined. In the meantime it is good to know that dedicated animators continue to make excellent films, as demonstrated in the 2012 UTS Sydney International Animation Festival.
the sea turtle and the osprey
The Sea Turtle and the Osprey is one of eight 10-minute animations that belong to the Yanyuwa-speaking Wurdaliya people of the South West Gulf of Carpentaria in the Northern Territory. These songline stories map out the land in terms of the movements of ancestral animals and provide new Wurdaliya generations with narratives that relate to ceremony, law, kinship and country. In terms of cultural meaning, motivation and causality in particular, the stories can be difficult at first for outsiders. This is compensated for with 3D computer generation of vivid widescreen land and seascapes and the mimicking of sweeping camera work as the osprey occupies his territory, slaughtering the sea turtles that pass through his realm. The sleek 3D animation by Brent D McKew and collaborators ranges from relatively simple to finely detailed, for example when the osprey bloodily guts several turtles. There were gasps of alarm from children, and adults, in the audience—sounds, I guess, less likely to be heard from Wurdaliya children familiar with turtle harvesting. The online version is prefaced by "Warning: Animated Violence" (www.infotech.monash.edu.au, go to Monash Country Lives Archive, Animation).
the last photo
In Lissa Pascale's The Last Photo, a young girl photographs her red-scarfed soldier father at a railway station as he sets out for an unspecified war. Later, with her camera, she seeks him out amid battlefield ruins, pursuing the scarf that dances away from her and finding herself in turn pursued in a snowy landscape by long, looping coppery tentacles that threaten to immobilise her and seize her camera. For all its attractiveness and the cute realisation of its large-eyed protagonist, The Last Photo is distinctively spooky—a bloody mist swirls through the ruins, a looming, gas-masked soldier almost shoots the girl and the steam-punkish entwining tentacles are symbolically opaque, and perhaps all the more scary for it. Although admiring its fine detail, dynamic movement and elegant, neat picture book style, I wasn't swept up into The Last Photo's nightmare; the film's abstract sense of context and curious symbolism kept me at a distance. But there's no doubting Pascale's skill.
paris lakes
This is the second time I've seen Robert Stephenson's Paris Lakes, a bitterly caustic, gritty 2D animation of an imagined promotion for a grotesque new housing estate, tarted up with signage the likes of Notre Dame Place, characterised by the utter destruction of nature and the implementation of universal bad taste—which the film enjoys grossing out on as much as it disapproves. Filthy fun.
the money go round: ya ya ya
The only obviously experimental animation in the program is a surprisingly consistent work for one tied to a rock song, Ya Ya Ya by Sydney indie band The Money Go Round. Out of dark space, concentric circles rush out towards us, followed by 'line-drawn' jellyfish, elk, cannon, wolves, pylons, splitting and multiplying until there are only stars (born of cascading fireworks). After this mad evolutionary rush, the universe implodes, sucking objects and creatures back into nothingness. This bracing work is available on YouTube, looking much better on computer than on a large cinema screen.
predator!!
Jilli Rose's Predator!! is a finely crafted take on both Pixar animation (depth of field and nice character touches albeit with a vibrant, more traditional handpainted quality) and nature documentaries (someone is going to get eaten). A small, round, one-eyed, feathered pink sea creature is at leisure. Meanwhile a long red and white striped worm wafting through a coral forest encounters one of the creature's feathers and goes in search of prey. The pink ball accidentally impales itself on a coral branch. It bleeds. Close-up of its eye. A tear. Doomed. Suddenly we share the creature's point of view as the worm races at us. Blackout. There's an apt quotation on the animator's website: "It was just like Pixar…until the blood started." Perhaps a slightly more ambitious narrative or a touch of irony might have made Predator a more satisfying experience—as three-dimensional as its imagery—unless the final image of the bloated worm part sunk in sand suggested the indigestible, and defeat.
gristle
In Jamie Clennent's Gristle, two old men, oblivious to their plight, chat in a white-tiled abattoir while hanging from meat hooks, their naked bodies marked out for butchery cuts. "How was Sydney? "The pies are shit….God knows what they put in them." "Jenkins has gone. They must be working their way up the street." "They won't get me without a fight." The men fall silent; the camera backs discreetly away. Spare dialogue, the occasional creak of meathooks, unfussy animation (the men are cutouts, the background three-dimensional), careful pacing, good voice casting and a neatly ironic script combine to make for a grimly satisfying animation. You can see Gristle on YouTube.
dukes of broxstonia—tomatoes
One of an ABCTV cartoon series built (oddly) around a middle European band, the Dukes of Broxstonia, this Tomatoes episode (number 10 of 13 on YouTube for ABC3) focuses on the drummer's overwhelming passion for tomato sauce. Addiction consumes him, he hides tomato sauce bottles in the toilet and his undies, sprays sauce over fellow band members and audience, loses his job, grovels for sauce packs and…reforms. It's bouncy, briskly done, richly coloured, vocally guttural and pretty well word-free, and lightly moral…and funny.
sumo lake
Gorgeously animated with pencil and paper, veteran animator Greg Holdfield's Sumo Lake evokes Swan Lake framed as Sumo wrestling. Initially a lone wrestler plays with a wind-up sumo wrestler but then kicks the toy away. It appears to land in water out of which springs a fully formed wrestler en pointe. The new arrival ceremonially stamps his feet Sumo-style and the two men face off. Furious wrestling rapidly transforms into a pas de deux before the second wrestler returns to his watery origins. A return match is interrupted by the stamp of a giant foot belonging to a towering balletic Godzilla prancing about as if straight out of the alligator corps de ballet in Disney's Fantasia before sizzling one of the wrestlers with his fiery breath. What follows is very laterally conceived indeed—with the return of the Sumo toy and an underwater wrestling match— but well worth seeking out on Vimeo or YouTube's Future Shorts channel. The spare line drawing is excellent, hugely evocative in its minimalism and the sound design is marvellously apt. It's good to see traditional craft in such fine fettle.
jack and jones
Walpiri man Jason Japalijarri Woods' stop-animation is a simple tale, narrated in language and subtitled in English, about two Indigenous men, friends from childhood. As boys they inadvertantly kill a bush turkey with a slingshot, the first food they've provided for their families; they meet their wives-to-be while playing basketball; go shooting kangaroos to feed their new families; and decide on a night out in Alice Springs, drink too much alcohol and fight in the street. On the way home they hit a bush turkey, reconcile and, in the final shot, we see the friends with their families sitting by a fire in which the bird is cooked. The animation is straightforward, nicely textured with ample detailing and excellent sets, and the moral is transparent.
the maker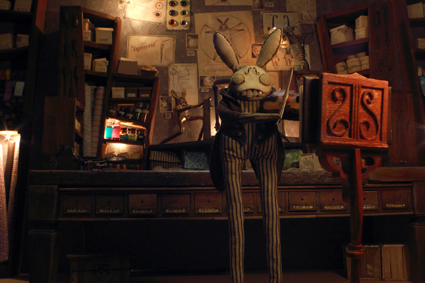 The Maker, directors Christopher and Christine Kezelos
A complex stop-animation, and copious international award winner, is Christopher and Christine Kezelos' The Maker (which can be seen at www.themakerfilm.com, or purchased there in high-definition). Like the filmmakers' ambitious Zero (2010), The Maker is expertly crafted, cinematically adroit (not least in its editing) and strange. Zero was hopeful—a low caste couple of zeros parented an infinity, which liberated them from an oppressive, numerically ranked society. The Maker, at half the length and on a smaller scale (with a large production crew), is more focused and brilliantly miserable. A rabbit with violin f-holes punched into his forehead, agitatedly constructs and dresses a female rabbit, plays her to life with his violin and…but you should see it for yourself. It has a grim ending, an exhilarating sting in the tail—like an Edwardian horror story (as is the setting). The Kezelos' stop-animation technique in The Maker does not focus on elaborate physical movement or naturalistic physiology (as in Zero, their characters are toy-like) but suggests movement dextrously through camera positioning and editing, making the most of intensive design (a single room as opposed to the numerous locations in Zero) and evocative, subtly-lit close-ups.
sleight of hand
The most accomplished film in the Australian program came from frequent award winner writer-director Michael Cusack, producer Richard Chataway and their experienced collaborators at Anifex. The film is described on the South Australian Film Corporation website as "a love letter to the stop-motion technique which is presently under siege from the sexy renderings of computer graphics. While stop-motion is not as smooth as CGI, part of its appeal is the very obvious human manipulation involved which lends a kind of magical appeal to the process." Hence the title, Sleight of Hand—at least in part. Unlike Kezelos' relatively economical The Maker, a great deal of naturalistic physical movement is masterfully stop-animated. A filmmaker is at work in a room in a rather desolate, desert-like location meticulously manufacturing a version of himself—a stop-animation creation. In a grimly ironic reversal, wonderfully framed within a crane shot, the filmmaker discovers that his world is merely a set and that he himself is an assemblage of replaceable parts. With its wealth of wit and inventiveness, Sleight of Hand might well be a love letter to stop-animation but it equally engenders existential anxiety, not only in its protagonist but likewise in its audience. This is serious filmmaking, if in a long tradition of animation that 'steps out of the frame' but with its own idiosyncratic vision. Sleight of Hand is competing with The Maker (which has its own dark take on creation) and two other films for the 2013 AACTA (Australian Academy of Cinema and Television Arts) Award for Best animation.
The Sea Turtle and the Osprey, directors John Bradley, Dinah Norman Marrngawi, Jemima Miller Wuwarlu, Mavis Muluwamara, animator Brent D McKew, 2011, 10'00″; The Last Photo, director Lissa Pascale, 2011, 7'30″; Paris Lakes, director Robert Stephenson, 2011, 5'00″; The Money Go Round: Ya Ya Ya, director Dale Anderson, 2011, 3'00″; Predator!!, director Jilli Rose, 2012, 8'50″; Gristle, director Jamie Clennett, writer, producer Jonathon auf der Heide, 2011, 3'30″; Dukes of Broxstonia—Tomatoes, director Suren Perera, producers Stu Connolly, Jane Schneider, 2011, 3'00″; Sumo Lake, director Greg Holfeld, 2011, 3'00″; Jack and Jones, director Jason Japalijarri Woods, 2012, 4'00″; The Maker, writer, director Christopher Kezelos, 2011, 5'17″; Sleight of hand, writer-director Michael Cusack, 2012, 9'48″; Australian Showcase, UTS Sydney International Animation Festival, UTS, Sydney, Oct 13; www.siaf.uts.edu.au
RealTime issue #112 Dec-Jan 2012 pg. 22
© Keith Gallasch; for permission to reproduce apply to realtime@realtimearts.net