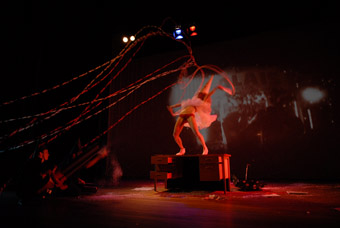 photo Alex Davies
Annabel Lines; Dunce Vignettes, Quick and Dirty
LAST YEAR'S QUICK & DIRTY, OF WHICH I WAS ONE OF MANY CURATORS AND ARTISTS, RECEIVED MUCH PRAISE AND CRITICISM (see RT84). MOST OF THE LATTER WAS FOR THE EVENT'S PERCEIVED NOSTALGIA. IT DID REFER EXTENSIVELY TO THE HALCYON DAYS OF QUEER PERFORMANCE, BOTH IN THE REPRISAL OF PAST SHOWS AND MORE OBLIQUE REFERENCES TO THE WILD 90S. SOME WOULD ARGUE THIS WAS MANDATORY FOR THE RE-IGNITION OF QUEER CULTURE AT PERFORMANCE SPACE. THIS YEAR'S EVENT HAD A MORE CONTEMPORARY FOCUS. CURATED BY A MUCH SMALLER TEAM OF Q&D FOUNDER VICTORIA SPENCE WITH MAT HORNBY, MATT STEGH AND JUSTIN SHOULDER, IT FEATURED THE SAME LINE-UP OVER THREE NIGHTS, APART FROM A COUPLE OF GUEST APPEARANCES.
Most of the cathedral-like Carriageworks foyer was given over to the audience for So You Think You Can Dance, but the small Q&D area was teeming the moment doors opened. Acrobat trio Candy Stripe Circus (Craig Hull, Kate Reid, Martin Peacock), dressed as vaudie characters, did a light-hearted performance in tissues above the crowd. Pomegranates from Tehran had Y in chador smearing white sliced bread with pomegranate jam, walling himself into the corner with the bread slices or giving them to hungry audience members. Whilst the first performance didn't hold up well to serious scrutiny, the pathos and subtle political commentary of the second was somewhat overwhelmed by its convivial environment. I think the risk in programming such work is well worth it, but if the venue can't give Q&D more foyer space, then beginning the event earlier with an art show opening ambience might enable the audience to appreciate non-theatre space works more.
Cindy Pastel's old school drag number—scabrous division—was entertaining enough but I wondered why it took place in the foyer on a purpose built stage, instead of in the theatre. On Friday in Pluto Savage's vertical suspension, the artist's body, in y-fronts, black stilettos and elaborate cosmetic mask, was dangled from hooks throughout interval. Savage's intention to create an image that affronted mainstream gay culture was largely successful, the stained brickwork of the wall an ideal backdrop to his small white figure with stark black face and shoes.
Dean Walsh greeted the crowd entering the theatre with a stunning image. He stood naked over a bucket of drinking water, fluid running down and through his body. The Bends was a reflection on the place of art in society, using the analogy of water as 98% of the body. Close-ups of sea life gulped across the screen as Walsh danced a jerky hominid paen. The poetry of the piece was somewhat smothered by its verbal polemic. Then came Norrie May-Welby singing her way through the bleachers with a local rewrite of Walk on the Wild Side. The first verse was brilliant, May-Welby's trademark bare feet completing the picture, but by the time she reached the stage she was singing the song virtually straight and it fizzled out.
The perfectly named Adonis is a punky, fleshy, brash new regular of alternative spaces. I was excited to see what she would do in a well equipped theatre. With her Leigh Bowery make-up skills, she looked amazing as ever, but the performance didn't go far. She rubbed offal over herself, accompanied by projections of being smeared in tomato sauce. She lost her step and incorporated this into the show with comic flair, but then seemed to lose her nerve altogether.
Celia Curtis is one of the best artists to have evolved in the queer scene over the last decade, belying nostalgia for a 90s heyday. Her Picnic at Hanging Rock was a reprised club show, with all the grimy absurdist inventiveness of the genre in its foam rocks and black garbed 'stagehand' animating the wildlife. Curtis acted parts from the movie to hysterical effect, building to a climax that promised a solid kicking of Australiana, but the tussle with toys to Solid Rock fell flat.
George Tillianakis's plangent Greek folk song straight after this mayhem was a jolt. I loved the song, and his insouciant exit with the cello still bowing, but I questioned the inclusion of this performance in a queer season. With no MC and a program without artist statements, bios and running order, I could only guess this was in fact Tillianakis. Wife closed this bracket with Waking the Beast, which I read as a sort of Arabic pagan invocation. Dressed in a black veil and orange beads, wrapping thread from giant spools around herself, Wife crossed herself, cunt included, then collapsed amidst the falling beads. An amazing visual feast—but maybe no more than that.
Frumpus opened the second bracket with a mash-up of signature themes: beauty myth, horror movie, ironic athletes. The donning of the Australian flag took me back to Curtis' Picnic at Hanging Rock: another opportunity for political commentary again unfulfilled. But overall Cheryle Moore, Julie Vulcan, Rose Ertler and Stephanie Hart were compelling in their craziness. The video projections were just as deft, and perhaps the masterstroke of the night came with their segue into Drew Fairley's superbly polished Hotel California. He had the audience eating out of his hand for every second of his pastel anthem—another reprise—and his schtick afterwards. He fed a craving that again suggested the event needed an MC.
Annabel Lines was the star act, her dunce an evolved spookier version of the clown character she has been exploring for some time. Before aerial views of a strange apocalyptic city, Lines skittered across the stage like a lost doll, contorted on a desk, got stuck in a snowstorm, then enclosed herself in a smoky pod. None of which conveys the sheer ingenuity of the work in terms of stagecraft and delivery. Here was a performer with a unique vision, her persona fully succumbing to dementia, her years of training and expert skills lightly worn.
Justin Shoulder's Coels from Concrete Towers showcased possibly his best costume to date, the coel beautifully complemented by a tree skeleton, projections of black ink staining water and an eerie soundtrack. The coel was especially impressive in flight, horns/fingers jabbing aggressively, but Shoulder's disrobing at the end was a bit ad hoc. Then came Kknopants with a she-devil scenario. With so many more performers out there than spots available, and seven on the bill who mysteriously didn't appear, the underdeveloped Kknopants was another strange inclusion.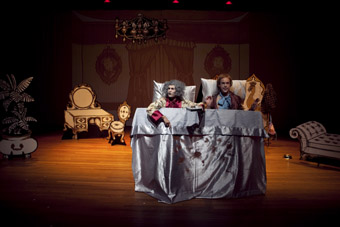 photo Alex Davies
Dick & Dickie (Matts Hornby & Stegh), Quick & Dirty
The final show was Matts Hornby and Stegh with a reprise of Dickie and Dickie which I reviewed for RealTime as part of their brilliant U Little Stripper! (RT81, p34). The Matts took full advantage of the lush facilities with a comical overture wherein chandelier and other poofy objets d'art were installed by a hapless workman. The costumes and make-up were just as over the top, the repartee rejuvenated with gems like "$900 from Kevin oh Seven!", "Ooh, scatter cushions!" But the final track overstated the hilarious visual gag of falling testicles, and the segue into a finale with all performers coming on stage detracted from the work's trenchancy.
Criticism of Quick and Dirty from artists and audience alike was again vigorous: part communal ownership, part Australian self-deprecation? Queer seasons at the Performance Space struggle for survival in an environment bereft of funds, and queer anything is under pressure these days as an area of continuing relevance. However, that Q&D has sold out two years in a row and is being discussed with such urgency says something. And if Mardi Gras pays a Neighbours star thousands of dollars to perform at their party while turning a blind eye, as ever, to the coalface of local work, then a gauntlet has been laid down no matter what anyone says.
I craved more political commentary in Q&D, more extreme expression, more rawness and sophistication both. I wanted Norrie-May Welby to rewrite every verse of Walk on the Wild Side to full street-walking swagger; Shoulder to be more monstrous; Adonis to throw the offal at us; the Matts to throw more of themselves into their Dickies. Maybe then the audience would have let down their hair in a foyer fantastically decked out by the Matts and Marty Jay. Despite great music, the ambience was subdued. According to some, CarriageWorks is too imposing and bureaucratic a space for the intense Dionysian energy this sort of event needs. But wherever the gauntlet is thrown down will be most exciting and pertinent. And whether or not Q&D continues, queer performance must prevail.
Quick & Dirty, Performance Space, CarriageWorks, Feb 26-28
RealTime issue #90 April-May 2009 pg. 42
© Fiona McGregor; for permission to reproduce apply to realtime@realtimearts.net