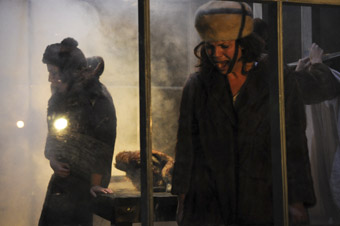 photos Heidrun Löhr
Night Garden, My Darling Patricia
A DARK AND MYSTERIOUS BACKYARD DOMINATES THE SPACE OF NIGHT GARDEN. VIEWED FROM EITHER END OF CARRIAGEWORKS' CAVERNOUS BAY 20, THE CENTREPIECE OF THIS STUNNINGLY REALISED STAGE ENVIRONMENT IS A SMALL SHED IN WHICH ALL OF THE WALLS ARE TRANSPARENT—A GLASSHOUSE, SEEMINGLY ITCHING FOR STONES. SURROUNDING THE HOUSE IS A SHADOWY LAWN INCONGRUOUSLY POPULATED WITH SUN LOUNGES, A CLOTHESLINE AND A BACKYARD TENNIS GAME THAT SPINS LAZILY AROUND WHEN HIT. THE AUDIENCE PEERS INTO THE BACKYARD THROUGH A SCORCHED SKELETAL WALL, AND STARS GLISTEN FAR IN THE DISTANCE. DESPITE THE SUBURBAN TRAPPINGS, THERE'S NO SENSE HERE OF THE PROXIMITY OF ANY OTHER HOUSES. THE BUILDING AND YARD FORM AN ISLAND, ONE IN WHICH THE INHABITANTS MAY NOT BE ENTIRELY SAFE.
A boy (Sam Routledge) enthusiastically expounds on his topic for the day: cicadas. He lists an abundance of species, becoming increasingly effusive about the qualities of each and culminating in a demonstration of the noises they make when they want to communicate joy, hunger, danger or lust. It's the first of many references to the animal world throughout Night Garden, a realm alongside which the isolated suburban garden sits awkwardly Clearly, the inhabitants of this damaged house identify with the outsider status of animals and insects. Foxes, cicadas, whales, deer and geese move through the terrain of the performance with their unidentifiable night cries, their smells, and their bodily remains lingering as eerie emblems of half-grasped secrets, not-quite-expressible family traumas, and a longing to escape this stifling suburban placelessness. These animals are dream creatures, and their evocation amplifies the sense of unfolding reverie through which the performance operates. They also become surrogates for the fear and pain suffered by the inhabitants of the house, as well as victims of casual human cruelty. A fox's freedom to roam fearlessly beyond the fence line is violently curtailed as it becomes a fur stole for a night out, only to be tossed aside as the mood shifts. A goose struts about the yard, a figure of wonder for its young playmate/puppeteer, but later another has its neck absent-mindedly wrenched by the mother, and its broken body dragged around the yard.
Inside the glasshouse, the boy's mother waits restlessly, almost as if she too might be some barely contained animal. While the boy stands alone, the figure of the mother is tripled (Halcyon Macleod, Clare Britton and Katrina Gill) and, much later in the performance, gains a puppet aspect as well. While this splintering of the mother occasionally clutters the narrative world of the piece, it grants the My Darling Patricia performers licence to generate some striking imagery. The mother paces tensely, laughs with forced lightness, wanders languidly in a layered array of nightdresses, and lounges idly in flowery swimwear. Often she seems utterly disconnected from her son, as if he too is some kind of creature.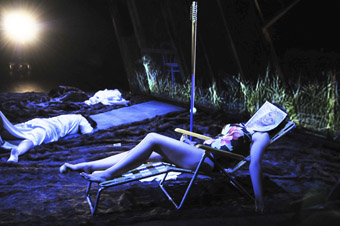 photo Heidrun Löhr
Night Garden, My Darling Patricia
The kaleidoscopic narrative of Night Garden seems primarily concerned with this dysfunctional relationship between mother and son. Absent from this suburban island is any father figure, though there are regular references in the performance text to a man, or possibly several men, who may or may not be the boy's father and whose mention evokes sex and violence, often so densely intermingled as to be indistinguishable. Hidden beneath the bed, the boy tells of the horrible animal noises his mother and the man make, detailing his visceral terror at the violent implications of human sexuality. The boy's tale ends with him in a puddle of his own piss, waiting to be the next victim, only to face his mother's wrath instead. The mother's own account, possibly of the same event, culminates in actual horrific violence. In the aftermath, attending ambulance officers helpfully ask her what she has done to herself, as if it might be possible that such extreme injuries could be the result of self-harm.
Despite the density of spoken text there is little conventional dramatic shape to Night Garden. The protagonists evoke and animate their beastly surrogates, play out their violent cycles of sex, injury, mutilation and death, and somehow through this process maintain the ritual behaviours of suburbia. Through these intense vignettes Night Garden steadily reveals a deeply disturbing maternal relationship that reverberates long after the performance is over. Like much of My Darling Patricia's impressive body of work to date, Night Garden blends extraordinary craft skills in design and puppetry with evocative video imagery and performance to produce a work of visual wonder. Despite the occasional loose thread in the weave, the result is striking and strangely haunting.
My Darling Patricia, Night Garden, devisors, performers Halcyon Macleod, Clare Britton, Katrina Gill, Sam Routledge, design concept Halcyon Macleod, Clare Britton, Bridget Dolan, director, animateur Margaret Cameron, sound design Declan Kelly, film, video Sam James, lighting design Neil Simpson, dramaturg Chris Ryan, puppet maker Bryony Anderson, costumes, props Wandjina, producer Marguerite Pepper Productions; Performance Space, Carriageworks, Sydney, March 5-17
RealTime issue #90 April-May 2009 pg.
© David Williams; for permission to reproduce apply to realtime@realtimearts.net