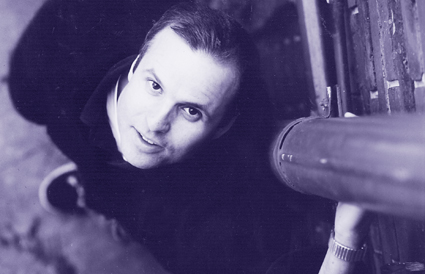 Phillip Adams
Born in New Guinea, Phillip Adams learnt to dance from the white woman in the local ballet hut. He then trained at the Victorian College of the Arts, after which he moved to New York where he performed with Trisha Brown. Phillip Adams is Artistic Director of a new company called BalletLab based in Melbourne. His recent work, Amplification was shown in Melbourne, Sydney, Glasgow, and will soon be seen am in Mongolia.
I think we should start by describing the room that we're sitting in today.
I've surrounded myself with mid-century, modern contemporary furniture. I have a passion for mid-century modern. I guess that comes from my fascination with the 50s. I would classify myself as a modernist in my aesthetic and my thinking. I try to come up with large things in the way that the designers of that period did with furniture and architecture.
How do you judge your own work?
First of all I try not apologise for it. I think that would be a grave error, especially for someone like me because I feel I'm out on a limb. I come from the absolute rawness of moving an audience. I've always wanted to make them feel an emotion. Yet I've been heavily criticised that I'm cutting my audience off. I wouldn't go as far as saying it's existential but there's an apocalyptic tone in my work. It's there in Amplification and in my newest piece, Ei Fallen.
In preparation for Amplification, I went to a hospital to interview patients for up to half a year, talking about the impact of car accidents, and seeing Crash the movie, seeing what it's like to be in an actual situation where there is no way out but death.
Ei Fallen translates from the German, "egg fallen", based on the nursery rhyme Humpty Dumpty. I took Humpty as the metaphor for suicide. All the King's horsemen arrive and discover the broken egg. And they think: how are we going to put him back together again and put him back up on the wall?
It was a metaphor for what it would feel like to be on the precipice, to be in mid-flight and then the actual smash, at the bottom with the ambulance arriving, or emergency people, seeing the dead body. What would it feel like to actually experience those 1 or 2 seconds? I'm fascinated with that, the impact of the crash, as in Amplification, Ei Fallen is about the actual fall. The performance I choreographed for Mardi Gras was inspired by a friend who was dying. He kept on attempting suicide. So I talked to him about what it felt like to do those things, drive the car off the cliff, shoot up, OD, cut his wrists, whatever, jump out of a window. When you see that work you're not going to pick that out of it. What you'll basically see is the usual Phillip Adams start, highly technical. Then the piece starts to turn on itself, you start to get a bit dark and a bit depressed by it, and then you realise gee, that's really sad. You know then the egg's left alone and in the end it's beheaded. It'll be performed at the Melbourne International Festival this year by Chunky Move.
I want to talk about Upholster, the next work that I've been working on.
Perhaps you could describe what we're sitting on first.
We're sitting on a pair of 60s Jetson chairs. The upholsterer and I took the sides off, washed them by hand and put them back on. Then I chose a chenille, Armani olive green, to give it that luxury hotel foyer 1960s New York feel. To top them off they are amplified with a red cushion. I made the cushions.
Upholster is about the idea of facades, covering up things, hiding or purporting to be somebody else. We are clothing. What we are underneath is the padding and stuffing. It's what we cake around it which is the stuffing or the fabric which forms the body. With a designer I've been reconstructing the pleat: cutting the pleat in half, re-sewing it to the back, and then I've done another pleat that's sectioned onto a poodle skirt. So we have a tapestry of deconstructed clothing.
I think there is a lack of design in contemporary dance in Australia. I see the work of Upholster as not to draw inspiration from the world of design, but to make it design. In doing that I'm building the set live as the piece goes. So the dancers are given a real job, a real project to put together, where the materials stuff it out.
We all have a cover, we all have a front that we hide behind. No matter what, who you are, we've all got a thing. But what's underneath that is what's more interesting. And I think the emotion comes from underneath—'I'm trying to find out who I am.'
Do you want to be in Australia, do you like being here making work?
I couldn't be happier. I think like the choreographers who seem to have infiltrated themselves back nicely in Australia at the moment (Lucy Guerin, Rebecca Hilton). Without the time spent in New York and Europe where I performed for 10 years and danced and did some bits of my own work, I wouldn't be who I am today. I was a student at VCA. To come back now and to implement my own world within that context seems to be working okay at the moment.
Do you want to show your work overseas?
It is important to me to have my work shown in an international context. I was lucky enough to go to Glasgow for New Moves (new territories) dance festival where I showed Amplification which received an excellent response. I was a little nervous, wondering how my work would stand up in an international arena. This year I'll be going to Manchester (UK), and to Mongolia. It will be the first chance for the Mongolian people to actually see contemporary dance. I'm showing Amplification. I'm interested to see how it goes down.
This couch is Hotel Foyer 1957. Beautiful isn't it? Your parents probably sat on this stuff. It's been remade. You could say…"as Phillip Adams shows me around his apartment". I'd love you to write that.
RealTime issue #37 June-July 2000 pg. 5
© Philipa Rothfield; for permission to reproduce apply to realtime@realtimearts.net