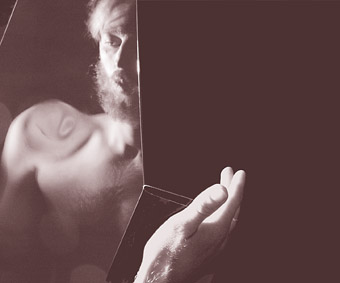 photo Blaide Lallemand
Conan the Bubbleman, The Clockwork Divide
I adore arts festivals. Having performed in, produced for, or just hung around many of them over the years, I look forward hungrily to these opportunities to see new work, and to network and socialise with other artists.
Unfortunately I find myself living in a city where the cultural planners seem determined not to have a decent arts festival. Canberra has completely stuffed up over the last few years. We let the National Festival of Australian Theatre (and its sibling, the Australian Performing Arts Market) slip through our fingers to Adelaide. The ACT Government insisted that the old Canberra Festival was a 'cultural' and not an 'arts' festival and so it became not much more than a limp parade, a food fair for drunken yobs, and a (very expensive) Neil Cameron fire spectacle by the lake. Then it was forced into a shotgun marriage with the Multicultural Festival, which nearly killed both. Instead, the ACT Government ladles millions of dollars into a V8 SuperCar race that has no cultural relevance to our city, in the name of tourism.
But those of us who like our art fast, new and daring always had Festival of Contemporary Arts (FOCA). Fostered by Gorman House Arts Centre, FOCA always seemed subversive and held promise that there would be something to surprise. It was programmed by a curatorium. It brought many of the Canberra ex-pats back to town. Odd Productions would set up camp in the service courtyard of Gorman House with a bar and DJs and there would be a fortnight-long party. It was, simply, the most exciting time for artists in Canberra.
Tragically, the czars of the ACT Cultural Council decided that this little mutant festival had no value and took away its funding. The ensuing outcry saw a small fraction of that funding restored, but the big plans had to be abandoned. Talk about funding something to fail…but we True Believers kept our fingers crossed.
The centrepiece of the first weekend was the program of outdoor performance in Civic Square. This plaza, bounded by the ACT Legislative Assembly Building, the Canberra Theatre and the Canberra Museum and Gallery, has become the obsession of cultural planners determined to make the square into a vibrant locus of street life. It's a futile exercise. Garema Place is the true heart of Canberra and all attempts to transplant it, as in the last Multicultural Festival, have died on the operating table.
In previous years the passing trade of Garema Place and City Walk, including an avenue of street performance and food and market stalls, created a carnival atmosphere. The opening of FOCA5 in Civic Square, by contrast, had the performers outnumbering the audience, especially in Abreaktion's Temenos. Billed as an "alternative" tour of Canberra, Temenos was a gaggle of poets, actors, musicians and performance artists roving through installations (a great Canberra tradition) and lacking the production finesse to get its message across. Most of the time the audience simply couldn't hear what was being spoken.
Next up was the cyber-feralism of Odd Productions. Odd's massive set pieces have been a feature of previous editions of FOCA, and Dream Home was advertised as including the installation of a whole demountable house with transparent walls. Alas, budgetary and logistical constraints seem to have prevented this. Instead we were given some pretty, but unchallenging, physical theatre. Great visuals, great performances, great music, but lacking development in the text. Odd would benefit immensely from a dedicated and experienced writer on the team if they want to evolve beyond satire.
So, indoors for some of yer proper theatre. Gorman House's Currong Theatre had a full program of plays and performances that proved popular. The prodigious Iain Sinclair of Elbow Theatre performed Wallace Shawn's solo piece The Fever. It's a thoughtful work, not much more than a monologue, examining an upper-middle-class fop developing a social conscience. It was written to be performed in lounge rooms and I'd love to see it that way. The night I went, it was followed by a self-devised solo work from Melbourne performer Scott Gooding, Pure Escapism. Gooding's another extremely talented performer and this piece could be powerful, given time to develop some dynamics other than teeth-grittingly manic.
The party aspect was limited to 2 events, the major being artbeat at the Canberra Theatre Centre's Link space. The daggy title presaged the slight sinking feeling I get at the notion of seeing 'performance' in a dance club, but this had some nice surprises (remember, the Sydney Front used to do club shows once upon a time…). The program was put together by Canberra club pioneer Sylvie Stern, who has been unstinting in promoting young artists and in trying to foster crossover between the club and the arty scenes. The mix worked exceptionally well on this occasion, with engaging performances from Beren Moloney and newcomers Flipside, and some intriguing installations by Madeleine Challender (see RT42 p36), Aimee Frodsham, Calen Robinson and John Ashauer. Of course we were really there to dance, with the bill headlined by Nicole Skeltys of B(if)tek. My booty was most shaken by the breaks of local Bec Paton.
Of the real highlights of FOCA, one was a complete surprise and the other a huge relief. Clockwork Divide was a small jewel of physical theatre devised by Blaide Lallemand, unknown to me before the festival. It featured clever and beautiful use of soap bubbles and membranes, the work of Conan the Bubbleman, that literally brought gasps of astonishment from the audience. I went back a second time with my kids, and it was standing room only.
It was a huge collective sigh of relief and gratitude that greeted CIA's, and Director David Branson's, stunning return to form with Demons, devised by Wayne Macaulay and loosely based on Dostoyevsky's The Devils. Demons is a gutsy work, breathing new life into the multimedia/performance/ installation/theatre tradition that was once a Canberra trademark. It features some standout acting as well, most notably Pip Branson, who could easily make a career on the stage if he wasn't already such a consummate musician (formerly of much-loved indie band Sidewinder and now with Something for Kate). Phil Roberts and Rebecca Rutter were also first-rate. Demons is the first work I have seen deal effectively with ramifications of the Melbourne S11 protests—the meeting scene, where the audience becomes for a moment part of a direct-action planning group, was as real as theatre gets.
In the end, the artists were able to make this festival their own once again, and the people came despite a tiny publicity budget and the absence of any work from the Australian Choreographic Centre that dominates Gorman House. Plaudits especially must go to Festival Manager Anne-Marie Peard, whose iron will and passion made FOCA work.
Ironically, between FOCA and my finishing this review, the ACT Government initiated a "Festivals Review". Maybe Canberra will eventually have a major mainstream arts festival—but FOCA is now owned by the community of artists and if anyone tries to defund it again or make it a 'fringe' to something, there will be blood in the streets.
Festival of Contemporary Arts 5, Canberra, Sept 25 – Oct 7
Gavin Findlay plays trombone in lounge-funk sensations CooCoo Fondoo, who put on the last night artists' party at Gorman House.
It rocked.
RealTime issue #46 Dec-Jan 2001 pg. 9
© Gavin Findlay; for permission to reproduce apply to realtime@realtimearts.net