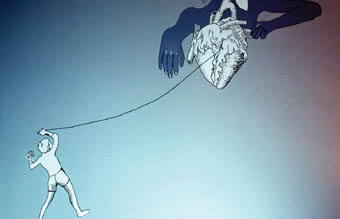 Poolside Manifesto, Forgetting Tuesday
Love Tester, a site-specific, installation-based project opened at the Virus Lounge, a gaming centre on Francis Street in Northbridge Perth, one hot, late-summer night. Regular clientele were locked away behind glass in a grid of computer consoles, air-conditioned, seemingly oblivious to the swelling art crowd and intent on blowing their opponents' virtual brains out.
Here they creep through dark labyrinthine environments, avoiding ghouls and zombies in search of the prize. In our case, we are informed, the prize is art, and the labyrinth is a somewhat brighter (if no less seedy) Northbridge. The zombies are self-explanatory, especially on a Friday night.
The arcade game, Timezone, pac-man, pinball, Playstation and Pot-Black are all plundered in Love Tester's hot-pink, heat-sealed promotional material. We get it already! Love Tester is the product of Nintendo-generation boredom, short attention spans and engagement with a local arts scene that continuously battles the seemingly effortless high production values of popular culture. Pilar Mata Dupont's opening-night performance, Estrella the Pony, engaged the audience with the generational theme of the Love Tester. A 20-something woman with a My Little Pony fetish grooms a life-sized plastic horse in the Virus Lounge car park.
Love Tester is the latest attempt by 2 curators and 13 young artists to shift the local visual arts paradigm from the confines of gallery-based exhibitions and thrust it in the face (or at least the peripheral vision) of the general public. It follows similar successful event-based and site-specific projects including Hotel 6151 (2002), Peep-in-Death (2002) and the video-based Drive-by (1999) to which it is more closely aligned.
Scattered between various Northbridge businesses, the locations of Love Tester's individual works are disclosed on a map: large hot-pink symbols at each venue guide audiences from place to place. These measures largely avoid the risk of each intervention being subsumed within its environment, although investigations in the weeks following the jubilant opening night revealed some fragile points of connection between project aspirations and the actual work.
I searched in vain for Nathan Nisbet's Bentley the Bear, an audio-visual collaboration between Mark McPherson and Philip Julian, putting its absence down to the kind of natural attrition that often occurs when site-specific works are displayed over long periods. Things break down. Julian and Nisbet's Flow Form at Merizzi Travel did however successfully project its morphology of symbolic and design forms for the duration of the show.
Pearl Rasmussen and Danny Armstrong's Empty Man Comic Strip stencil series was barely distinguishable from the greasy, black patina of chewing gum on the pavement of William Street, but this may have been its point. The artists' subtle monochromatic animation is activated by the viewer only while walking, and staring down at the pavement.
Poolside Manifesto's Forgetting Tuesday at Virus Lounge was easily the most resolved and engaging installation in the program. Consisting of a disturbing ice-cool, pastel wall painting and cut-outs illuminated by fluorescent lighting, the work takes its cues from retro fairy-story illustration and early learning texts such as the Janet and John series. Spanning at least 15 metres, this immersive work describes disembodied scenes, including a robin redbreast caught on a hook, and a boy flying his heart like a kite.
In Bennett Miller's 2-part installation, Where's The Love, at Pot Black and the WA Skydiving Academy, the artist repeats motifs from previous installations involving stuffed animals (this time, a leopard caught in a net) and a TV set showing the still, pixilated image of a cat, or boy. Enigmatic and indecipherable, Miller anticipates audience confusion with a quote from the late William Burroughs, "What is this asshole Bennett, who smokes two packs of cancer a day, really saying?"
Love Tester, AFWA's Emerging Curator Project, curators Jess Clarke & Jennifer Lowe, various venues around Northbridge, Perth, March 28-April 20
RealTime issue #55 June-July 2003 pg. 36
© Bec Dean; for permission to reproduce apply to realtime@realtimearts.net