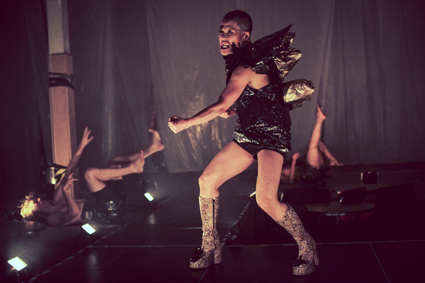 photo Vikk Shayen
DasSHOKU SHAKE!
How do you explore mindless capitalism in the face of one of the world's most horrific natural disasters? Take hyped Japanese businessmen, lascivious Geishas, balloon boobs, one very bent "good Japanese mummy" (and her dancing baby poo heads) and a woman "searching for the Light", and throw them together in a mad kitsch crush of Butoh and Burlesque, heading for impending doom.
"If you don't understand our Janglish just put up your hand and we will explain it to you in more Janglish!"
Directors Yumi Umiumare and Kayo Tamura wring every bit of crazy out of the lighting, sound and cast of DasSHOKU SHAKE! punctuating the action with spoken word. Kayo Tamura takes lewd to a whole other level as a demented nurse and pink crinoline kewpie doll mummy feeding her baby 'WacDonalds.'
"We love looking after people because we can forget about all the bad stuff. Stay sick!"
In contrast, trapped in the capitalist machine and eschewing the superficial light of the power company, Yumi Umiumare emanated torment: "Give me no enlightenment but give me the Light." Amid manic coloured lighting and J-pop partying she fears the worst: there is no truth, no Light. She vomits.
"Are you following so far? Breath in, breath out."
Around these people, more chaos reigns as fervent businessmen and dizzy pink 'mouseketeers' are juxtaposed with grim soldiers in gasmasks and protective clothing. A salaryman hands out business cards while women manically masturbate, psychotically popping balloons. The cast, including Australian performers and members of the Japanese absurdist troupe, Theatre Gumbo, drew reticent audience into their madness, demanding fervent sexual embraces.
"Be calm and composed. You're clear."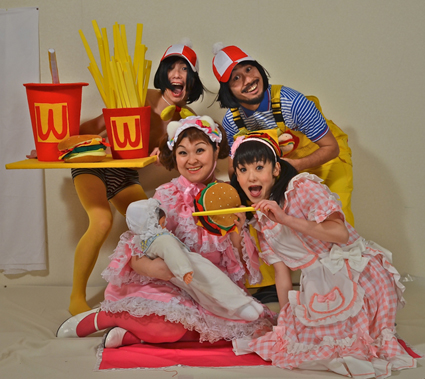 image courtesy Darwin Festival
Members of Theatre Gumbo, DasSHOKU SHAKE!
An alarm sounds. A giant silver worm emerges and stands tall, followed by two more on either side, slinking and writhing. Encased in black and silver air conditioning ducting, the performers move across a dark and smoky stage. Moaning fills the air. Umiumare reappears in jagged black costume. For me, blinded by strobe lighting and transported by a soundscape that lurched from throbbing menace to the Charleston, this scene was a visceral experience, Dancer Harrison Hall, bursting from the stage with explosive power and grace, was the icing on my DasSHOKU SHAKE! cake.
"That day I was drunk. Can you see me?"
Inspired by Umiumare's trip home to Japan in the wake of the 2011 earthquake, DasSHOKU SHAKE! climaxes in the devastating tsunami that followed. Dressed in black plastic bags, the cast embodies chaos and destruction, and in the silence that follows, Umiumare roams the stage, looking for loved ones. People she recognizes drop, slip, slither out of her arms. All she had known is gone. A child's yellow floatie lies at her feet.
"When you become who you really are, you become the Light itself."
In an ironic twist, our journey through superficiality on a tormented search for enlightenment ends with George Harrison's "Here Comes The Sun" and the show's most faithful Butoh moment as Umiumare grieves. Faced with the horrendous reality, futility and fragility of life, the Beatles are the balm.
With traditional Japanese style, the cast broke the tension in an encore that dished up oversized sushi and sake, singing, "We're all dying anyway. Let's eat what we want."