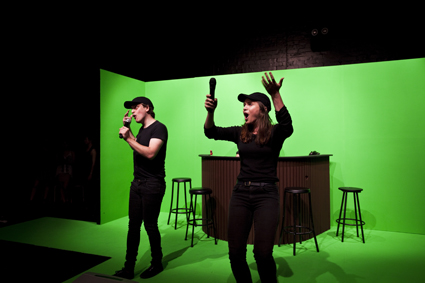 photo Katy Green Loughrey
Malcolm Whittaker, Natalie Randall, TeamMESS,
Has Sydney's most engaging art left its galleries? Kaldor Public Art Projects' 13 Rooms, on the wharf warehouses of Walsh Bay and Underbelly Arts on Cockatoo Island, have both shown recently and to great effect what can be done outside the white cubes and black boxes of the old-guard art world. In an online era when we can grab all the media we like at home, it seems we're all looking for experiences to immerse ourselves in, rather than art to look at in traditionally zoned-off institutions.
Tiny Stadiums is a small-scale, local instance of this wider trend, featuring emerging artists and curated by a young duo called Groundwork (Amelia Wallin and Maria White). The curatorial lynchpin of last year's festival was to use Erskineville's civic spaces as art sites over two weekends in November. While previous Tiny Stadiums festivals have utilised more public and naturally engaging spaces, like the shuttered corner bakery on the main street, there's something admirable and sweetly everyday about overhauling decidedly ordinary civic buildings for the purpose of live performance. The most revelatory space to which audiences would usually have the least access, the Anglican Church, was possibly the most under-used, while the most open space, a park on Erskineville Road so small you might miss it, became home to a simple but solid DIY radio project called The People's Weather Report (see p4). Artist and Tiny Stadiums curatorial assistant Grace Mackey invited people to record their own reflections on climate change under the guise of a weather report from wherever they were. The results were honest, intimate, chatty and accessible—somewhere between a podcast and a sound art project.
Ironically, the strongest work occupied the most traditional space, PACT Theatre, and it was TeamMESS's Trojans, a loving ode to terrible soap operas performed over four nights. It's a reminder that even in the midst of the current trend toward public spaces, many artists seem most comfortable with confined, controlled conditions. Across all its projects, TeamMESS takes the conventions of addictive pop-culture phenomena we take for granted—soaps, forensics shows—and reveals these tropes to a live audience who are forced into being part of the spectacle and the silliness. The creators conceived of the Trojans project not just as the finished product we receive on our televisions, but as a live performance. From the very beginning, the audience was made to feel we were not in a theatre but a live TV studio, with trashy ad-breaks, a tinny theme song and el-cheapo green-screen completing the experience.
In celebrating and unveiling how trashy soaps are made, Trojans was recursively subversive and reverential—indicative of the mash of high and low culture in which we're all swept up. The criminally overlooked American indie film Nurse Betty took a similar approach 15 years ago, with Renee Zellweger as a naïve waitress whose sense of reality slides away from her disappointing small-town life and into her favourite soapie following a horrible trauma. She comes to believe that the handsome Dr Ravell of the hospital soap, A Reason to Love (a reference to the background soapie all the Twin Peaks characters are addicted to), is her long-lost fiancée, and journeys to the show's Los Angeles studio to fulfill her deluded dream. The film uses soap opera to make a grander statement about American cluelessness and the sad psychology of celebrity worship: Why do we adore the famous as much, or more, than the people in our real lives?
Trojans didn't ask any such big questions, but it did show us that the inherent crappiness of these shows comes from the insane economics involved in turning over low-budget content for daily televised consumption. A different writer provides a new script written on-the-fly on each day of the show, with the dialogue and blocking instructions piped in real time to the actors' ears as they perform. The result is then edited on-the-go and shown to us on two screens, with the cameras and sound booth and editing suite all on raw display. Although this follows the reality of soaps which are written hastily and recorded at the astonishing pace of one episode a day, it diminished the quality of the writing and the performances, a pretty key element to the project's realisation. But within the time constraints, the writer of the performance/episode I saw, Nick Sun, came up with some gloriously horrendous lines: "This is a Buddhist murder!" For a live video project, I expected the creators to utilise the outrageous cinematography conventions of soap operas—long-held zooms at the end of every scene, lingering reaction shots, entire conversations held between two people both facing the camera.
But the hour-long show included at least four deaths, one resurrection, a marriage and an apocalypse—admittedly pretty fast-paced action for a soap, but about as ridiculous as you could hope for.
There's an argument that projects like Campbelltown Arts Centre's Minto: Live (2011), which staged art in the streets of south-west Sydney, do public programming best—that curating work outside the inner city and expanding the audience for contemporary art is a more daring and interesting proposition. Does Sydney need more inner-city public art festivals at the expense of geographic expansion? Where the widely acknowledged limitation of This is Not Art—an important festival in many ways—has been its failure to engage with the local spaces and people of Newcastle, I similarly question the extent to which Tiny Stadiums relates to Erko residents and new art-goers. It's a somewhat disheartening experience to see the same faces show after show, though I did find myself in a room full of strangers at Mook Gwa Institute's Story Title, which hijacked the premise of a corporate workplace training session (and all the accompanying language of 'winning' and 'success') for its guerilla community aim: forcing participants into sweet, fleeting conversations with passers-by.
The artists in a similar project, Underbelly Arts—which certainly does push out to a broader art-attending public—benefit from a fortnight of studio residence preceding the festival to develop their work with peers and curators at the ready for instant feedback. By contrast many of the Tiny Stadiums works felt a little thin: great initial concepts not quite brought to fruition. The imbalance was righted with the extraordinary feeling of goodwill tangibly present. In the Town Hall and the park and the theatre people looked happy and engaged and were being excellent to each other, which might be an art project's greatest possible achievement.
PACT Centre for Emerging Artists, Tiny Stadiums 2014, various locations, Erskineville, Sydney, 13-23 Nov, 2014
RealTime issue #125 Feb-March 2015 pg. 38
© Lauren Carroll Harris; for permission to reproduce apply to realtime@realtimearts.net