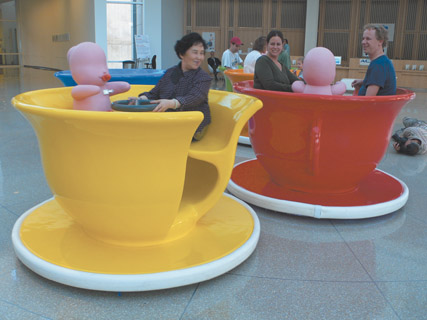 photo Everett Taasevigen
Babylove, Shu Lea Cheang
IN 1967, A MERRY BAND OF UTOPIAN POP ARCHITECTS KNOWN AS ARCHIGRAM DEVELOPED A REVOLUTIONARY CONCEPT IN URBAN PLANNING: AN 'INSTANT CITY' THAT COULD BE DEPLOYED BY BLIMP TO ANY LOCATION.
With great fanfare and hullabaloo, an unheroic suburb or off-season holiday camp would be transformed into a bustling cultural centre overnight. This concept was articulated in a series of drawings showing the changes that would be wrought on a normal English town following the arrival of the Instant City blimp. From a 'sleeping town' a bustling urban centre emerges: buildings spring up and the city is transformed. The instant city embodies the great hopes of modernity, the dream of mobility, of people and infrastructure in motion.
Instant City was included in the Edge Conditions exhibition at the San Jose Museum of Art as part of ZeroOne San Jose, an inaugural major festival, partnered with ISEA2006, of new media and "art on the edge" that landed in the capital of Silicon Valley for 7 days in August 2006. Festival director Steve Deitz cited the Archigram drawings as a point of inspiration for parts of the curatorial concept behind the festival. This was evident in the festival's spirit as much as its theme: Zero One aimed to "transform San Jose into the North American epicenter for the intersection of art and digital culture." Instead of helicopters and blimps, it did so through a program that encompassed exhibitions in nearly every local museum and gallery, events in every available venue, screenings, gigs, book launches, street performances and public space projects. In addition, it included ISEA2006, a major conference held in a hall worthy of Ridley Scott, where guest speakers were shown live on large video projections, a running commentary was displayed on large screens and the audience sat on rolling office chairs. And, okay, actually there was a blimp: a small artists' dirigible called the Fête Mobile that perilously patrolled the breezy streets of San Jose throughout the festival, beaming LED displays and wireless networks as it went.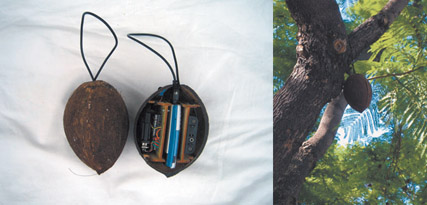 Tripwire, Tad Hirsch
San Jose's downtown architecture is notable for being not very tall, but this isn't because its aspirations aren't grand. The area is in the flight path to the Norman Y Mineta San Jose International Airport, located just two miles from downtown. As a result, there is a permanent height limit for all buildings. San Jose is a city held in check by its airport: mobility and the city are in conflict. This uneasy relationship with the airport was played out in more than one project at the festival. For the project Tripwire, Tad Hirsch (MIT Media Lab, US) and a team of artistic collaborators installed sensors hidden inside coconuts that were hung in the trees throughout the city. When a low-flying aircraft exceeded a maximum audio level, the system would automatically telephone the airport's complaint line. The pre-recorded complaints, which can be heard on the project website, appear to reinforce Californian stereotypes. One caller complains that he can't hear the Steven Hawking book-on-tape on his iPod, and another is totally stoned. Still, Tripwire was an elegant intervention into a very local problem (http://web.media.mit.edu/~tad/htm/tripwire.html).
Another environmental monitoring project took aim at the more general problem of smog, for which the airport can share responsibility with San Jose's freeway system. PigeonBlog, made by artist Beatriz da Costa (US) and her students Cina Hazegh and Kevin Ponto, employed a flock of carrier pigeons to transport environmental monitoring equipment. Pigeons are filthy animals, and the sheer bloody-mindedness of using them to keep the air clean suggests a kind of poetic justice. But as one conference-goer observed, the pigeons used in the project weren't dirty at all; they were actually clean and well-mannered, an altogether unfamiliar proposition. Class politics aside, the pigeons of San Jose captured the attention of both local and international media. For once, pigeons had their moment in the spotlight.
Airports were on everyone's minds at the festival, not just the pigeons'. The Federal Aviation Administration had just announced a ban on any liquids or gels on aircraft, and many conference-goers were subjected to long delays and invasive searches as they made their monsoon-inducing, carbon-belching way to San Jose. Acclair, a project by Luther Thie (Israel) and Eyal Fried (US), tapped into this anxiety with an uncanny sense of timing. The project was a satirical corporation that claimed to offer a service to air travellers: brain fingerprinting, which would collect information from a passenger's mind before they boarded the aircraft. Some of the information would be used for security clearance, while the rest would be analysed for potential marketing opportunities. The project raised the question of how far a person might surrender their civil liberties to an authority figure, and suggested that the great dream of mobility might come at increasingly high personal costs in the future.
shu lea cheang
Archigram created The Instant City at a time when it was more fashionable to articulate visions of the future before the practicalities had been entirely considered. Many of the projects presented at ZeroOne dealt with the world on a much more logistical level than Archigram was ever able to do: monitoring statistics, intervening into problematic public policy, raising awareness of social and environmental issues. Dealing with the world on this level can be poetic; so much of human experience is encapsulated within small tasks. But in the world of 2006, it takes a remarkable artist to strive to articulate grand visions for the future that aren't based on criticism and failure, but on potential kinetic energy. Shu Lea Cheang is such an artist. Her installation at San Jose City Hall consisted of a set of teacups, similar to the ride found in many amusement parks, each of which held a large plastic figure of a baby. Visitors to the installation were invited to sit in the teacups along with the baby, steering their way around the foyer space, perhaps colliding gently with other teacups. Each teacup played music that was scrambled and remixed by turning the steering wheel. As with many of Cheang's works, there was a kind of sci-fi story behind the piece: the babies were clones, the love songs a database of emotional content, and the shared experience of the teacup ride a kind of romantic fantasy. In contrast with prevailing contemporary attitudes and mass media opinion, the piece evoked the possibility of love between human and clone, and elicited the underlying humanity of technology.
not the next new thing
New technologies and visions of the future are so closely linked, they are nearly inextricable. The discussion of the role of new technology in art was a central preoccupation of ZeroOne, as one might expect, and this conversation was articulated through a variety of curatorial stances throughout the festival. The exhibition Edge Conditions, hosted by the San Jose Museum of Art billed itself as being emphatically NOT about 'the next new thing.' The introductory text for the show suggested an ambivalent relationship with the field of new media art: "whether it is devices such as pencils and chisels, or ubiquitous aspects of modern life such as electricity, phones, computers and the Internet, technology is simply a set of tools that are more or less familiar at any given time."
The exhibition offered no shortage of ideas about art in technological times, but these ideas were expressed through a wide variety of media. Ingo Günther's Worldprocessor may be one of the best examples of this. Between 1988 and 2005, Günther (US) created 300 collage pieces using globes as his source material. Some of the globes are visualisations of data sets, such as television ownership and economic strength relative to land area. Others are more conceptual, such as an image of the earth with every land mass whited out, leaving only the ocean. Like many of the other artists in the Zero One programme, Günther investigates ideas of mobility and the environment, and uses data as raw material, but he does so while still working with physical objects.
Another geography-based project in the exhibition used light as its raw material. Light from Tomorrow by Thomson and Craighead (US) achieved a poetic simplicity despite being awfully complicated to produce. Two weeks before the exhibition opening, the artists travelled to the Kingdom of Tonga, located in a time zone a day ahead of San Jose. They installed a sensor on the island of Nuku'alofa, which transmitted light readings to the exhibition space in California. There, these measurements were translated back into light waves courtesy of a responsive, specially designed light box. A visitor to the exhibition could see the morning light growing in intensity, or the last rays of twilight slipping away—as translated through a sensor, a network, and a light-emitting panel.
In contrast with the thinking behind Edge Conditions, the importance of the tool within art was beautifully articulated in a presentation by Machiko Kusahara (Japan) given as part of the ISEA programme. Kusahara made a presentation based on a paper called "Device Art: A New Concept from Japan."
It is obvious that the goal of a tea ceremony is not to just enjoy a cup of tea. The importance lies in the whole experience, including the process and the devices used, such as teaspoons and bowls. These tools are functional and made of appropriate materials, and yet there is something more to them than just usefulness. We know that refined tools can make one's life easier. They also serve as a medium in communicating with others. In a tea ceremony, correctly chosen devices change the whole experience.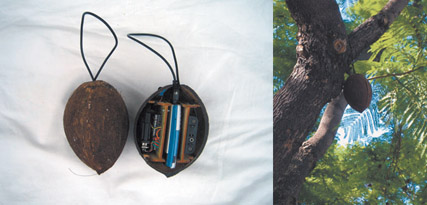 Tripwire, Tad Hirsch
This could also be applied to art. It is problematic to separate devices from experiences if the experience is only possible through the use of devices consciously chosen for their purpose.
Kushahara addressed the question of why artists who make games and toys for mass markets could be considered artists, rather than simply product designers; she questioned the distinction between high and low art, an idea which was imported into Japan from the West, and she highlighted the importance of the tool in the creation of artistic experience.
The San Jose Institute of Contemporary Art presented NextNew2006: Art and Technology, an exhibition that likewise placed the digital tool in a central role. The organisers of the show asked five established artists from the region to choose an up-and-coming talent.
The resulting selection was surprisingly coherent, offering a variety of takes on the materiality of digital technology. The centrepiece was Everything Must Go (Grey Market), a floor-based installation by Stephanie Syjuco consisting of paper cut-outs featuring images of e-waste, used and obsolete electronic equipment: calculators, lap tops, mobile phones. Nate Boyce used Jitter and Max MSP to approximate the effects of 1970s video synthesisers, creating psychedelic, pop culture-infused noise videos. Joe McKay's The Color Game invited two players at a time to use three sliders to match pulsing colour fields projected on the gallery wall. The game was a deconstruction of onscreen colour in the spirit of structural film, asking the viewer to evaluate and isolate the constituent elements that make up a colour display.
Interactive colour fields, telematic light displays, environmental monitoring, digital tools: the ZeroOne programme was wide ranging and diverse. The festival-going experience felt a bit like a walking tour of Alaska, a terrain too large to be properly explored on foot. It was clear, though, that the seeds of a successful biennial festival had been sown. The community was involved, city hall was volunteered as a venue; the programme had institutional and grassroots support, and an international profile. ZeroOne may not have landed from a blimp, but it did succeed in transforming the cultural landscape of San Jose. If ZeroOne didn't succeed in articulating an optimistic view of technology and society in the future, it did, at least, give us a reason to look forward to August 2008.
ZeroOne San Jose: A Global Festival of Art on the Edge & the 13th International Symposium of Electronic Art (ISEA2006) August 7-13, www.01sj.org
RealTime issue #76 Dec-Jan 2006 pg. 23
© Michael Connor; for permission to reproduce apply to realtime@realtimearts.net