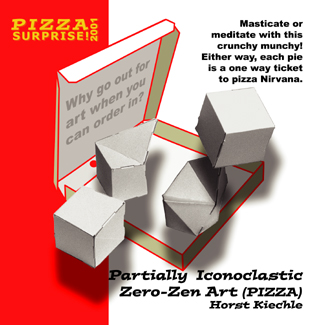 Horst Kiechle, Pizza Surprise
Reviewing Pizza Surprise! is an exercise in restraint. An abundance of culinary and other lame clichés spring to mind, willing me to make them manifest. The reality of the Pizza Surprise! project and its outcomes, however, is that though the work and its literal delivery are based on a packaged concept of convenience, it is far too cunning to be so easily dispatched.
Pizza Surprise! is unabashedly what it is, a commercial, marketed-to-the-eyeballs, good-value visual arts project, and much more. It is a national and international event, a travelling show, and a low-price, egalitarian and accessible exhibition for your lounge-room table. Conceived by local Perth curators and recently pizza delivery chicks, Michelle Glaser and Katie Major (Art to Go), Pizza Surprise! is, above all its superfluous and incidental concerns, a collection of damn fine art. Seven artists including Bruce Slatter (my personal choice), Martine Corompt, Bevan Honey, Mari Velonaki, Scanner, Horst Kiechle and Sam Collins tackled the compressed white, flip-top cube with work that spanned the supernatural to the structural.
A strange kind of value judgement starts to operate when art is offered, home-delivered in a family-sized pizza box, for $19.95 (+GST). The generic nature of presentation, the online order form and automated responses solicit hasty decision. I knew I had to have one but further scrutiny of the work would have prompted me to order the lot! Therein lies the paradox; as a show of 25×7 packaged multiples, it has proved unattractive to artistic, commercial and cultural entities (who should be kicking themselves), but immensely popular within the gp.
The work by no means suffers for this, as all artists engage with the pizza box's spatial and commercial paradigms with incisive, deconstructive and, yes, entertaining work. Sam Collins' Appliance for the Decoration of a Common Void is a neat composition of circuitry and wires with a discrete switch that, when plugged into a TV, begins to scroll a number of test-pattern orientated compositions, creating a changing abstract-art feature for any living-room.
Another technologically-orientated work, Pizza Aphonia by Mari Velonaki, uses text formed by a number of LEDs that light up when the box is opened. This work, deconstructing an intimate letter within 25 pizza boxes, has resonances with the film noir secret briefcase. Martine Corompt's gruesomely cute Household Names includes a cannibalistic cartoon adventure of 4 physically distorted, wannabe pop-starlets and a pink, rubbery doll of the same extended proportions.
Bevan Honey takes the framing and placing concerns of The Hot Sell into a zone of questioning the consumer experience. His work includes a piece of timber thickly layered with varnish that covers a random, linear pattern in black paint. The reverse of the pizza box includes detailed instructions for hanging that suggest a considered approach to placement in the home.
Cardboard constructivist Horst Kiechle's Partially Iconoclastic Zero-Zen Art (PIZZA) uses the pizza box as a starting point for the folding of a series of boxes, from cube to non-cube. These works are carefully cut in the same material as the pizza box, and rely on the customer following specific instructions for their creation. UK sound artist Scanner's Spread recreates a soundtrack of someone-else's everyday, transplanted into the home of another.
A condition of buying a Pizza Surprise is that the owner must send Art to Go a document of its installation. My Bruce Slatter Painter's Palette Ouija Board deserves a home-movie séance replete with candles and much foaming of the mouth to conjure one of the "…really great dead painters."
Pizza Surprise! curated by Art to Go (Katie Major & Michelle Glaser), various homes in regional areas & metropolitan cities of Australia, Oct 23-Nov 7
RealTime issue #46 Dec-Jan 2001 pg. 32
© Bec Dean; for permission to reproduce apply to realtime@realtimearts.net