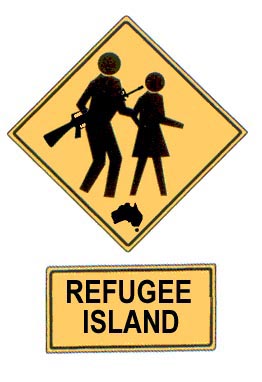 Refugee Island, Mickie Quick
[This introduction was written in September 2010. New links will continue to be added to the list below. Eds.]
This archive gathers together articles about art that has responded to and represented asylum seekers over the past decade. To a lesser extent it also includes art by refugees themselves. While some art movements are described in terms of war (the avant-garde etc), this one might be better seen as a wave—starting as a minor movement (in 1999), building into something more (from 2000), cresting to reach a critical mass (post-2001), before dropping gently (2005) and receding into the distance (2010), save for an angry swell in the wave of the Liberal party's "turn back the boats" mantra, with Labor's "border control" complicity, in the federal election campaign.
Rather satisfyingly, the wave metaphor also redeploys the rhetoric that politicians use when trying to warn us that we are in danger of being "swamped" by a "rising tide"—or better yet a "flood tide," a "flotilla," an "armada"—of "illegal immigrants."
The tactic of redeployment was key to much of the visual art of the period, as evidenced by the culture jamming of Mickie Quick and We Are All Boat People (now boat-people.org). One of boat-people's members, Deborah Kelly, also co-curated (with Zina Kaye) a more formal exhibition, Borderpanic, which was co-produced by Performance Space and the Museum of Contemporary Art in 2002. In 2003, the computer game Escape from Woomera made headlines when Philip Ruddock and Rod Kemp criticised the Australia Council for funding such a project. Later in 2003, Mireille Astore spent hours on the beach in her installation and performance piece Tampa. Her efforts were then echoed by the SIEV X Memorial, which briefly installed itself at the side of the lake in Canberra in 2005.
Sitting at the intersection of visual art and performance, the durational installations of Mike Parr were also a feature of the period. His painful (re)enactments were unusual in an era dominated by documentary and narrative approaches. The urge to tell one's story is understandably strong, especially when one has been prevented from doing so by the strict protocols of the refugee determination process or indeed if one has a story about that process itself. Of the many productions that employed this approach, two of the earliest were staged by Urban Theatre Projects: Manufacturing Dissent in 2000 and Asylum in 2001. By 2004, these efforts had started to reach the mainstream, with the Sydney Festival staging Ros Horin's Through the Wire as a work-in-progress.
Even performances that were not strictly speaking documentary often deployed a documentary aesthetic, such as Bagryana Popov's Subclass 26A which included snippets of information from application forms and letters. Similarly, Théâtre du Soleil's Le Dernier Caravanserail—which played at the Melbourne Festival in 2005—also included stories from actual asylum seekers. For their part, Version 1.0 took a slightly different approach, devising a satirical documentary performance CMI (A Certain Maritime Incident) based on the transcripts of the parliamentary inquiry of the same name. Filmmakers also played with the documentary form in films such as Molly and Mobarak (2003), Letters to Ali (2004) and Fahimeh's Story (2004). Slightly less likely, though no less enjoyable for that, was the comedic fictional film Lucky Miles (2007).
Having just endured another election campaign where 'floods' of 'boat people' were once again conjured to frighten voters, it is something of a comfort to look back at this archive. This body of work ensures that this period of history will be remembered not only for our punitive policies but also for our artists' angry and articulate responses to them. Like the policies themselves, these too were performed in our name.
Caroline Wake
visual art
campaign art
caroline wake: art & activism on tv and online
siev x memorial: a pictorial report of the memorial held in Canberra
realtime
tampa microcosm
mireille juchau: mireille astore's tampa, sculpture by the sea 2003
the meme game: escape from woomera
melanie swalwell
borderpanic remedies
grisha dolgopolov
the artist and the refugee: tooling up for action
bec dean
performance
the refugee's only currency
caroline wake: powerhouse youth theatre's mother fish
a shared madness
tony reck at la mama for kit lazaroo's asylum
chance, dance, animals & the unconscious
philippa rothfield: théâtre du soleil's le dernier caravanserail
the medium is the audience
john bailey: théâtre du soleil's le dernier caravanserail
refugees: between reality and performance
kirsten krauth: ros horin's through the wire
a life between yes and no
mary ann hunter: towfiq al-qady's nothing but nothing
selves imprisoned and released
philippa rothfield: bagryana popov's subclass26a
one house, many homes
tony reck: department of human services, mpact, north yarra community health, outside in
version 1.0 shares the shame
bryoni trezise: cmi (a certain maritime incident)
history's great escape
dan edwards: mike parr and adam geczy's the mass psychology of fascism, zip-a-dee-doo-dah, zip-a-dee-ay
children overboard: outrage and performance
keith gallasch: version 1.0's cmi (a certain maritime incident)
the darkness that yields light
keith gallasch: ros horin's through the wire
cutting through the fog
keith gallasch talks to ben ellis and louise fox about these people
mike parr: internet performance
adam geczy: malevich
bodies at work
keith gallasch: platform 27's the waiting room
identifying with the refugee
kerrie schaefer: nazar jabour's no answer yet
sydney & wollongong: atoms and fuel
keith gallasch: claudia chidiac and urban theatre projects' asylum
degrees of pathos: sydney performance
keith gallasch: urban theatre projects' manufacturing dissent
film
lo-budget good health
sandy cameron: michael james rowland's lucky miles
entering the familial web
dan edwards: faramarz k-rahbe's fahimeh's story
no time to wait
anna delany talks to clara law
a question of form
jake wilson: clara law's letters to ali
the documentary: art and survival
tom zubrycki: molly and mobarak
australian filmmakers offer asylum
mike walsh: tales from a suitcase, escape to freedom, anthem