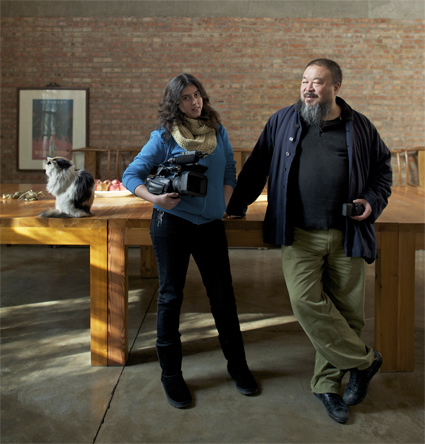 photo Ted Alcorn
Alison Klayman, Ai Weiwei
AI WEIWEI HAS BEEN ACCUSED OF BIGAMY, CHARGED WITH TAX EVASION, CONDEMNED AS A SUBVERSIVE AND DISMISSED AS A CLOWN. ALTHOUGH INFAMOUS AS THE ARTIST THE CHINESE AUTHORITIES LOVE TO HATE, HIS CRITICS ARE BY NO MEANS ONLY FROM GOVERNMENT RANKS.
Yet for all the headlines he's generated, it can be difficult to cut through Ai's prankster image and the government name-calling to form any real impression of the man and his beliefs. Enter Ai Weiwei: Never Sorry, the debut documentary of US director Alison Klayman, and the first sustained look at this crucial figure in contemporary Chinese culture.
"In our first year of filming, I would read pieces that were done about him and he was already being called a 'dissident artist' or things like that," says Klayman of the often two-dimensional image presented of Ai in Western media. "It felt not quite right—like trying to fit him into a mould. I always thought the whole point of my project was to show who he really is—to not just slap on some labels and make it easily digestible."
The first iconoclastic surprise is Ai's calm and philosophical manner, a contrast to his combative public persona. The documentary opens with Ai recounting a whimsical tale of his cats, loaded with political symbolism. "We have a lot of dogs and cats," he says of his Beijing studio. "Out of the 40 cats, one knows how to open doors. Where did this intelligence come from? All the other cats watch us open the door." Amusingly, we then see the feline leap up and deftly open the entrance to Ai's studio.
Klayman's camera follows Ai across four frenetic years from 2008 to 2011, a period that saw the artist's actions and rhetoric become increasingly confrontational. The devastating Sichuan Earthquake of May 2008 occurred shortly after Klayman commenced filming, and was to prove a watershed for Ai's art and activism. Shoddily built public schools, fatally undermined by the siphoning-off of funds through corruption, collapsed across the quake zone and left thousands of one-child families bereft. When discussion of this scandal was suppressed within China, Ai worked with volunteers to record the names of the dead children. After one volunteer was arrested, Ai travelled to Sichuan to testify on his behalf, but the artist was beaten and detained in his hotel room to prevent his appearance in court. The volunteer was sentenced to five years in jail. The widespread disgust at the scandal and Ai's opposition to the subsequent cover-up established the artist as a truly public figure in China for the first time.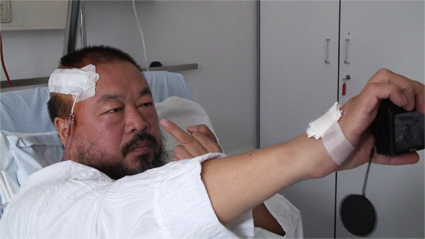 Ai Weiwei: Never Sorry (still)
Never Sorry explores how Ai wove these experiences into his work over the following years, hanging 9,000 school backpacks outside Munich's Haus der Kunst in 2009 in a poignant memorial to the Sichuan dead. On the second anniversary of the quake he asked volunteers across China to each read one of the 5,212 names of deceased schoolchildren his team had recorded in a stunning interactive memorial. It's this intertwining of art and activism, a demand for truth and a space for subjective memory free from political imperatives, that is the essence of Ai Weiwei's practice. Crucially, the documentary contextualises work often dismissed as sensationalist by those only familiar with Ai's more outlandish antics, through its mix of contemporary footage of Ai and wider events in China with archival footage sketching the artist's early years.
Interwoven into these public scenes are some of the film's most affecting moments, depicting Ai in private, playing with his baby son or reassuring his mother about his personal safety. Klayman says that getting behind the artist's public persona was one of the most difficult parts of the project. "He isn't a particularly sentimental individual," she explains. "He would much rather talk about the power of the internet than how he feels about being a father."
Ai's relationship with his young son is perhaps the film's most unexpected revelation, since even many of his keenest followers would be unaware of the child's existence. The mother of the child is not Ai's wife, and in several amusing scenes we see journalists straining to garner details without offending the artist. "I never sought out his son or his son's mother without him, because I felt like the point was to show Weiwei as a father, and not necessarily to go too far down the line of what the arrangement is and how everybody feels," says Klayman of the delicate situation. The scenes between the bearlike Ai and the tiny boy reveal a warmth in Ai's character not necessarily obvious in his more public interactions. At the same time, the situation highlights that Ai is no saint. Indeed, one of the strengths of Never Sorry is that it paints a sympathetic portrait without ever airbrushing Ai's foibles.
For all the personal insights, however, Never Sorry's main interest is Ai's place within an increasingly fractious domestic debate about China's future and the need for greater transparency. Although Klayman carefully avoids a sensationalist tone, it is hard to cast the Chinese authorities in a flattering light when they are viewed through the lens of the artist's experiences. A blow to Ai's head from a Chinese policeman—administered after officers had kicked open his hotel room door at 3am—caused a cerebral haemorrhage that almost ended his life in 2009. As Klayman was finishing her edit of Never Sorry in New York last year, Ai was arrested at Beijing airport and disappeared. Nobody knew when—or if—he would ever resurface.
Fortunately, Never Sorry was spared the weight of becoming a memorial for a vanished figure when Ai Weiwei suddenly reappeared June 22, 2011 after 81 days in detention. The footage of the bedraggled, subdued artist on the night of his release provides one of the film's saddest moments, a sobering reminder of what an unyielding state can do to even its most high profile critics. Ai has gradually edged back into public life, but he remains under permanent surveillance and is unable to leave Beijing.
When authorities slapped Ai with a punitive US$2.4 million tax bill following his release, donations poured in from around the country. Never Sorry ends with Ai's video of thanks to his supporters, featuring the rotund artist incongruously bouncing around singing the Smurfs' theme song, adapted to convey a rather pointed message to the authorities—essentially "Fuck your mother." The man may be caged, but his humour, defiance and sense of play remain as strong as ever.
Ai Weiwei: Never Sorry, director Alison Klayman, producers Alison Klayman, Adam Schlesinger, United Expression Media, USA, 2011; distributed in Australia on DVD by Madman.
courtesy of Madman Entertainment we have giveaway copies of Ai Weiwei: Never Sorry. Click here.
RealTime issue #112 Dec-Jan 2012 pg. 19
© Dan Edwards; for permission to reproduce apply to realtime@realtimearts.net