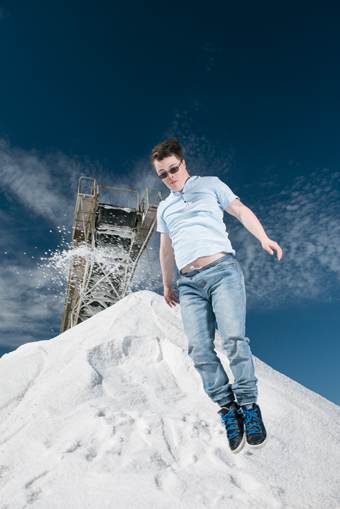 photo Sam Oster
Lorcan Hopper, SALT, Restless Dance Theatre
"You are the salt of the earth" and "Are you worth your salt?" are expressions that hark back to ancient times when one's labour could be paid for in the form of this mineral, most likely as an allowance as part of a salary. Harvested salt has been a much fought over and heavily traded commodity, invaluable for preservation. Over time, the meaning of those expressions has narrowed to focus on self-worth.
Director of a new production, SALT, for Restless Dance Company, Rob Tannion, has long been obsessed with salt. As a child, he recalls pinching salt, being attracted to salty foods and seeing his mother superstitiously toss spilled salt over her shoulder. "My father was the master of quotes and quips: 'Have you earned your salt?' and 'Are you worth your salt?'" When Tannion came to work with the Restless performers he found they had a powerful sense of worth: "I'm here, and I'm worth everything," "I'm a professional artist, ability aside." As well, he says, "Salt can be so visually beautiful—white and crystalline, the different sorts of salt, table salt, mountains of salt…"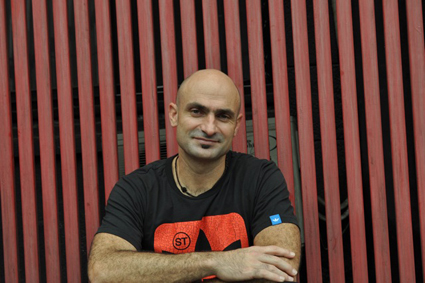 photo courtesy the artist
Rob Tannion
"Ten years ago," he says, "I read Mark Kurlansky's fascinating A World History of Salt and put the idea to do a show about it on the backburner." He says all of this material offers many points of departure, "which is where we are now as we start work" with four performers (Lorcan Hopper, Jianna Georgiou, Dana Nance and Felicity Doolette), three of them with disabilities, who certainly believe they are worth their salt. "One of the beautiful things about coming home is the Australian spirit. In the UK and Europe there's all that reserved spirit. People here are brash: 'I can do that!'"
As for production design, Tannion is still musing: "There will be salt on stage; how much of it I don't know. Perhaps not a mountain." He requested the performers be taken to the former largest salt harvesting site in Australia for a photo shoot on its magnificent mountains (see Sam Oster's cover image). "I'd love to have a block of salt—or something standing in for it—and someone with boxing gloves trying to break it. Harvesting salt is really hard; I found old footage of the Adelaide salt works with people cutting into the salt with chain saws and digging it out. How much effort it takes to gain what is so often used!"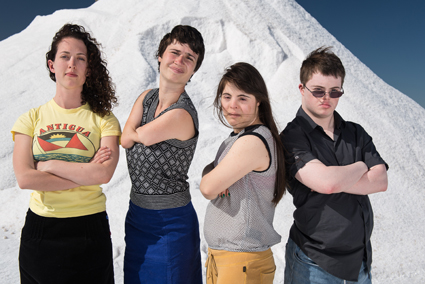 photo Sam Oster
Felicity Doolette, Dana Nance, Jianna Georgiou, Lorcan Hopper, SALT, Restless Dance Theatre
Tannion would also like to work from other angles, asking the performers, "How many tears have you cried in your life? And how could we show that?" I ask about sweat. "Dance in Australia is equated with salt," he laughs, "especially for me, being a Queensland boy. Sweat is harder to generate dancing in England."
Trained at QUT, Rob Tannion danced for Expressions and Dance North and performed in England for DV8 Physical Theatre and Complicité. He made two works for StopGAP, a dance company working with artists with disabilities. He says, "They were great experiences. It is a slightly different way of working, responding to the needs and the capacities of the performers. If they're restricted to a wheelchair that gives me a prop to work with; for someone with no legs I'll create something more floor-based." He co-founded both Stan Won't Dance (2004-11), a physical theatre company working with new writers, and in Spain, Organización Efímera, a contemporary circus company (Tannion speaks Spanish—"My wife is Mexican, I have no excuse").
Although Tannion's work these days is almost entirely in contemporary circus, taking him to China and especially now Latin America, he says, "I don't come from a circus background—I approach all my work choreographically," making him an ideal partner for Restless Dance Theatre.
Restless Dance Theatre, SALT, Odeon Theatre, Adelaide, 17-25 Jan
RealTime issue #118 Dec-Jan 2013 pg. 8
© Keith Gallasch; for permission to reproduce apply to realtime@realtimearts.net