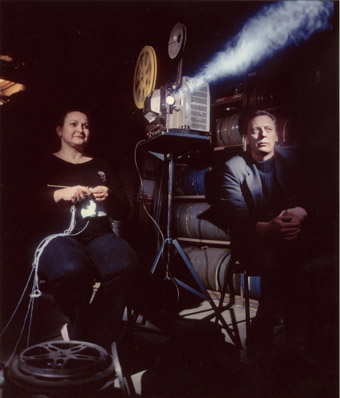 photo Garth Boyed
Aspasia and Jaimie Leonarder
SITUATED IN THE BACK STREETS OF INNER-CITY SYDNEY THE MU-MESON ARCHIVE DEFIANTLY COUNTERS THE TREND OF EVER-DECREASING INDEPENDENT CINEMA AND ART SPACES. IN THIS ALTERNATIVE 'FAMILY' SPACE JAIMIE AND ASPASIA LEONARDER CURATE AND PRESERVE A RARE CULTURAL ARCHIVE OF FILM AND VIDEO THAT MAINSTREAM SCREEN CULTURE HAS REJECTED.
We are sitting in the loungeroom that is also part of the archive. In front of us is a 100 metre square screening room where films, videos and equipment are stored. The room contains records, digital media, obscure fanzines and computer/editing equipment. One of the things the Leonarders specialise in is collecting guerrilla mail documentaries of which they have literally hundreds. I asked why they chose the name Mu-Meson Archive and how many films they'd collected.
AL The archives are named after the band of outsider musicians that Jaimie created in the 80s. As for the number of films, we don't know exactly how many, as every day we gain something new. In 16mm alone we have well over 1,000 films, shorts and features. We have constructed the Kubla Khan Pleasure Dome of alternative cinema.
BP What binds the archive together?
AL I think a lot of it is 'outsider', it falls onto the periphery of culture and that is the stuff that eventually becomes mainstream but we have always championed it before it becomes popular. Quentin Tarantino exploits very well that fringe material in terms of mainstream life. He has taken B-grade pictures, genre films, and now they have become the mainstream.
JL We love the whole idea of people's alternative notions of consensus reality.
AL Every generation at some point will express interest in their past media memories. For us, of course, it's the 60s and 70s. For this generation it's the 80s and 90s.
JL Between 1965 to the late 70s Hollywood was letting things slip, although, after Denis Hopper did Easy Rider, a bevy of films questioning authority took cinema to its cutting edge. Looking back at this period is very inspirational; films need to have depth and meaning. Polanski said that cinema is pointless unless you walk out feeling a strong sense of injustice and that will motivate you to go and do something to rectify that injustice.
BP You love politically incorrect exploitation films, and now we have the PC liberation of Borat.
JL Before Borat there were pioneers of un-PC such as John Waters. He made us look at the most challenging of images and circumstances and we learned to laugh in the face of them—at Divine delivering her own baby, eating the afterbirth and biting the umbilical cord. PC is a cover for conservatism that denies us the ability to see who we really are.
I tried so many times at SBS to convince them to get into the wild side of world cinema, and for example show what the Europeans did with blockbuster American films. From the Italian Jaws to the Turkish Exorcist there is a parallel planet of exploitation cinema waiting to be devoured by the West. Spanish director Jesus Franco is a prolific exploitation director but there is something in each of his films that elevates them to a great piece of art. Pam Grier, for god's sake, became the queen of blaxploitation female heroines. She was Roger Corman's secretary until she had to stand in for an actress who didn't turn up, hence sending her on a new career.
BP Is guerrilla mail documentary also a part of the outsider genre?
AL These are people outside of the mainstream who may only have a camera and a message but nothing is going to stop them getting their story out. These films are mostly mail order, libraries neglect them, institutions won't screen them. We feel it is our responsibility to acknowledge them. They could be about anything from alternative energies and cures to conspiracies and UFO theories.
JL I have always been fascinated by the mail order documentary, they have as much right to be screened and viewed as anything else. I have tracked these films since the 80s. The late Jim Collier was the first person who spoke about electronic voter fraud in the States and he did a one-man assault documentary on the moon landing being a hoax called Was It a Paper Moon? One of the best examples would be Iraq for Sale: The War Profiteers (screening at the Revelation film festival, page 21) by Robert Greenwald the director of Xanadu. He has liberated cinema distribution by giving his audience the right to screen his film anywhere they deem fit, eg loungerooms and pubs. He funded the documentary by doing a call out on the net for people to send in between $20 and $50. He raised $200,000.
Also worth checking out are Guerrilla News Network and Mad Cow News. The all time classic of this genre is Dylan Avery's Loose Change on the alleged 9/11 World Towers conspiracy. It's become the most downloaded film in the history of the internet.
BP What are the politics of the archives?
JL To make people think more about the notion of independence, to be inspired by low budget filmmaking and demystify the idea of cinema as only a tool of the wealthy. I want people to actually think that there is something worthwhile about looking at films that aren't considered great pieces of art. We want to question mainstream distribution and the limiting of screens and spaces…I would like to see a more robust notion of independent cinema in Australia. I think that's one good thing that the digital era can do because camera technology is now accessible to everyone.
I think our frustration came from growing up in a town that was so alive with microcosms, of people with home cinemas and performance spaces like the Film Makers Co-op and the Sydney Super 8 Group, the Paris and Valhalla cinemas. After the 80s, with the Bicentenary and finally the Olympics these spaces have disappeared from the city. We don't want to see pockets of independence vanish. We are trying to keep the idea of repertory cinema alive.
BP Your work seems to be very much about community.
AL Everything we do is about community. I have a knitting group. We have our cult cinema screenings, the Sounds of Seduction. We eventually get to know the people who attend our events and hopefully they begin to feel like they belong. It's almost like creating a village in the middle of a very large city.
BP You have some great cultural artefacts here.
AL We always open our archives to discarded formats and antiquated technology. Eventually someone, a student or low budget filmmaker, will ask us where they can find an old projector or Super 8 camera and nine times out of ten we will have it and can help them out.
JL We also had three Scopitone juke boxes. Scopitones are fascinating in terms of their film history. They are 16mm juke boxes made around 1957 with 36 music clips in them shot around the world. They started in France but eventually went right around the globe ending up in America. No one has got a complete history that we know of. The clips were only made to be played on that particular juke box. It was really the birth of three-minute music clips. One of our favourites is Web of Love by B-grade starlet Joy Lancing. It is a pure piece of exotica. She is suspended in a spider web with Scopitone dancers parading beneath her in the skimpiest tiger skin bikinis, all in lurid colour. The words of the song are literally visualised and at some stage she ends up in a big pot in the jungle with a witch doctor stirring the brew.
AL One Scopitone was donated to the Sydney Powerhouse Museum and the other to ACMI in Melbourne, with 36 clips in each. They are the most remarkable film clips you could ever imagine.
BP Where do you want to go from here?
JL Nowhere, we will stay here and just keep doing what we have always done. There is so much pleasure in introducing an audience to material they had no idea existed. And we are still discovering obscure and exciting things every day.
AL Our Monday night screenings are a bit like church, it's weekly, we get to know our congregation and at the end of the night we try to acknowledge everyone that is there, hoping that they are positively affected by the experience.
JL Our only hope for the future is that our archives can become fully catalogued and therefore become a more effective library for those willing to look at the fringes.
Jaimie and Aspasia (aka Jay Katz and Miss Death) host a weekly radio show, The Naked City on Sydney radio station, fbi 94.5 fm. www.mumeson.org
RealTime issue #79 June-July 2007 pg. 26
© Bob Percival; for permission to reproduce apply to realtime@realtimearts.net