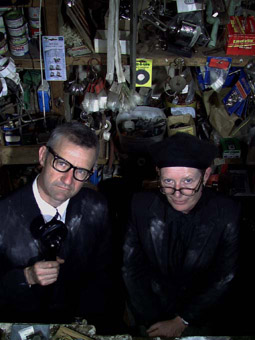 photo Laszlo Dudas
Neil Thomas & Katy Bowman, Museum of Modern Oddities
Rudi shows us a domestic exhibit of soap remains scraped from different household sinks—some perfumed, others cracked and worn thin and still others dirty, a paradox of the object 'dirty soap'. Constance tells us of the convicts and early Australian settlers who used to hold possum races. The greatest champion of them all, Little Jock, has been preserved for posterity, a venerable and desiccated skeleton on display in a specially made case.
In the traditional museum, objects are classified, stored in order to revive and activate official memories, and then they become monumental. In a hardware shop in Johnston Street, Collingwood, we have walked into an archive of the useful and the useless—the Museum of Modern Oddities. Hardware, with a different meaning from the computer term, is the circuitry of the everyday which consists of screws, kitchen utensils, plumbing parts, paint, sink basins, plastic flowers, rope and lengths of timber. Its temporary proprietors are performance artists Neil Thomas and Katy Bowman whose own collection of oddities comes from previous projects, passers-by and visitors. One photo collection of naked feet is classified with the owner's own data—what they know about feet, do with their feet, and what they think of them. On one page I find the wrinkled, thin feet of my mother; she likes to rub them in oil.
MoMO ostensibly collects ephemera—a young girl keen to contribute went out on the street and picked up bits from the road, broken glass, a stone, black plastic, a rubber band—but in today's world, ephemera often slips away. Time is faster and faster, we throw away most of what touches our hands, we rarely stop to notice the ordinary, and we don't often repair things. Things do not emanate 'quality' unless they are designer products. But here, the contents of an old shop are in a museum, which a strange twist of time and space makes precious. In the catalogue, I see a collection of Chinese pottery urns. On a shelf, in a neatly partitioned cardboard box, about 20 small, black urns are lined up, with a single white one isolated like a jewel in the middle. Treasures, these are small Bakelite switches, that will never be switched on. So does that redefine ephemera: not objects used in the everyday but things that might have another existence, if we invest them with one? Alan Read writes of "the accumulative power" that derives from the accretions of the everyday and its rich depository of connections with neighbourhood (Theatre and Everyday Life, Routledge, 1993). MoMO collects with care, not just things but memories.
As we leave, Rudi and Constance show us a photo of the man who owned the shop, proudly standing at the door displaying his useful goods which made him special to many. He visited that day, old and a bit unsteady. He is a Polish Jew who lost the top of his finger when it was shorn off in a grinder by the Nazis; perhaps no wonder his life became a collection of tools and bits for others to make sense of. A sensibility that MoMO digs into by remembering and fabricating a story for things
to live by.
Museum of Modern Oddities, Neil Thomas & Katy Bowman, 137-139 Johnston St Collingwood, Melbourne, August 31-November 11, Wed-Sun 12-5pm, free
RealTime issue #45 Oct-Nov 2001 pg. 38
© Rachel Fensham; for permission to reproduce apply to realtime@realtimearts.net