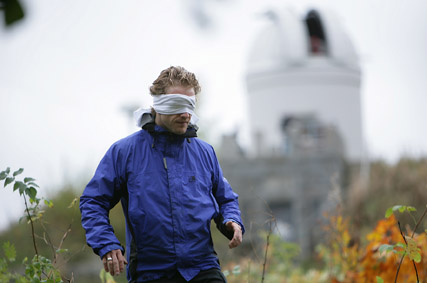 photo Pekka Makinen
Howard Matthew, Terrestrial
STRIDE UP MINNA CANTHIN KATU TO THE SITE DESCRIBED AS THE "BALCONY OF THE CARSLON DEPARTMENT STORE." AN EMPTY, INACCESSIBLE BALCONLY SPACE; ITS ORNAMENTAL NON-FUNCTIONALITY AT ODDS WITH THE FUNCTIONAL POLITE MODERNIST STYLE THE BUILDING EMPLOYS. THIS IS NOT A TRAVEL GUIDE TOUR OF THE SITES OF KUOPIO; I AM FOLLOWING THE ANTI-CONTEMPORARY ART FESTIVAL MAP IN ORDER TO LOCATE NOT JUST ANY SITE BUT THE SITE OF MY SITE-SPECIFIC WORK.
It is this vacant space that I had committed to 'fill', both with activity and with cardboard boxes over the period of the festival; did the proposal equate with the brochure's introductory suggestion, that the works would "seek commitment to a site and a certain situation"?
Now in its fifth year, ANTI continues to alter its physical character through a program that each year occupies numerous very different sites in this Finnish lakeland town. This time around, in addition to the balcony, works also inhabited the city hall, a tennis court, an observatory, a youth centre, a hotel, a cinema, the airport, the university, an apartment, an office and an empty property. By occupying these sites the artists appropriated them for new purposes, whilst Kuopio's inhabitants continued to use these spaces and the extended matrix that connects one to another. On a basic level, this dual usage of public space amounts to "an imprint on Kuopio and its inhabitants" but what kind of imprint? By and large the sites were mediated by the ANTI organisation, with artists having never been to Kuopio, never mind having haptically engaged with their chosen site.
A discussion of the problematics of site-specificity is of course commonplace. The ANTI introduction itself references Miwon Kwon's One place or another, site-specific art and locality (London and Cambridge, Mass: Massachusetts Institute of Technology, 2002), in relation to the festival's own ongoing attempts to integrate into Kuopio and the life of its citizens. The term 'site-specificity', Kwon suggests, has been replaced by an array of novel terms, which include site-oriented, site-responsive, context-specific or socially engaged. In relation to particular works, and approaches, the list could also include type-specific, kind-specific, sort-specific….
Of course, each work has its own specific take on this growing list, some more apparent than others. In Howard Matthew's Terrestrial (UK), this is one of a number of concerns that are addressed, head-on, through the CD monologue that accompanies and chronologically frames our 'one-to-one' encounter with the artist: "Terrestrial is a piece that I've performed across the world. As a site specific performance the content has been re-worked to respond to each respective site. But increasingly I've found it more problematic to respond to a site I know little or nothing about prior to my arrival." This awkwardness seems physically manifest as Matthews stumbles, blindfolded, in expanding circles around the perimeter of a small hill, on which sits an observatory. Hands outstretched, using all four limbs to find his way, as though using these bodily mechanisms to feel around questions such as, is performance "still a tool I could use to articulate my feelings or explore and meditate on issues"
Each person watching, and listening, to these intertwined concerns does so through the opening in the observatory dome, focused on an exploration of where the work is positioned, as much in relation to the festival and the artist's own practice, as much to physical site. Using a telephoto lens to track Matthew's stuttering perambulation involves manually winding the observatory dome and clumsily repositioning the camera tripod in order to take our instructed one shot. This act of watching brings into question our relationship to his predicament; should we be watching as he stumbles at this juncture, both physically at the base of the observatory and metaphorically as he questions his own practice.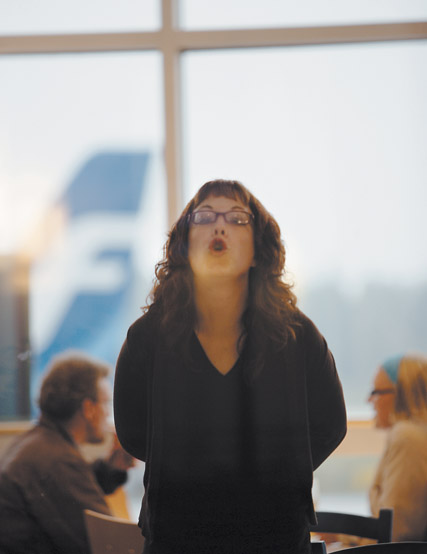 photo Pekka Makinen
Aileen Lambert, Breathe
This dilemma over my own viewing position carried across to Aileen Lambert's work at the airport. Situated some 17 km away meant catching the bus and the driver's quizzical look when I requested a day return only heightened a sense of being out of place. In hindsight and given more time, I would have spent the day at the airport, read a book, done something else, and waited to see if I noticed the work. Instead I was there on time, waiting for the performance to start, to experience the work. A similar effect had been noted in relation to my work on the previous day, as a string of people followed me along the street: a particular type of audience functions as a big arrow pointing out the 'art.'
Strolling around the tiny airport, Lambert hones in on the desired glass surface, leans forward, hands behind her back, and goldfish-like exhales onto the partition that separates her from those inside. This simple gesture, repeated time and again, mirrors the festival's own desire to leave its mark, but creates only a series of ephemeral traces. This intimate relation between the artist's body and the skin of the airport is in stark contrast to the environment as the departing passengers are processed and leave without forming any kind of bond, or direct engagement with place. Lambert's is a vain attempt to reclaim something of a personal relation from what remains, on the whole, an ungenerous non-place.
By adding a social dimension to the various spaces that artists occupy, there is the potential to transform places into situations. This notion quite aptly pertains to a festival such as ANTI, where the negotiation of the work is as much down to experiential circumstances as to any specific presentation: travelling from site to site by foot; a chance meeting with others; accepting an invitation into a home to hear a series of resonating trial tones that would otherwise have gone unheard; arriving only to see the performer exit, leaving you in an empty cinema, the used props littering the floor and the smell of popcorn lingering in the air.
Cognitively, these situations can only be grasped from where we stand, from our own personal experiences of them. My participation in the festival, walking repeatedly up and down the grid of streets that make up the town, allowed a wealth of time to perceive its inhabitants. On the one hand I passed numerous people, ANTI brochures in hand, searching out the various works; on the other I was involved in ongoing relations, where what we were looking for was less clear, and there was no brochure to guide us. I passed one small shop numerous times over the four days, and each time, without fail, a man watched from the window. This is by no means the type of "local encounter transformed into long-term commitments and unretractable social marks" that Kwon appeals for, but it is a form of acquaintance that the situation allowed.
ANTI – Contemporary Art Festival, artistic directors Johanna Tuukkanen, Erkki Soininen, Kuopio, Finland, Sept 28-Oct 1, www.antifestival.com
RealTime issue #76 Dec-Jan 2006 pg. 41
© Niki Russell; for permission to reproduce apply to realtime@realtimearts.net