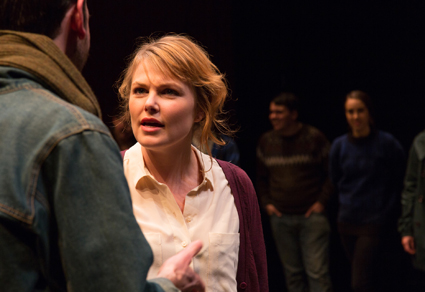 photo Pia Johnson
Benedict Hardie, Anne-Louise Sarks, By Their Own Hands, Hayloft
This year the Melbourne Theatre Company hosted five seasons of work by independent theatre artists and companies under the umbrella title Neon. Three of the women represented were Anne-Louise Sarks, newly appointed Resident Director at Belvoir, and Emma Valente and Kate Davis who are The Rabble.
I am interested in the different trajectories within the industry taken by these women (I talk with Valente and Davis in RT117) and how their feminism is informed by this. Anne-Louise Sarks has, by her own account, ridden the current wave of affirmative action in the theatre industry—not that she hasn't worked to earn her place. "It did help that management was looking to give women opportunities and I was conscious of what was on offer because of the media attention." We spoke about how we struggle in society at present to have intelligent and complex conversations about women in leadership positions; the public discourse around Julia Gillard showed this up.
Sarks was introduced to feminism and contemporary performance at Sydney University where she completed Honours in Performance Studies. She was also President of the Sydney University Dramatic Society and ran workshops for women. Her first directing gig was Eve Ensler'sThe Vagina Monologues, a play in which she saw the potential to shift something for an audience. Her motivation to do this work reflected not so much a personal sense of grievance as a feeling for the potential of theatre to change an audience's perspective on women.
Considering she needed more theatre craft to realise her ideas she decided the VCA offered the most open training for someone like herself interested in making work. A year after graduating she found her way into The Hayloft Project and back into making work. She describes watching director Simon Stone boldly do what he wanted. She learned to be brave from watching his bravura. She describes the Hayloft gang as having been her home base and how forging a path as a solo director has taken her away from this community. In 2011, Sarks held the positions of Associate Artist for Belvoir and Director in Residence at the Malthouse Theatre Company. She made her mainstage debut in 2012, directing Kate Mulvany's The Seed for Melbourne Theatre Company. She also co-wrote with Kate Mulvany and directed a new production of Medea after Euripides for Belvoir presented in association with ATYP [Australian Theatre for Young People, Sydney] in 2012.
"I have a mission which is not always overt. When I work with existing stories I am updating the work to now. I am interested in how the work speaks to now and very much with how the work speaks to me and to the people I know. That's where my mission and I collide. Because I am a woman in the world I ask particular questions of the piece, especially of the female characters. That's how we ended up with By Their Own Hands. It was Jocasta's story. Medea was the same. I wanted to challenge how people saw those women—or in Jocasta's case, whether people saw her at all. So my work is feminist but I don't necessarily sell it in that way. I find that tension really difficult because I am really passionate about being a woman and I want to make work that is feminist. But I don't want to be separated from the rest of the theatre community by being described as a woman director or as a feminist.
"I believe theatre is unique in the arts. Like all art it's an exploration of what it is to be human but, unlike most other artforms, that exploration is being undertaken live by everyone in the room at the same time, viewers and performers. When you see a piece of theatre you can't help but be aware of being in a crowd with other human beings watching other human beings performing stories that are in some sense yours. For me, that means theatre has the potential to shift you. I want to keep pushing back from the stage to the audience. By Their Own Hands (see review) was a large push: 'What if you stand there and I point at you to make you realise that this story is about you, about us?' That is celebrating the uniqueness of theatre."
In this work, the audience is invited onstage by Sarks and Benedict Hardie, her long-time collaborator. Hardie attended Sydney University and then the VCA with Sarks. They both then joined the Hayloft Project and have worked together many times in different roles. (They directed and performed By Their Own Hands; wrote and directed The Nest; and co-devised Yuri Wells which was written and performed by Hardie and directed by Sarks.) They then tell the story of Oedipus, selecting audience members to stand in for the various characters being described. Some take on the roles and some remain as audience while other audience members look on. We then return to our seats and watch the performers set up a series of images that centre on Jocasta's experience. Finally the pair grab microphones and have a series of poignant and funny conversations as Jocasta (Sarks) and Oedipus (Hardie), delivered stand-up style directly to us.
"Part of my approach stems from the fact that I realised about six years ago that my favourite novelists were men. I then made a conscious effort to read novels by women. The experience really woke me up. I was intrigued by how committed I had been to male novelists, unconsciously devouring these works. And then suddenly, instead of looking in, I was part of those stories. I understand first-hand why this is still so tricky in theatre. Every time a play is produced by women, focusing on women, people ask, "But will this speak to men?" But nobody ever questions whether plays by and about men speak to women—they just assume they're 'universal.' Theatre practitioners can still often discuss work by women as being for a female audience. I realise that to undo this gender bias takes work and deliberate decisions.
"Of course, I also had dealt with the canon in my training at VCA. But I hate 'history pieces'—doing works as we think they might have been. I fear the audience won't make the leap. I am a very literal person, not metaphorical. I don't want the audience to be able to think that's not about us. This might make people ask, then why work with classics at all? The answer is I like having a beginning point with an audience, to start in the middle of a conversation. It feels that more is then possible."
RealTime issue #116 Aug-Sept 2013 pg. 36
© Anne Thompson; for permission to reproduce apply to realtime@realtimearts.net