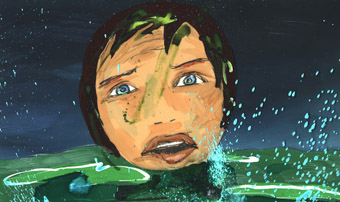 Living with Happiness
What is animation? In the case of this year's AFI nominees the more relevant question may be what isn't animation? If we limit the scope of our analysis to include only 2-dimensional moving images, it could be argued that nothing falls outside the category of animation. 'Live action' could in theory be defined as pixelation (a term coined almost 50 years ago by legendary Canadian animation pioneer Norman McLaren, to describe the technique of stopmotion animation that used real actors in life-size sets, as seen in his movie Neighbours [1952]). Interestingly enough, this was the same technique used to great effect by Louis and Auguste Lumière in some of the first motion pictures ever made, where the interval between frames taken perfectly matches that between frames projected. This is taking things to an extreme but perhaps 'animation' as a single category for a film award might simply be too broad. I found this problematic when attempting to review last year's nominees, and it was no easier this time around. If anything it was more difficult, with this year's selection presenting an even more diverse cross section of 'animated' films.
With The Exploding Woman, Nancy Allen has delivered a second wave feminist fable in which a woman finds her existence reduced to an isolated postnatal life of washing and ironing. Paranoid and delusional, the woman finds her domestic environs increasingly menacing. Even that good old Aussie icon, the Hills hoist, turns nasty, making a cameo appearance as the harbinger of all evil. Although its dark vision may still ring true for many new mothers, the narrative has a distinctly 70s flavour, also present in the film's somewhat dated visual style—most notably the psychedelic sea of tears and the hand drawn images that appear momentarily near the end. A grab bag of various filter effects, animation techniques and editing styles are used to enliven what is essentially simplistic live action. The resultant disjointed feel is perhaps meant to mirror the protagonist's unstable mental state but it came off as unresolved and clunky. On a more positive note I thought the ultrasound images were used very well in the final credits.
Bad Baby Amy by Anthony Lucas is a children's film set on a drought-ravaged outback cattle station. While dad is in town trying to save the station from the bank—not too hopeful without rain in the very near future—Baby Amy accidentally on purpose swallows one of her Italian Nona's magic glass beads. Local wise blackfella Bill is roused from his 'thinking place' to drive Amy and her 11 year old sister Rose to the doctor. Bill brakes suddenly to avoid a dead cow ("stupid mob them bullocks") and Amy coughs up the magic bead near a termite mound. Lo and behold, next morning the rain begins to fall, a happy ending for rural multiculturalism.
Rendered using 3D sets and plasticine armatures this film beautifully captures a dusty red Australian outback. Several scenes also feature digital postproduction (both animation and compositing), with some clever handling of water—one of the greatest challenges facing the stop-motion animator. The excellent lip syncing lends the characters a credible screen presence (though I've never seen a baby crawl quite like that), while good lighting (especially the sun behind the windmill) and several well-executed camera moves top off some fine cinematography. Personally I found this film—though not without charm—to be kinda humourless though. Basically it took itself a little too seriously for my taste.
Norah Mulroney's Collective is a slick and polished film, though more an exercise in compositing than an animated short. In a variation on the tried and true 'nature gets her own back' theme, a butterfly collector is imprisoned when his collection decides to turn the tables. Breaking free in a flurry of CG wings, they dance a while with their prey before enveloping him in a human chrysalis.
Now there is one thing I find especially painful when compositing live actors with computer generated elements and that is an actor trying to 'see' something that has yet to come into existence and having obviously no solid idea where to look. Humans are so adept at tracking the eye movements of other humans that it's almost impossible to get this right (no matter how big your computer is—show me a single character in Phantom Menace who once looked Jah Jah Binks square in the eye). To her credit though, Mulroney pulled off the landing of a CG butterfly on a 'real' hand extremely well. And the film's sumptuous production design and cinematography are completed by some very tasty credit sequence images.
AFI nominee regular Sarah Watt collaborated with animator Emma Kelly to produce the last film in this year's selection, Living with Happiness. Like Allen's The Exploding Woman, this film evokes the darker side of new motherhood but does so much more successfully. Here we see how a mother's precarious happiness with her new baby is threatened as domestic vignettes are humorously intercut with her worst case scenario fantasies. The cutaways to visions of impending doom escalate from simple household accidents—baby drowning in the bath or being showered with boiling water—to the more extreme—kids whacking up skag in the playground—and absurd (if strangely pertinent)—airliner crashing into the house. Deciding to clear her head with a walk on the beach, she is swept out to sea by a freak wave, uttering expletives (convincingly delivered by Sigrid Thornton). She is eventually rescued by a 9 year old on a surfboard who delivers the moral of the story, sensibly informing her that "the thing is, not to panic."
Living with Happiness is something of a stylistic departure from Watt's recent work. Several of the disaster scenarios use clear pencil lines and extreme shifts of view and perspective, giving them a distinctly Plymptonesque feel (Bill Plympton, American animator best known for his quirky [and often hyper-violent] hand drawn films such as the hilarious 25 Ways to Quit Smoking). And Watt's typically painterly style is used to great effect in the ocean scenes with excellent beach crashing waves and some really nice underwater moments.
RealTime issue #45 Oct-Nov 2001 pg. 17-
© Daniel Crooks; for permission to reproduce apply to realtime@realtimearts.net