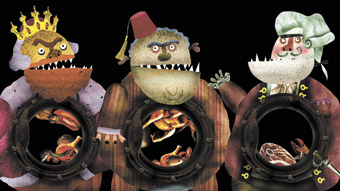 Carnivore Reflux
AT THE MELBOURNE INTERNATIONAL ANIMATION FESTIVAL'S CAREERS IN ANIMATION FORUM, AN AUDIENCE MEMBER WANTED TO KNOW WHAT INSTITUTIONS LOOK FOR IN THEIR ENTRANCE INTERVIEWS. ROBERT STEPHENSON (VCA) SAID THAT AN UNDERSTANDING OF THE BODY'S MOVEMENT AND MECHANICS IS USEFUL. HE SUGGESTED WOULD-BE ANIMATORS ENROL IN LIFE-DRAWING CLASSES AND BRING A STORYBOARD TO THEIR INTERVIEW, EVEN IF THE APPLICANT HAS NEVER MADE A FILM, AS THIS MAY SUGGEST AN UNDERSTANDING OF HOW TO TELL A STORY. ANOTHER TIP: "DON'T COPY DRAWINGS OUT OF A 'HOW TO ANIMATE' BOOK."
The panel also included animators David Blumenstein (Naked Fella) and Jim Kalogiratos (Tantalus) alongside educators Peter Allen (Holmesglen TAFE), and David Atkinson (RMIT). Atkinson said that while an applicant's drawings might be naïve, it didn't necessarily mean they'd be bad storytellers—their talent might be in writing and they might make good directors or producers. He reckoned his course could just about turn a mathematician into an animator, suggesting an applicant bring to the interview anything that gives the sense of them as a creative individual, such as visual diaries and journals; he said he's even had applicants rap dance and serenade him with guitars.
Kalogiratos was quiet while Blumenstein was outspoken, referring to himself as a traditionalist with a 2D style. He expressed disgust for the hackwork animators have to do for studios to make a living, which contrasted with Allen, who said there are no opportunities for 2D work and that it's best to concentrate on 3D industry and studio work. Stephenson disagreed, saying that the global children's market is huge for 2D work—Australia just needs to refocus and become "one of the main players." Allen acquiesced, indicating there is in fact a big market for 3D films that look like 2D; therefore animators may still need 2D skills in order to make the 3D simulation look 'realistic.' Of course, the animation course at Allen's Holmesglen is more industry oriented than the VCA's or RMIT's, and it was this contrast that made for lively debate.
So, in essence, that's what they're teaching; now let's see whether the results stacked up in MIAF's Australian Panorama screening, which this year, we were told, was extended over two sessions as "there were so many outstanding entries."
Emit (director Fergus Donald, 8'30min, 2007) told of a dead clock in a post-apocalyptic wasteland that ticks again after a space-probe crash. Unfortunately, a dull, derivative story overwhelmed the excellent digital technique. Even before MIAF, I felt I'd already had my fill of cutesy inanimate objects becoming reanimated and anthropomorphised to embark on a 'rites of passage' quest set to a Spielbergian score. In the even more pointless Ticketweavels (Caroline Huff, 2'15, 2005), a train ticket was invisibly shredded in stop motion set to a grinding industrial soundtrack. Steve Baker's An Imaginary Life (5'00, 2007) may have won Tropfest, and the mix of animation and Super 8-style footage might be nicely done, but the story is incredibly hokey.
Brendan Cook's compelling Heart's A Mess (4'45, 2007) was a music-video clip for Goyte, with shape-shifting industrial creatures reminiscent of the marching hammers in Pink Floyd's The Wall film. The Puppetmaker (Timothy Gaul, 4'00, 2006) could have descended into cliché—how many times have you seen a sad puppet yearning to break free of the strings—but instead was atmospheric, short and sweet. Rosalie Osman's The Rabbit (6'00, 2006) was a silly tale of cats coming back to life to punish an animal beater, while JC Reyes's Box (1'45, 2006) was a successful union of a short poem about forbidden pleasures with a textured animation style like a twisted children's book. Thort Bubbles/ Dividing Cells (7'45, 2006) was another stop-motion Caroline Huff effort, overlong, dated and set to a pretentious voiceover (something to do with regeneration).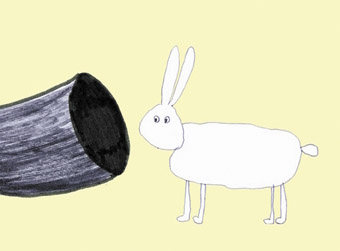 From Gold to Grapes: The Story of Landsborough
From Gold to Grapes: The Story of Landsborough (Al MacInnes, 6'15, 2005) had a previous airing at the Melbourne International Film Festival (MIFF) in 2006; it features hand-drawn animation by young kids telling the wistful story of the adult narrators in the town of Landsborough. I loved the idea and the execution, and especially the use of real-life stories. It marked a refreshing change from The Luminary (Nicholas Kallincos, 9'15, 2005), also at MIFF 2006, which featured—yes, you guessed it— inanimate objects struggling with human feelings, in this case a light bulb falling in love with a moth. Elka Kerkhof's Filled with Water (5'00, 2006) was about a female surfer coming across a giant TV in the street; a ballerina performs on the TV screen, the surfer falls through the screen, and they kiss passionately. It's about feeling comfortable with same-sex leanings, but still, Kerkhof's sense of narrative is head-scratching.
Carnivore Reflux (The People's Republic of Animation, 7'00, 2006) was outstanding, with its bitingly witty poem about overeating, indulgence and flatulence set to a savage, ultra-vivid animation style like a cross between Terry Gilliam in his Python days and Marco Ferreri's feature film La Grande Bouffe. Cry from the Past (6'00, 2007), by Susan Stamp (a VCA animation lecturer), was a lovely piece about the old-time Boydtown whalers, and the quirky whales themselves, with excellent technique, halfway between watercolour and animated charcoal. Fraught (Stephanie Brotchie, Chris Pahlow and Maia Terrell, 6'00, 2006) was also very good, drawing on real-life stories of embarrassing moments, with the interviewees overlaid with a variety of animation styles including surreal cut-outs, and shimmering line drawings.
Gargoyle (Michael Cusack, 9'30, 2006) has garnered a bit of hype, with its gothic tale of a statue coming to life—still more reanimation! But the stop motion was excellent and the sets evocative. Paper City Architects (Daniel Agpag, 6'30, 2006) was a moody dystopian set piece reminiscent of Brazil in tone, and with a kooky look: the central character is a matchstick, but at least he's not struggling with human emotions—he's just flinty. Clint Cure, Holmesglen's animation course coordinator, doubtless drew on personal experience for The Lecture (4'00, 2006), a very funny tale of two old-school animation teachers aghast at the values of the younger generation of students. The animation style is simple yet bold and witty. Fluid (Lachlan Dean, 3'00, 2006) was a gentle piece about movement and colour, while Gloomy Valentine (Isabel Peppard, 5'50, 2006) was a weird stop motion about a woman driven batty by the absence of love in her life. The Designer (John Lewis, 10'00, 2007) featured yet another oddball creature performing alchemy in some bizarre, remote location.
I was left wondering: did we really need another screening of the overexposed An Imaginary Life, or films that have previously featured prominently at MIFF, or indeed films from 2005 given that MIAF's focus is on 'recently released' work? Instead, why not include the excellent work animators are doing in the games and mobile-phone arenas (see Sasha Grbich's "Tiny movies, big moves", page 5) a platform hyped up in the careers forum? Also in the forum it was stressed that animators need to respect their audiences, but that appears to have gone unheeded in some cases here. Yes, fantasy is good, and animation facilitates that, but the danger is that it can be like telling someone about the really weird dream you had last night: fascinating for you, excruciating for the listener (or viewer).
I'd rather see MIAF deliver one killer session of absolute top-drawer stuff, rather than stretching the Australian Panorama out to support something that just isn't there.
Melbourne International Animation Festival, ACMI Cinemas, June 19-24, www.miaf.net/2007
RealTime issue #80 Aug-Sept 2007 pg. 32
© Simon Sellars; for permission to reproduce apply to realtime@realtimearts.net