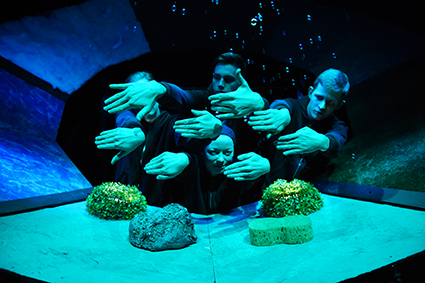 photo Elise Derwin
Dead Puppet Society, Argus
Black, white, queer and Indigenous-queer, minimalist and outrageously maximalist productions afforded Nicola Fearn an impressive view of Australian Theatre varietals in the 2015 Darwin Festival with companies sourced from Brisbane (Dead Puppet Society collaborating with new music ensemble Topology) and Melbourne (Red Stitch, Malthouse and Little Ones Theatre).
Dead Puppet Society, Argus
Brisbane-based Dead Puppet Society developed Argus with South Africa's Handspring Theatre to premiere at the Brisbane Powerhouse in 2013. It came to the Darwin Festival this year as a well run-in production. Argus is a small-scale puppet show without puppets. The company's previous production, The Harbinger, played the 2014 Darwin Festival and featured a giant puppet called Old Man. With Argus, the other extreme is explored with a tiny puppet comprising the hands of four puppeteers. He has no physical form and can dissolve and reform instantly as the team of puppeteers moves like clockwork. The hero embarks on an adventure to find a lost friend. Household objects such as water bottles, plant pots, torches and kitchen utensils combine with hands to form the characters on the journey, playing on a giant rotating wheel that provides various landscapes.
If sometimes concretised adult brains failed to understand the new environments the hero found himself in then the explanations from a loudly-spoken five year old in the front row provided insight. The still plastic minds of the young audiences have no trouble understanding and go willingly on the journey. Argus does not play down to its young audience although the constant squawks from the puppeteers voicing the puppet are reminiscent of children's TV and could be re-thought.
John Babbage's score, performed by Topology, is a sophisticated accompaniment with four multi-instrumentalists playing varying musical genres on double bass, guitar, violin, piano and saxophone.
Direction is careful and precise with attention paid to creating arcs of emotional highs and lows and swiftly changing scenes. Lighting designer Jason Glenwright creates a moody world with musicians lit in pools of blue and well-defined lighting on the play-board. It is a solid and inventive production but ultimately just misses out on creating a true sense of wonderment.
Malthouse Theatre, Blak Cabaret
Blak Cabaret marries flamboyant drag comedy with poignant and sensitive protest songs about pain, loss and anger. It's an unusual juxtaposition of forms that is sometimes unwieldy and jolting but the strength of each ultimately pulls the audience in.
Kamahi Djordan King plays towering black Queen Constantina Bush who arrives with hip-hopping servant Nikki to declare Australia terra nullius and proceeds to invert 200 years of white/black history. Queen Constantina is grandly costumed to reflect each era as she talks about the White Protection scheme, the basics card, White Australian of the Year and apologises to the stolen white generation; "We've said sorry so now get over it." You laugh despite yourself. She is rude, crude and politically savvy.
It's not a new idea to flip black and white worlds and histories—the 1986 satirical film Babakiueria did the same as did the BIG hART stage production Hipbone Sticking Out in 2014. But it works; it's funny, sticking pins into white Australia as well as being powerfully moving in its exposition of Aboriginal experience.
Interspersed music adds emotional weight and resonance as each of the four musicians on stage are icons of the Aboriginal music world. Bart Willoughby formed No Fixed Address in 1978 and has been performing and teaching worldwide ever since. He played the well-known 'Stupid System' and 'We Have Survived'. Kutcha Edwards (Black Arm band) sings in the Mutti Mutti language and reminds us that the languages being sung on stage are only three of 400 Indigenous languages. Emma Donovan owns the stage as she sings, as does Deline Briscoe. This is musical royalty that counterpoints modern-day Aboriginal experience with Queen Constantina Bush's delicious satirising of Australia's recent racial history.
Red Stitch Actors Theatre, Dead Centre/Sea Wall
Dead Centre and Sea Wall, staged by Melbourne's Red Stitch, are companion monologues written by two playwrights from different continents, both of whom are award winning and at the top of their game. While Dangerous Liaisons glories in excess in the Playhouse next door, these monologues in the Studio provide the antithesis; beautifully stripped back storytelling relying on the word and the actor.
In Australian writer Tom Holloway's Dead Centre we meet Helen (Rosie Lockhart), at first a chatty, smiling woman telling us how she found herself in Australia after watching a Fosters advert on the telly. She has a gently self-mocking manner which is gradually peppered with devastating revelations. Holloway holds back on explaining the reasons for Helen's journey and breakdown so the audience is immersed, waiting for clues as if it's a thriller. You can hear a pin drop as Helen talks about fleeing to the Red Centre and how the solace she sought from a strange landscape instead dismembers her. Lockhart's flawless performance is supported by minimalist projections and soundscape that echo the sense of mystery and foreboding.
UK playwright Tom Stephens' Sea Wall divulges more of the story, this time from Alex (Ben Prendergast), the husband Helen has abandoned. Again warmth and chatty ease hooks us in as Alex describes his perfect life and loving family, including the slightly eccentric military father-in-law who ends up broken at the foot of Dover's white cliffs looking for God. Domestic bliss moves into the realm of horror as Alex's story, combined with projections of a slow-moving, swelling sea, remind us that a perfect life can be annihilated in an instant. We fall in love with the vulnerable Alex as Prendergast deftly and intricately weaves his characterisation. These two monologues—the writing, the acting and the restrained direction from Julian Meyrick with powerfully affecting projections and soundscape—are superb.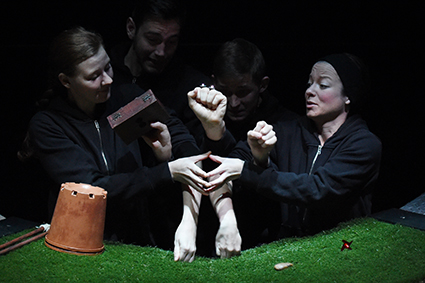 photo Elise Derwin
Dead Puppet Society, Argus
Little Ones Theatre, Dangerous Liaisons
Following Pierre Choderlos de Laclos' controversial novel of 1782, Christopher Hampton's 1988 stage adaptation and the cult teen film Cruel Intentions (1998), Melbourne's Little Ones Theatre takes on this classic story of sex, betrayal and debauchery, bringing to it their signature queer, erotically charged, high camp style.
Eugyeene Teh's design of sumptuous golden drapes hanging in Rococo folds, gold-painted floor and furniture and lavishly pink-costumed actors in white face and rouge sets the tone immediately—excess and gay abandon in equal measures. It's performed in a grand profusion of styles thrown together with heightened, almost puppet-like movement, oddly false English accents, Chaka Khan played on a harpsichord and deliberately crude vignettes with semi-naked actors in sexually provocative moves and poses. Choreographed by Kurt Phelan, the actors glide about the stage striking heightened poses as they deliver text in the manner of pantomime.
The cast is mostly female—the one male looks strangely out of place with his hairy-faced genuine maleness. Underpinning the playful excess is a strong text that examines gender imbalance, morals (or lack of them) and deceit, the wit and satire of the original text complemented by the opulence and gender-bending nudity of the production.
The first act is long and the emotional superficiality of the pantomime style palls despite the interspersed mad and manic moments of burlesque. The second act allows the actors to drop into a more realistic emotional state and so engages with the text and audience on a deeper level.
This Dangerous Liaisons is fun, a gloriously costumed and lit extravaganza by a company that is happy to slap around its willing audience.
2015 Darwin Festival: Dead Puppet Society, Argus, director, designer David Morton, Studio,Fri 7-8 August; Malthouse, Blak Cabaret, concept, creative producer Jason Tamiru, text Nakkiah Lui, The Lighthouse, 11-14 Aug; Red Stitch Actors Theatre, Dead Centre/Sea Wall, writers Tom Holloway, Simon Stephens, director Julian Meyrick, Studio, 22, 23 Aug; Little Ones Theatre, Dangerous Liaisons, writer Christopher Hampton, writer Stephen Nicolazzo, Playhouse, Darwin Entertainment Centre, 14, 15 Aug
RealTime issue #129 Oct-Nov 2015 pg. 27
© Nicola Fearn; for permission to reproduce apply to realtime@realtimearts.net