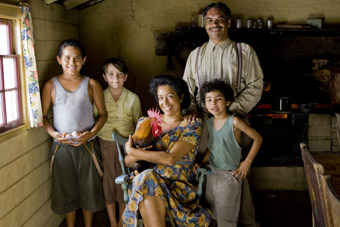 courtesy Bungabura Productions 2009
Aunty Maggie and the Womba Wakgun
THE LATEST INSTALMENT IN THE 'SAND TO CELLULOID' (AS IT WAS ONCE TITLED) SHORT DRAMA SERIES FROM SCREEN AUSTRALIA'S INDIGENOUS DEPARTMENT IS THE NEW BLACK. ONCE AGAIN THE PROGRAM BRINGS TOGETHER EMERGING FILMMAKERS AND EXPERIENCED PRODUCERS (INCLUDING KATH SHELPER, DARREN DALE, PAULINE CLAGUE AND LISA DUFF WORKING ALONGSIDE NEW PRODUCERS) AS WELL AS SKILLED CINEMATOGRAPHERS, EDITORS AND OTHER CREW.
The resulting films are, as ever, engaging, rewarding and of high quality. What is immediately noticeable are better production design, ever more sophisticated camerawork, tighter narrative structuring and more uniformly good acting. All levels of craft are growing exponentially in Indigenous filmmaking. What is missing is a certain verite quality, a rawness that gave earlier series an almost documentary edge to the drama. It doubtless indicates a greater diversity of approaches to filmmaking from new talent and their skilled nurturers. And there is a lighter touch to some very serious themes in The New Black than in previous collections.
aunty maggie & the womba wakgun
Leah Purcell co-directed the documentary Black Chicks Talking in 2001 with Brendan Fletcher. Her first drama is Aunty Maggie & The Womba Wakgun, a gently comic, confidently accomplished account of a mother who invests in a rooster and hens with which to supply her three boys and husband with eggs for breakfast instead of porridge. The rooster fails to do his job, nearly dies, is given mouth-to-mouth by mum (family revulsion all round) and amazingly comes good. Eggs are laid. The fun is in the detail and the consistently conveyed sense of idealised historical reconstruction.
The film is based on an actual incident in writer Angelina Hurley's family in the 1950s, but the world portrayed here could be anywhere from the 20s to the 50s—a pleasant sunny place in the somewhere long ago—but "not dream time", insists the voice-over. The poor but genteel Aboriginal community is well-dressed and groomed (the men's hair parted and slicked down, mum's bouffed up), the house under-furnished but bright, and the neighbour haughty about the chook business. Rachel Maza Long makes the bouyant and determined mum just a little larger than life, Kelton Pell is a bemused, tolerant husband, and the boys play their part with ease. Hurley's script is aptly spare and Purcell's direction economical—the challenges of poverty are not overplayed but are felt, for example, in the shop scene when mum fails to purchase eggs. The use here of sharply angled medium and close-up shots is effective as elsewhere in Mark Wareham's fine cinematography. There's an aptly amusing exhange of p.o.v. shots between mum and rooster (in a cardboard box with holes punched in it) which anticipates their coming together. Aunty Maggie & The Womba Wakgun is a loving work of family legend-making considerably aided by Nicki Gardiner's production design, Bruce Kinven's costumes and Dany Cooper's deft editing.
ralph
Deborah Mailman's Ralph is a somewhat more naturalistic venture but, fable-like in formula, also inclining to an idyllic view of another time, Sydney's Redern in 1984. But on the way 10-year-old Madelaine endures bullying at school, an indifferent teacher and the realisation that her new friend, Garth (initially a tease, chopsticking a cockroach but later caned for coming to Madelaine's defence) lives a difficult life in Redfern's Block. Prior to this she's been totally preoccupied with her screen hero, Karate Kid Ralph Machio, but in Garth the real world beckons and her affections shift—a mini-rite of passage. The final scene is squarely framed like a dream come true, all troubles overcome. The bullies attempt to turn Madelaine (in a new frock from her benign mum) away from the school dance, but Garth appears, immaculatey dressed (blue-striped shirt and blue tie) to walk her in. Just how Garth managed to reappear and in such good nick is necessarily left unexplained in this simply but deftly constructed drama that younger audiences will doubtless relish. In the moments when Garth and Madelaine wait beside the sandstone school building, their isolation, but also their commonality, is nicely framed and marked by stillness. Ralph is sparely scripted by Mailman and Wayne Blair and economically shot by Bonnie Elliott.
bourke boy
In Bourke Boy, writer-director Adrian Wills, maker of the fanciful five-minute comedy Jackie Jackie (2007), turns his hand to darker material. A white father (Andrew Macfarlane) takes his adopted Aboriginal teenage son (Clarence John Ryan, a strong presence) to the town where the boy was born, Bourke. It's a difficult occasion. The boy has been misbehaving and it's believed the visit will somehow or other settle him. Man and boy are reticent, stare at the old hospital from the outside and later drive nervously into the Aboriginal community outside town, only to turn around and leave at the moment the boy sees a woman who might just be his birth mother. The end. It's a blunt finish but consistent with the protagonists' inability to address at any length the crisis they face and which will remain unresolved.
A racist motel owner is rather awkwardly inserted into the narrative, but the son's challenge to his father for shaking hands with her rings true as a moment of awareness marking his difference. The father simply replies, "It's what you do." Two of the film's most striking moments are almost silent. The father watches his sleeping son in the motel, listening to the soft breathing of his rising and falling chest. As we admire the boy's beauty we sense the father's mix of affection and incomprehension. Then in the morning light, and observed low in the frame, the son picks up a handful of Bourke dirt and slips it into his pocket. Suggestive of a bigger story, Bourke Boy is a quiet and intense film—a portrayal of inadequate communication and a sadly incomplete rite of passage. Hugh Miller's camerawork is aptly intimate.
the farm
Ghosts are recurrent presences in Aboriginal films. In Romaine Moreton's The Farm a young girl (Madelaine Madden) watches them drift by her in the river as she swims after working as a bean picker with her mother and brother. She's alarmed, but floats, not panicking, even touching a pale hand. In a steaming bath, she notices the names of past generations etched into the timber of the pickers' shack. When asked, her suddenly angry mother (Lisa Flanagan) refuses to tell her what happened to those people: "When you're older." Later a spirit addresses the girl during the picking, no-one else seeing or hearing the presence; the girl's mother grows anxious. In an act of identification, the girl floats in the river in her best dress, like a ghost herself. She etches her own name into the timber
Most of the scenes are brief, small moments of eerie beauty. In a longer passage, the girl's mother, as if realising that she needs to do something to acknowledge the girl's connection with the past, presents her with a necklace with a large amber 'stone' passed on from her own mother. She describes the amber as "a tree's way of remembering…We die if we're forgotten." Mother and daughter are united. On the way to the local show, it's as if the mother knows that her daughter can see the spirits of the dead walking on the side of the road. We see them too, before they fade, but they are now remembered by a new generation—even if we never learn their particular fate. There's a lush beauty to Warwick Thornton's cinematography, amplifying the haunted quality of the narrative as well as providing, with the warm performances, a sense of security, a safe, supported rite of passage.
nia's melancholy
Nia's Melancholy is also about an adolescent girl encountering ghosts but in more emotionally demanding circumstances. Nia (Tasia Zalar) must come to grips with her sister Lania's suicide, at the same time as she is leaving her small home town. The film opens in a 'secret' place in the bush with her late grandmother instructing the sisters as children about the use of seeds as food once the poison is drained from them. Nia's voiceover also recalls that Nana "would always speak to the old ones and they would listen." The idyllic opening with its briskly stated themes is then starkly supplanted as Nia walks away from her sister's body hanging from a tree at the edge of the schoolyard. She carries one of her sister's rubber thongs, later slipping it on in her bedroom, triggering memories of Lania's warmth and humour.
Nia's mother (Kyas Sherriff) is hostile to her daughter's determination to go to Cairns to train as a nurse, thinking the girl will never return: "you'll forget all about us." A close-up of an abandoned cigarette and a subsequent scene in which Nia attacks an out of control garden hose as if killing a snake are tellingly grim, wordless interludes. Nia then ventures to the secret place of her childhood, accidentally falls and concusses herself and slips into another world where she finds Nana and her sister who explains, "I was tired, so tired, not strong like mama, not like you." Nia returns home (we watch her walk beneath the noose still hanging from tree) and soon leaves for Cairns, the tensions between mother and daughter unresolved but the mood amiable. She promises her young sister that she will return to take her to "a secret place." This bond with her home is confirmed in the final scene when she sees Nana's spirit walking behind the bus, waving her farewell. Perhaps the resolution is a little too easy, bordering on the sentimental given the palpable tensions writer-director SF Tusa and cinematographer Jason Hargreaves admirably convey, but the tale has an internal, if again fable-like consistency.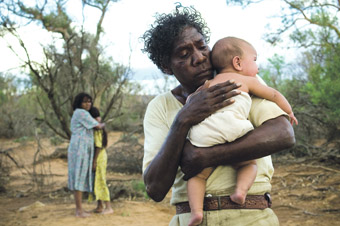 photo Sam Oster
Ningalee Lawford-Wolf, Allira Coutard, David Ngoombujarra, Connie Amos, Jacob
jacob
Night, lights in a window. The cry of a new baby. The screen fills with the stark vista of dry cattle land in Central Australia, 1940. The view quickly narrows, camera and rapid edits closing in on tired timber fence poles and then the workers repairing them. A rider comes in from the far distance bearing news of the birth of a son to a proud father, the younger of the two workers. We guess later the other is his father-in-law. The view is reversed in the next scene, four months later, as a woman watches anxiously through flapping washing as the men on the horizon return to the outstation.
The new baby is white. The would-be father withdraws from his young wife and despite his father-in-law's plea for sympathy—"She's not to blame, you know. The boy is who he is." When his wife bathes the child, the man looks on, gently touches its head but then walks out. It's a chillingly wordless scene. Then the action suddenly accelerates: the young mother runs into the bush, lays out a sheet, rubs the baby against an ant hill and leaves it to die, ants crawling across its face. The grandparents rescue the baby and comfort the mother. It's another blunt conclusion, sharing the disturbing lack of resolution in Bourke Boy. But there is closure of a kind in this tale.
The camera looks consistently into the faces of all of the characters but, by the end, when he plucks the baby from the ants and cradles it, his face full of alarm and determination, it's confirmed that David Ngoombujarra's compassionate father figure is at the film's emotional and moral core. The intense look that passes between him and his wife (Ningali Lawford Wolf) says everything about their understanding of what has transpired. Writer-director Dena Curtis' Jacob is a superbly made, discomfiting film that appears to have no resolution until we see it as being about the strength of this man and his wife. Murray Lui's cinematography is, as ever, excellent, oscillating between vast spaces and intimate tensions, while the narrative structure and Tania Nehme's editing are beautifully integrated.
the party shoes
The pre-adolescent child (Maci-Grace Johnson) in The Party Shoes discovers a shiny little trinket in a back lane and stores it with her other finds in an old power box high on the front verandah of her home where she lives with her mother (Ngaire Pigram). She totters about in her mother's red high heels. Her mother appears ill, withdrawn, hiding in her bed, the family photo beside it suggesting better times. The mother refuses to let the girl read the letter in a blue envelope that so disturbs her. With simple logic the girl takes action, watching out for blue envelopes but then taking all the post including that from nearby houses and hiding it in the verandah box.
This film's great strength lies in the close observation of the girl's quietly resolute and undramatic approach to life. When the mother smashes the family picture frame the girl cuts her foot on the glass and bandages herself as best she can. There are no tears when her hoarded letters are discovered, nor when her mother's momentary conciliation ends in anger over a broken lipstick. The sense of a child's life alone but not necessarily lonely—she's got a job to do—is nicely caught by the young actress and the camera (looking up the street with her for the postman, watching a letter float down a gutter). This is another case where narrative resolution comes a little too easily—the mother now calm and finally aware of the cut foot, the laying out of the letters for return to their boxes—but it's done with the same lack of fuss that epitomises this fascinating little girl. Writer-director Michelle Blanchard and cinematographer Nicola Daley have created a beautifully consistent account of an episode in a life with a subtle evocation of a child's point of view.
The New Black was shown on ABC TV in 2009 and individual films are already collecting awards. It's important that these short films reach a wide audience. Tales of family strength, tensions and malfunction, of ghosts and growing up and of staying in touch with the past are presented here with a rich cultural specificity at once strange and familiar. It's striking that six of the seven films were directed by women. It's not surprising then that they test mother-daughter relationships, expertly trace rites of passage, preserve a sense of the past and with humour (Auntie Maggie) and grief (Jacob and The Party Shoes) address the pressures of motherhood.
Aunty Maggie & The Womba Wakgun, director Leah Purcell, writer Angelina Hurley, producers Lisa Duff, Bain Stewart; Ralph, director Deborah Mailman, co-writers Deborah Mailman, Wayne Blair, producer Jenny Mangum; Bourke Boy, writer-director Adrian Wills, producers Anusha Duray, Kath Shelper; The Farm, writer-director Romaine Moreton, producer John Harvey; Nia's Melancholy, writer-director SF Tusa, producer Andrew Arbuthnot, supervising producer Pauline Clague; Jacob, writer-director Dena Curtis, co-producers Darren Dale, Rhea Stephenson; The Party Shoes, writer-director Michelle Blanchard, producers Darren Dale, Rhea Stephenson. The New Black premiered at the Message Sticks Indigenous Film Festival, Sydney Opera House, May 8, 2009
RealTime issue #95 Feb-March 2010 pg. 21
© Keith Gallasch; for permission to reproduce apply to realtime@realtimearts.net