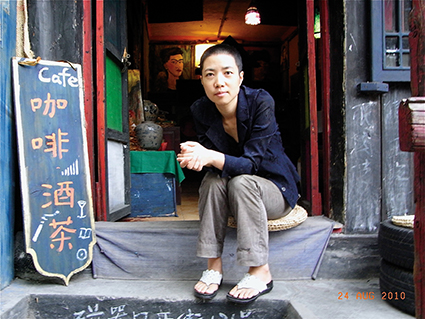 Zhang Lei at home, film still from China's 3 Dreams
CHINA: FAVOURED DESTINATION OF TRADE DELEGATIONS, THE FOCUS OF OUR HARDEST FOUGHT FREE TRADE DEAL AND THE BEDROCK OF THE ASIAN CENTURY. THE CLICHÉS GO ON. YET FOR ALL THE POLITICAL RHETORIC AND ACRES OF PRINT PRODUCED ABOUT THE PEOPLE'S REPUBLIC, IT'S CLEAR THAT MOST AUSTRALIANS—OUR POLITICIANS INCLUDED—KNOW VERY LITTLE ABOUT THE PLACE, ITS HISTORY OR ITS CULTURE. AND WITH ONE EXCEPTION, NO AUSTRALIAN DOCUMENTARY MAKER HAS PRODUCED A SUSTAINED BODY OF WORK FOCUSED ON CHINA. THAT EXCEPTION IS NICK TORRENS.
Torrens' fourth and latest China-focused work, China's 3 Dreams, is also his most ambitious, adopting a deep-focus historical take on the country's contemporary situation. The main thread follows the attempts of Zhang Lei, a troubled young café owner and single mother in Chongqing, central China, to unravel her family's traumatic history. Her tale is contrasted with another Chongqing couple as they struggle to buy an apartment and achieve their material ambitions on minimal wages.
For anyone who has spent time in China, the vacuum of historical knowledge among the younger generations is striking. At one level history is everywhere, as the state trumpets "5,000 years of civilisation" on a daily basis and Japanese wartime atrocities are replayed nightly on television. But ask anyone under 40 what happened during Mao's reign or in the 1980s, and you're unlikely to receive more than the sketchiest of answers.
"I wondered what the impact of that lack of historical knowledge might be on the future for all of us, not just China," muses Torrens. "What effect will that have on China and on the West when the current generation become leaders?"
A millennium-old community in Chongqing known as Ciqikou seemed to offer the possibility of finding a way into answering these questions, but it took Torrens two years to find a local who could help with his quest. It took the same time again to gain her trust. "Zhang Lei wasn't going to open up right at the beginning," explains the director. "She felt different from her contemporaries. She felt alone, unhappy, and thought love had been devalued by contemporary developments. The story became her gradually understanding that the way she felt was based on the problems of China's past—the Anti-Rightist Movement of the 1950s that put her Grandfather away for 22 years, and the Cultural Revolution that was responsible for the 'bad parenting,' as she put it, that she experienced. Then she realised the whole of China has this story. So maybe it's a national problem."
Although several independent Chinese documentaries have delved into similar issues, it's rare for a film by an outsider to tackle the complex historical questions posed by China's 3 Dreams. The film could perhaps have benefitted from more time unpicking Zhang Lei's story and less time on the parallel tale of the house-seeking young couple. The rather superficial treatment of the couple's dreams makes them appear somewhat facile next to Zhang's troubled ruminations, which is possibly a disservice to their struggles and aspirations.
Nonetheless, Torrens' film is far more nuanced and complex than much of the simplistic documentary work on China produced in the West—a result of the many years Torrens spent on the project, and the three China-related films he made before this one.
Hong Kong as a bridgehead
"It was Hong Kong that started my interest in China," explains Torrens, recalling his first film made in what was then a British colony in 1984. "I was learning every second of every day about a whole new culture," he says of his first weeks there. "Then I couldn't leave it alone."
Torrens' initial time in Hong Kong produced Running From the Ghost, an observational work about poor Chinese struggling in the cracks of the colony's burgeoning economy of the 1980s. Viewed today, the film provides a fascinating snapshot of a time when sprawling shantytowns occupied land on Hong Kong Island now worth millions. The film is also a reminder that many of the urbanisation problems presently being experienced on the mainland were evident in British Hong Kong during earlier decades.
Torrens' friendship with a local Hong Kong businessman, Vincent Lee, provided the focus of his next film, and a bridge into the vast land over Hong Kong's border. As the territory approached its handover to China in 1997, Lee and his Canadian business partner Mart Bakal began looking for ways to grab a piece of the Chinese economy, already in the midst of a boom. Torrens traced their efforts across two films, the hour-long To Get Rich is Glorious (1998) and the feature-length The Men Who Would Conquer China (2004).
Through Vincent Lee, these documentaries provide a rare glimpse into the inner workings of one of the mega-rich families that dominate Hong Kong, and the often contradictory ways in which they view mainland China. Even more eye-opening for a Western audience is the naivety of Mart Bakal, a North American businessman who seems to regard it as his mission to bend China to Western capitalism. The lack of reflection underlying Bakal's actions and comments in the films is breathtaking, but it's a testament to Torrens' skill that he got these businessmen to open up so unselfconsciously for his camera.
The end of a documentary tradition?
Torrens' work, in both its style and prolonged attention on a particular place, sits in a tradition of independent Australian documentary making established by directors like Dennis O'Rourke and the partnership of Bob Connolly and Robin Anderson in the 1970s and 80s. Across a series of films, these filmmakers probed the cultures of our neighbours in Papua New Guinea and the Pacific and the complexities of our relationship with these societies. Despite this illustrious heritage, and the fact that China's 3 Dreams is Torrens' strongest and most insightful China work, it's also the film that he has had most difficulty getting to audiences.
"I went too long past the time television wanted these films," Torrens comments ruefully. "When I started on this project [in the late 1990s] these kinds of films were very viable, but broadcasters no longer want open-ended, layered documentaries. They want factual entertainment with a formula and narrator."
Although the two premiere screenings of China's 3 Dreams at the 2014 Sydney Film Festival sold out within days, no local broadcaster has purchased the film. Torrens claims that current commissioning and purchasing practises at the ABC and SBS mean a whole tradition of Australian documentary making is in danger of being strangled—or at least being cut off from much of its audience. "With the public broadcasters' embrace of commercial imperatives, a whole approach to open-minded filmmaking is really forever lost," he claims.
If we are serious about so-called "Asian literacy," then films like China's 3 Dream should be the mainstay of Australian television documentary. At the very least, films like this provide welcome relief from the endless cooking programs that now pass for serious engagement with other cultures on SBS. More importantly for our local documentary sector, committed filmmakers like Nick Torrens should be recognised and supported as the leading cultural figures they are. Unfortunately, they are more often made to feel like pallbearers for our incredibly rich independent documentary tradition.
China's 3 Dreams, director, producer, writer Nick Torrens; 2014; www.nicktorrensfilms.com.au
The Men Who Would Conquer China can be viewed at TheAge.tv: www.theage.com.au/tv/Documentary/The-Men-Who-Would-Conquer-China-4280103.html
To Get Rich is Glorious can be viewed at CultureUnplugged.com: www.cultureunplugged.com/play/297/To-Get-Rich-is-Glorious—Deng-Xiaoping
RealTime issue #124 Dec-Jan 2014 pg. 30
© Dan Edwards; for permission to reproduce apply to realtime@realtimearts.net