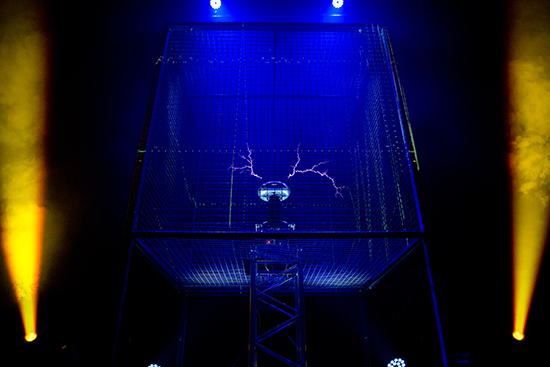 photo Theresa Harrison
Transformer, Robbie Thomson and M.E.S.S. The Substation
When Brad Spolding took over as director of The Substation in 2015, everyone told him there was no way he could transform the struggling venue into a hub of experimental art. Located in a 100-year-old building in the heart of Melbourne's western suburbs, naysayers warned that people weren't going to travel from the other side of town to catch cutting-edge work. In the year or so since his first program launched, Spolding has proven them wrong. He didn't need to lure the art-curious out west. There were already there.
"Yes, we get people who come to sound art gigs regularly but our biggest repeat ticket buyer lives within five kilometres of The Substation," he says. "That was something I wouldn't have expected. Often I'm looking around the room during a show with 300 people watching and I'm thinking 'who are these people?' We've got 70-year-olds and people from really different cultural backgrounds and I think that does talk to the West."
It's even more surprising given how difficult it is to sell Spolding's programs in simple, easy-to-pigeonhole terms. Scanning any given season will throw up a bunch of works that might have you asking, "Is this a concert? A dance piece? Visual art?" You're thinking all wrong. From day one, Spolding's programs have gravitated towards the works that sit between categories.
These days, he says, The Substation "doesn't have a theatre program and a music program and a visual arts program. There's a program and people are invited to come and experience works throughout the whole year across artforms. We don't talk about our program in terms of practice."
The Cell, Brook Andrews, coming up at The Substation
A random selection of recent works illustrates this: US artists Ellen Fullman and Theresa Wong's Long String Instrument situated its audiences around, and aurally within, a gigantic structure of resonating metallic strings with accompanying cello and electronics. Lee Serle's Multimodal saw audience members led by dancers through an experience of sound partly via olfactory means. The Rabble's Cain and Abel was a work of visceral theatre that just as frequently took on the dimensions of a visual art installation.
"My interest in The Rabble is that they're amazing theatre-makers, but it's really the thought and preparation that they put into the aesthetic of their work. They work like visual artists. They think about every little visual element of the work and how it all sits together and how it progresses. That's how they make sense for me as a resident artists at The Substation."
Spolding can be reluctant to describe his role in curatorial terms. He's more prone to saying his job is to "get out of the way" of the audience-art encounter. He has no interest in exclusives—'only Melbourne performance!'—or in any proprietorial relationship with work that is developed or debuted in the building. Why put further limits on people already stretching themselves so far? "It's tougher now for independent artists than ever before, and it still constantly amazes me that any of them manage to do anything."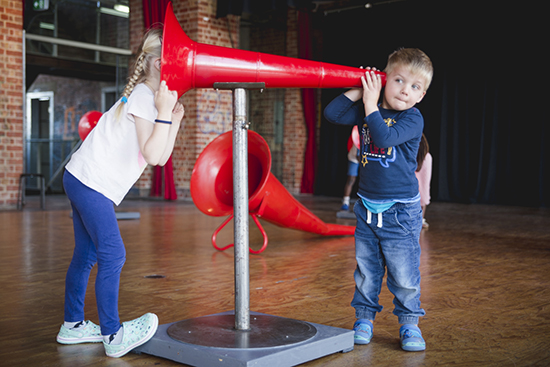 photo Theresa Harrison
The Megaphone Project, Madeleine Flynn & Tim Humphrey, The Substation
Spolding's past as a producer—most recently as Executive Producer at Ilbijerri Theatre—lends itself to a focus on audience experience. He points to last year's Melbourne Festival production of Robbie Thomson and M.E.S.S.'s Transformer as the kind of work he feels really nailed it. "I thought a lot about the way we staged the show. We commissioned the work right from the beginning and said, 'You'll be in the middle of the audience on a megadeck on wheels. What you do up there is up to you, but we'll hopefully sell 400 tickets or whatever and the audience will be able to see everything you're doing.'"
At the same time, that producing history also affords him a sense of The Substation's position within a larger city context, and he's often thinking about "how we can play a part in a big city with a bunch of other presenters, so that artists can come into different presenting venues and practise in different ways. You go to other big cities in the world and that's exactly how it works. It's not like an artist belongs to a venue. Artists practise in different ways in different venues."
Spolding says that The Substation's suburban positioning puts it in a different position from venues that are either nestled within the infrastructure of the CBD or operating in regional areas. While the work he programs is without doubt on the edge of contemporary practice, it almost always has some clear entry point for people who might otherwise not have much history with avant-garde art. Again, Spolding doesn't see it as his role to 'translate' such work to unfamiliar audiences—that would be getting in the way, after all—but most work in the venue presents an image, a phrase or a concept that rings out. "I would also say the work I'm drawn to, it's not that it's uncomplicated but there's a part of it that's easily picked up by audiences. We just presented Urban Theatre Projects' The Tribe in a backyard in Newport. It's a text-based theatre show but it's fairly complex in the way it talks about the Lebanese community and immigration. But because it's presented in someone's backyard, local people are like 'Oh!' There's an element to it that they can grab onto."
By his own admission, it's all working better than he'd hoped. In barely more than a year the space has established itself for regular art-goers alongside other similarly reinvented presenting venues such as Theatre Works, but just as importantly it's found new fans among its neighbours. "The most exciting part of my job is bringing in those people from the surrounding five kilometres to see Robbie Thomson play a Tesla coil. I can see them being really excited by it, because it's a new experience, they're new audiences, they're really taking a punt, have no idea what they're going to see perhaps, but when we go back and look at who our repeat ticket buyers are, a lot of them are coming from really close."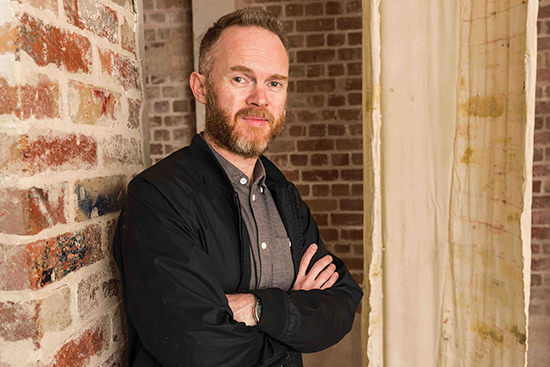 photo courtesy The Substation
Brad Spolding
The Substation, Newport, Victoria
RealTime issue #138 April-May 2017
© John Bailey; for permission to reproduce apply to realtime@realtimearts.net